Liverpool made it three Anfield wins in nine days with a comfortable 3-0 victory over Nottingham Forest, as all three of the starting forwards got on the scoresheet.
The Reds kept the feel-good factor alive on Sunday as they breezed past Steve Cooper's side to keep within striking distance of the league leaders.
Diogo Jota opened the scoring early on, raising Luis Diaz's shirt in a touching tribute to the Colombian following the kidnapping of his parents.
Darwin Nunez and Mohamed Salah then put the game beyond any doubt, continuing Liverpool's perfect record since the international break.
Adam Beattie (@beatts94) and David Comerford (@Dave_Comerford) are here to pick the bones out of another blissful afternoon at Anfield!
Another convincing result and performance, where does that one rank among this season's wins?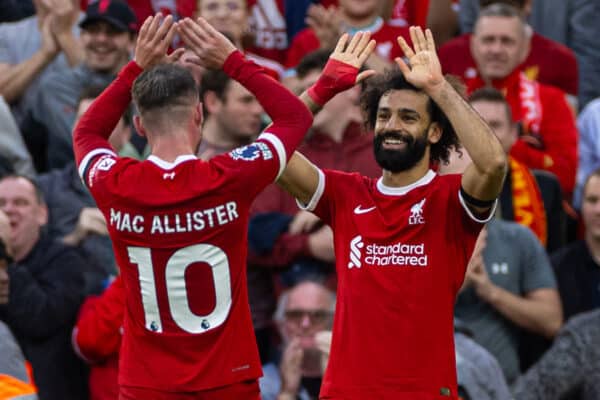 ADAM: Honestly, right up there for me.
We've had to deal with real adversity at Tottenham and Newcastle and we rightly took a lot of pride from those games, but Sunday was a throwback to the very best Jurgen Klopp days.
To win league titles you ideally need to take points from the bottom 10 without breaking sweat at times, saving yourself for another day.
It felt very much like we had more gears to go through if we needed to, and that is a sign of a top side full of confidence.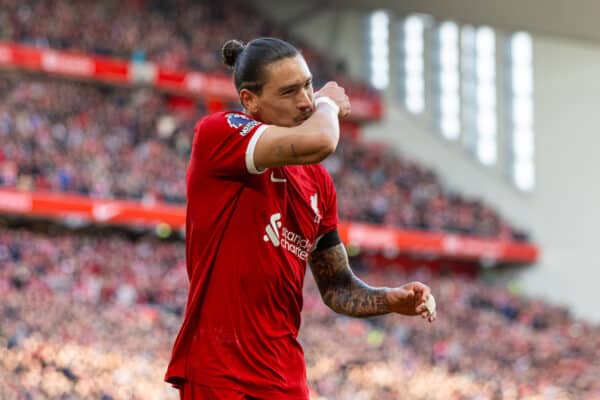 DAVID: I don't know if I'm being harsh, but I'm not sure how many of Liverpool's Premier League performances before yesterday have been truly convincing.
Aston Villa definitely – maybe West Ham – but after that, you're struggling. That's why I think yesterday was so important.
Forest had moments at 2-0 down and 3-0 down, but it's still fair to say Liverpool were completely in control of that game.
I feel much more confident about our title prospects this season after seeing a display like that.
How did you view Mac Allister's performance and do you see his role staying at No. 6 long-term?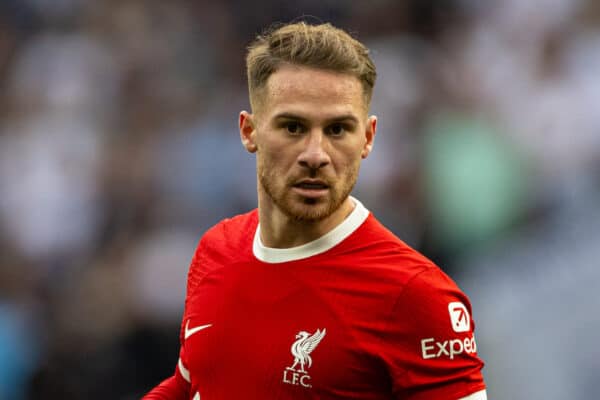 DAVID: One of his best games so far this season for me. The standout moment was his firm challenge on Murillo to launch the attack leading to the first goal – that's exactly the kind of bite you need from your defensive midfielder.
As for the number six question more generally, I'm still not fully sold, but Wataru Endo has a problem.
You'd look at games like this, particularly after his strong performance against Toulouse, as ideal opportunities on the surface, but Mac Allister is at his best as a holding midfielder when Liverpool dominate the ball, so Klopp is always likely to favour him.
And then it's hard to imagine the manager throwing Endo in against one of the top sides after only one Premier League start.
We're not too far into the season, but it already feels like the hierarchy is set in that area.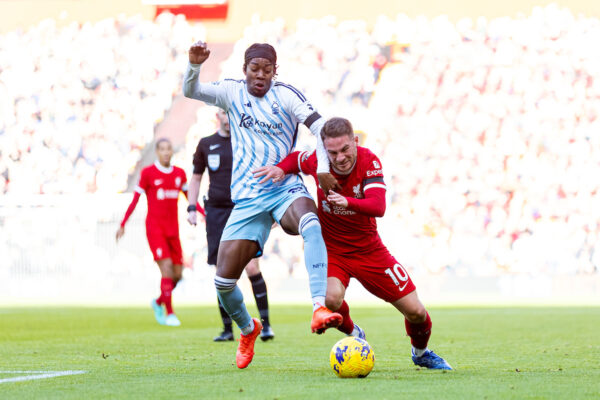 ADAM: I'd definitely like to see him given a run further up the pitch so he can show us what he's capable of, but right now this feels like our best and most balanced midfield.
January isn't a million miles away and I'm sure we're going to hear plenty of links to Andre and other defensive midfielders.
Endo and particularly Ryan Gravenberch are already giving us options to move things around and we'll soon be able to add Curtis Jones back into the mix.
The possibilities are endless! I wouldn't be surprised to see Mac Allister do a bit of both in the coming months and I'm increasingly comfortable with the idea of that.
Which players stood out for you in particular?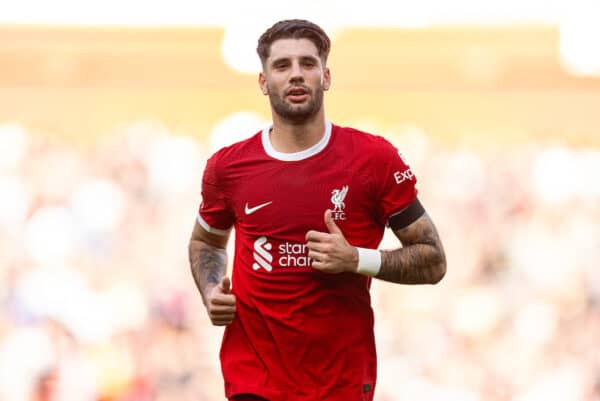 DAVID: Aside from Mac Allister, the two for me would be Dominik Szoboszlai and Virgil van Dijk.
Even beyond his first Premier League assists, the former was absolutely everywhere, once again showing the breadth of his skillset on and off the ball. He's only been here a few months but already I come to expect this from him week-in, week-out.
As for Van Dijk, you might say he didn't have too much to do but he helped sustain Liverpool's dominance by effortlessly winning virtually every duel, and he was excellent in possession too. A vintage performance from him.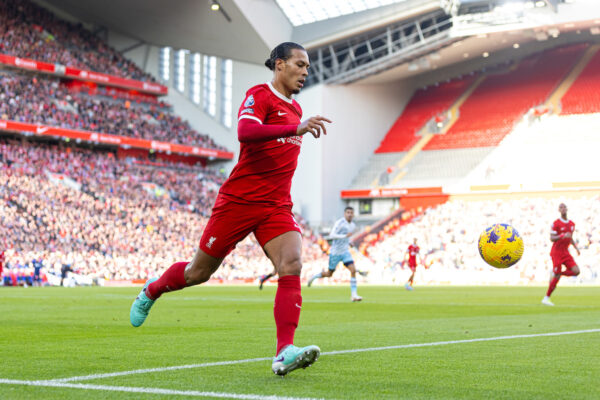 ADAM: I concur with both of those shouts. I personally don't believe Van Dijk dropped off quite to the extent the media will have you believe last season, but he looks as assured as he ever has done at the moment.
Szoboszlai is already venturing into a territory where you brilliance is just expected, you could make a case for him already having eight Man of the Match awards this season.
Nunez also looks like he's having loads of fun at the minute, whereas last season it looked like he was playing with the weight of the world on his shoulders.
With the shackles off, I think we could be on track for 25+ goals from him in all competitions this season.
Based on what you've seen, what do you think this team should be aiming for from 2023/24?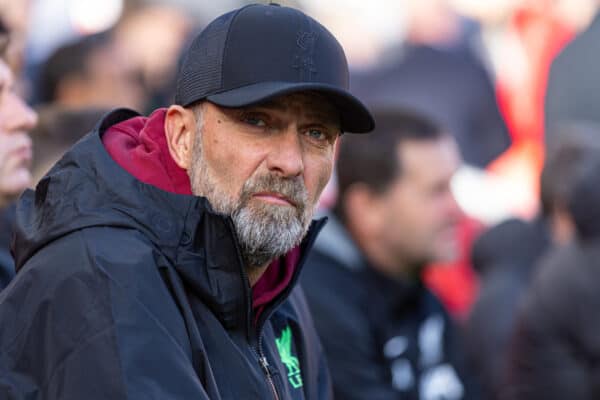 ADAM: You can tell from the way the players speak in interviews that they are psyched up to push for everything, and why not?
There will be teams who drop into the Europa League from the Champions League after Christmas, but right now we are the best side in that competition by some distance.
Man City are still the only team I'm worried about as far as the league is concerned, and the European rotation is going to ensure we don't run out of steam.
I was surprised by how many fans were down on us before the season started, but I'm also surprised by just how impressive we have looked so far. The potential is limitless.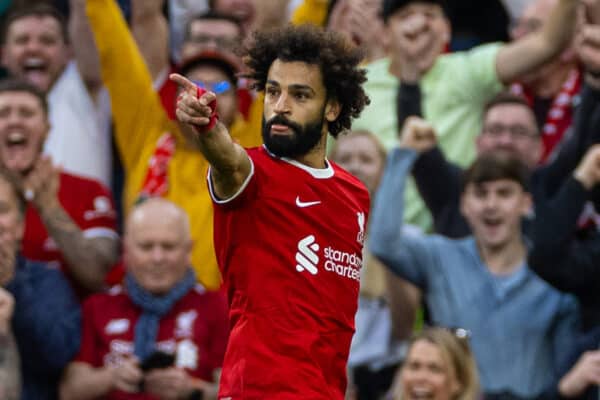 DAVID: Put it this way – this weekend, we saw Chelsea, Manchester United, Brighton and Newcastle drop points, and last season that would have been cause for celebration.
But this year, that doesn't feel like too big a deal for Liverpool, who are more focused on the teams in front of them. We've picked up 23 points from a tough opening 10 games, and we're only one point behind Arsenal and Manchester City.
I don't see any reason not to aim for the title here, without the burden of expectation on the side.