It has been a whirlwind year for Ben Doak, but the talented youngster isn't phased by the environment he has been thrown into.
Coming on for Celtic against Rangers is an experience that takes you from boy to man.
His appearance last February was only a cameo but Doak's time with the Hoops served him well for his Liverpool career.
Now, he will be playing regularly at Anfield alongside some of the biggest names in world football, but insists there is "no reason to be scared."
Speaking to Liverpool's official website, the 17-year-old said: "Obviously I made a few appearances for Celtic before I came here as well so, I'm not used to it.
"I'll never be used to it, but I am more used to the big crowds than most lads my age would be and also I'm going out to do what I've been doing my full life, so there's not really any reason to be scared.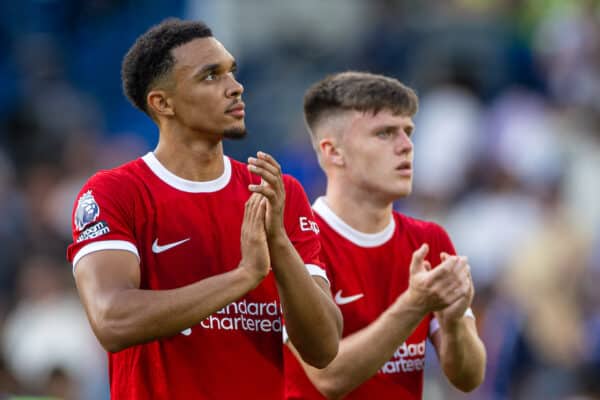 "I'm just happy to be around – any minutes are a bonus for me, I'm just trying to enjoy it."
Doak plays with a sense of fearlessness too. His mesmerising ability to glide past players at will has seen him promoted to Liverpool's first team just one year on from moving south of the border.
To start Premier League games, though, he faces a mammoth task, dislodging Mohamed Salah. It won't happen overnight but Doak can learn from the senior pros at Liverpool.
The young winger added: "Well, the bit of my game I need to get better is the end product, so I'm just trying to look at what these lot do because every one of them are scoring machines or assisting machines."
Liverpool won't be short of ammunition in attack this season, but Doak should still get game time in cup competitions, which will allow Salah to be rested properly.
For the first time in his Liverpool career, the Egyptian has someone that can fill his boots in terms of ability, if not yet goals.