Liverpool notched their 12th win of the season to move into the last eight of the League Cup, but here's what you may have missed from the trip to Bournemouth after it failed to be shown live on UK TV.
In conditions that Jurgen Klopp described as "brutal," Liverpool put two goals beyond the Cherries to knock them out of the League Cup and book a quarter-final date with West Ham.
It was not the prettiest of football we've ever seen from the Reds, but it didn't need to be, they simply had to get the job done.
Cody Gakpo and Darwin Nunez got on the scoresheet, and the manager was all smiles at the final whistle.
And if you didn't manage to quite catch some, or all, of the contest, here are some things you missed.
Fist pumps from the boss!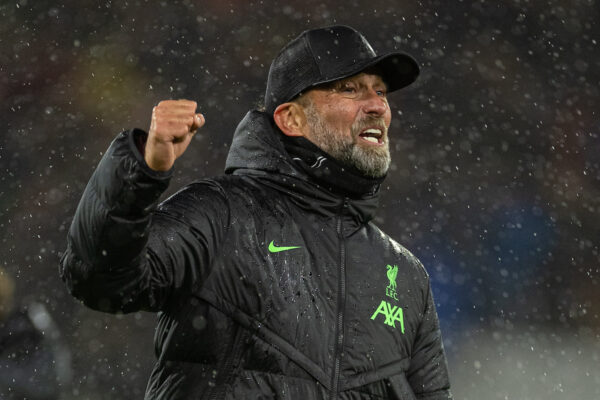 While worldwide viewers may have been able to catch a glimpse of them, Klopp's fist pumps were not as easily accessible for those in the UK but as you can tell, the boss absolutely loved what he saw.
Considering the conditions – the rain was falling sideways – Reds were out in force, and they deserved a pumped up Klopp making a bee-line for them!
Jurgen Klopp's gift to the Liverpool fans who made the long journey down and now have an epic return north in this stormy weather. pic.twitter.com/4jpdvhOLOp

— Caoimhe O'Neill (@CaoimheSport) November 1, 2023
We didn't get to see them a whole lot last season, so it feels really good to have them back on the regular!
If you're going to jeer, he'll make you pay…
Straight out of the top drawer from @Darwinn99 ??? pic.twitter.com/AIXqdjSH4w

— Liverpool FC (@LFC) November 2, 2023
Nunez, he's an enigma that you cannot help but love and while opposition fans may look to pounce on his every misstep, he had a pretty emphatic answer for those at Bournemouth.
A poor first touch from Trent's delivery got a 'wahey' out of the Cherries faithful, but just seven seconds later the No. 9 had the ball in the back of the net in spectacular fashion.
The angle of the finish from the away end is simply delightful:
NUNEZ NUNEZ NUNEZ!? pic.twitter.com/lu5Aapxy7H

— Chloe bloxam (@ChloeBloxam) November 2, 2023
'Nunez, Nunez, Nunez!'
39 more touches than any one else
?? Honestly … Quansah is only 20 years old ?pic.twitter.com/AC0KtRcjqp

— AnfieldIndex (@AnfieldIndex) November 1, 2023
"A really good game, wow," Klopp assessed after the match. "We gave him the ball a lot, he had to do a lot with the ball."
He, being Jarell Quansah, certainly saw the ball plenty – 114 times, to be exact. That is 39 more than any other player on the pitch, and the 20-year-old handled himself brilliantly.
The young centre-back made decisive stops and again showed he is not fazed by the step up to senior football – the Reds have quite the talent on their hands!
? Jarell Quansah ended tonight's game with 114 touches – at least 39 more than any other player.

Incredibly, he had more than twice the amount of touches of his centre-back partner, Joel Matip (50).

Making the step up look seamless. pic.twitter.com/uBASizAa2J

— Jack Lusby (@LusbyJack) November 1, 2023
Waddles and chest bumps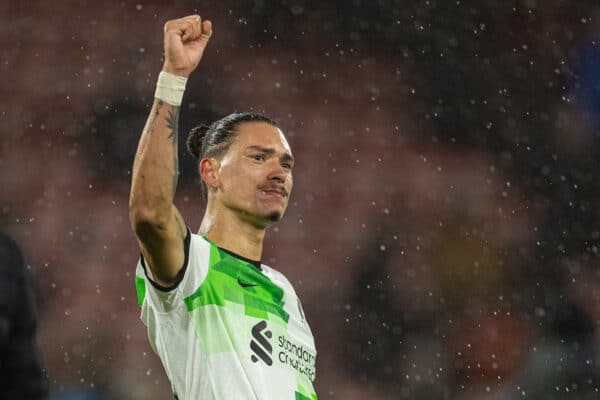 A place in the last eight of the League Cup, then. There's every reason for optimism of a Wembley trip in February and the team continue to look as close as ever.
Despite the dire weather, the bench players made sure to seek out their team-mates and the fans post-match, while Trent and Kostas had an interesting chest bump situation going on as they congratulated one another…
Look at the boys running on the pitch like little penguins ? pic.twitter.com/b1EunIkFCa

— Anything Liverpool (@AnythingLFC_) November 1, 2023
Not sure what this was but I enjoyed the moment between Kostas & Trent ? pic.twitter.com/nHWmNF0yBl

— Chloe bloxam (@ChloeBloxam) November 2, 2023
It's a real delight to watch these Reds every week and Jurgen was right, they're very easy to love!