After beating Bournemouth in the League Cup, Jurgen Klopp was pleased with his side's attitude in difficult conditions.
Here are four key points from the manager's post-match press conference…
Attitude the key
Wednesday night wasn't an evening to play 'tiki-taka' style football. While Liverpool ill-advisedly tried to at times, the Reds had their attitude to thank for the win.
Klopp said: "It's all about attitude in these moments, both teams obviously wanted, everyone can expect it from the home team, but I saw it from my team as well: how hard we really wanted, and I'm really happy about that."
It was just another sign that this Liverpool team are ready to battle whether it's against the opposition or the weather.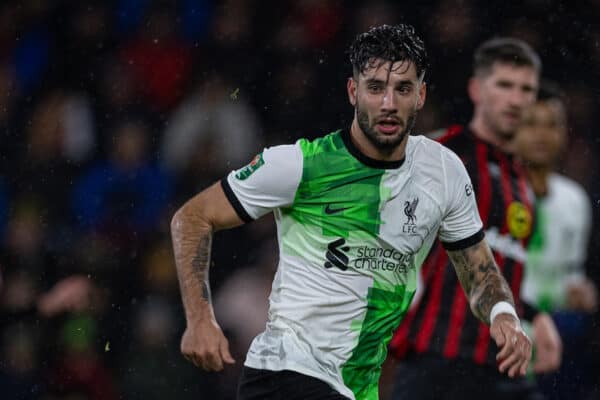 Quansah was "really good"
With each passing appearance, Jarell Quansah seems to cement himself in Klopp's plans going forward.
The boss labelled his League Cup performance "really good in these circumstances, wow" and explained how there were "so many difficult balls to judge coming down."
Klopp also said he "did really well on the ball" with Caoimhin Kelleher passing to him often. The centre-half was on hand to save Liverpool on multiple occasions alongside Joel Matip in defence.
"You need luck"
While Liverpool will feel they deserved to match, Bournemouth had their chances and could have won if they were more clinical.
They seemed to deal better with playing into the wind but Klopp wasn't too concerned. He said: "In life, in football from time to time, you need luck.
"Tonight, in one or two moments, Bournemouth could have finished situations a little bit better off, it's an inch on the foot, not more."
The Reds ended the game with seven shots on target to Bournemouth's six.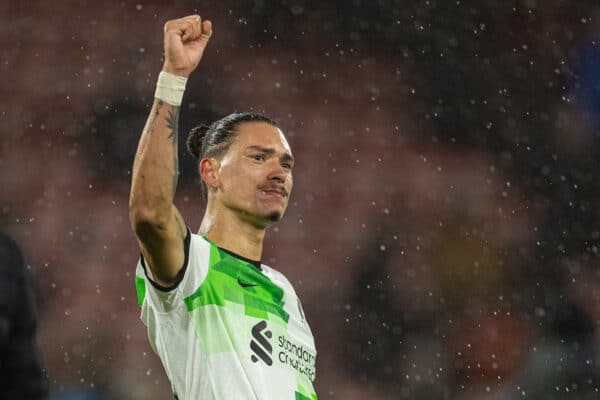 "All about winning" and Nunez to thank
Klopp fully admitted that the match was "all about winning" and "all about getting through."
With the rain blowing sideways, Klopp was happy to come through a "top cup game in strange, strange circumstances."
He added: "It was clear that it would be really storm wind but it's really different to play football in it. Now we drive home, long trip, but with going to the next round, it feels much better."
Liverpool's flight home was cancelled, hence the "long trip" home.
The game did look in the balance after Bournemouth's goal but Nunez scored for the third game running to win it, and Klopp described his curler as "unbelievable."
---
* Remember to subscribe to This Is Anfield on YouTube to watch every LFC press conference in full