Sean Dyche described referee Craig Pawson's decision not to send off Ibrahima Konate in the Merseyside derby as "nearly impossible."
Everton were reduced to 10 men late in the first half at Anfield when Ashley Young was shown a second yellow card but Pawson opted not to make the same decision midway through the second half when Konate pulled back Beto.
The Toffees had succeeded in keeping the game goalless to that point but Mohamed Salah then scored a penalty after a VAR review saw Michael Keane penalised for handball and the striker added a very late second to give Liverpool a 2-0 win.
Dyche was booked following the Konate decision, and he said: "I have no clue. I have asked the referee and he said he didn't feel it was a bookable offence and he felt that straight away. I don't know what is then.
"I think people who were here today would be stunned it was not a second yellow. Their manager took him off as quick as he could, he's realised.
"I don't want to talk about referees. I can't remember the last time I spoke this openly about referees and decisions but that one is incredible to me.
"And I got a yellow card. I don't even know why I got a yellow card. It was a near impossibility. For literally gesticulating like everyone in the stadium was probably. That's ridiculous.
"I would get in trouble so I'm not going to get too involved in it, I think I'm trying to be fair. How that's not a second yellow is nearly impossible I think in the modern game."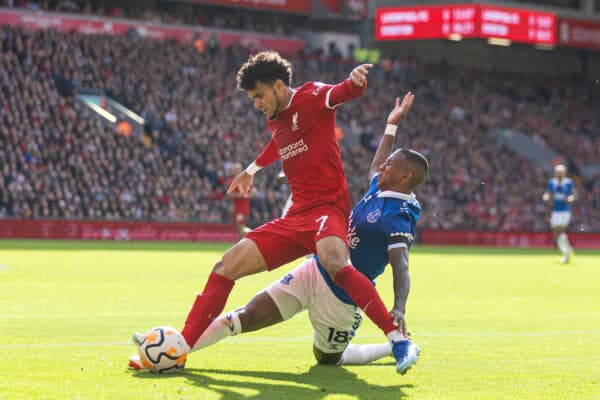 Dyche had no real complaints about the Young decision or the penalty, saying: "The sending off happens. I think the first one's touch and go, the second yellow is a yellow. That's the way it goes.
"The penalty, I don't like the modern rule but I am aware of it. I don't think it is a deliberate act but they're the rules now, it's going to get given.
"I must say I'm getting bored of all this running over to the TV. We all know what's going to happen. They're talking about speeding the game up, why not just get on with it?
"There is somebody in an office with 47 views. If it's a penalty, it's a penalty."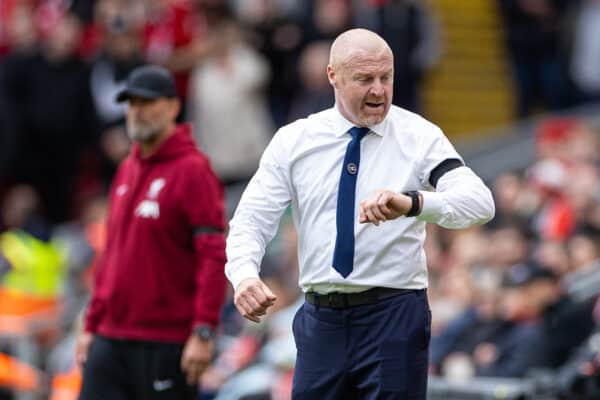 Dyche called for VAR to be used for instances such as Konate's that could lead to a sending off but does not believe Liverpool were given the rub of the green as a result of the high-profile officiating errors in their recent loss to Tottenham.
"I doubt it, I think referees just referee whatever's going on in front of them," he said.
"I just think it was a bad decision. I think there were a lot of bad decisions, both ways. But that's a vital decision in a game like this."
Liverpool boss Jurgen Klopp immediately substituted Konate and had sympathy with Dyche, although he insisted he did not see the incident clearly.
"I didn't see it back, and I was not sure I saw it 100 percent, I think I was somewhere else in that moment, but then when he's going down, and Ibou I knew had a yellow card, I knew that could be tricky," said the Reds boss.
"He didn't get the second yellow then I thought we don't give it a chance and take him off. I can imagine the frustration of Everton and Sean, absolutely."
Nevertheless, Klopp believed his side fully merited the three points and praised Salah, who took his goal tally for the season to eight.
"What I love most about Mo is that Mo Salah played for us an incredible amount of fantastic games," said the Reds boss.
"Today it was not his best game but being that clinical is probably his biggest quality and I love that, because you need somebody who brings the ball over the line.
"I couldn't respect that fact more. That's absolutely outstanding. The numbers are crazy. He will never stop, that is his nature and that's really cool for us."