Jurgen Klopp has been the subject of surprise – and possibly tongue-in-cheek – criticism from LASK boss Thomas Sageder, who says is "starting to dislike" him.
On Thursday night, LASK kept their side of the bargain as they pulled off a 3-0 victory over Union SG in the other game in Liverpool's Europa League group.
With that result, victory over Toulouse would have guaranteed the Reds a spot in the last 16.
But a 3-2 defeat in France has left Liverpool needing to finish the job in the final two games – the next of which is at home to LASK on November 30.
The two sides already met in Linz, with the Reds coming away 3-1 victors, though afterwards Klopp described their pitch as "really bad."
Speaking to Sky Sport Austria following LASK's triumph over Union SG, Sageder took exception to those comments along with Klopp's team selection vs. Toulouse, believing his nine changes gave the Ligue 1 side an advantage.
"What can I say, I'm slowly starting to dislike him," the LASK manager said.
"Now he's setting up a [rotated] team and in our case he's criticising the groundskeeper.
"But we have the opportunity to show what we think about it anyway."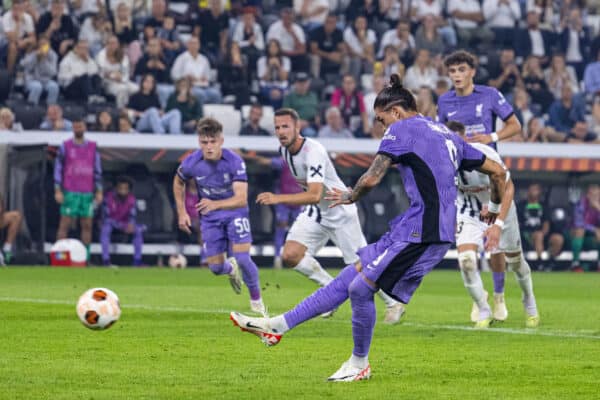 Had Liverpool beaten Toulouse, as many had expected, the surprise result for LASK would have given the Austrian outfit a strong chance of finishing second in Group E.
But with Toulouse taking all three points, they are four ahead of LASK – who sit bottom of the group – with two games left to play.
LASK face Liverpool at Anfield and then Toulouse at their own Raiffeisen Arena in their final two fixtures, needing a measure of luck in order to progress to the next stage.
There is a strong chance Sageder was speaking jokingly as he criticised Klopp, though it remains to be seen whether there will be a response from the Liverpool manager.