The question of relegation is again surrounding Everton and, ahead of the Merseyside Derby, Liverpool fans have been discussing the potential ramifications.
Liverpool's rivalry with Everton is one of football's most famous match-ups, but the fixture has been put under threat in recent years due to the Blues' poor form.
Having taken just seven points from their eight opening Premier League matches, relegation could again be a possibility, and there is one very "practical" reason to want them down.
Speaking on Monday's Live at 5 show, available on This Is Anfield's YouTube and podcast platforms, Paul Cope explained how Everton's absence could raise the Reds' points total.
The Liverpool supporter said: "If you just took them (Everton) out of the league, wherever they finish in the league, whoever you replace them with, we're more likely to get six points from.
"Because, let's say Everton this year finish 15th, the 15th-placed team in our league shouldn't have a chance of taking any points off us really, objectively.
"But, because it's Everton, because it's the derby and because they're more up for it, [it's different]."
Under Jurgen Klopp, Liverpool have a generally good record in the derby, winning 10 and losing just one of his 17 encounters.
Everton have still caused problems, though, especially at Goodison Park. During Klopp's tenure, Liverpool have won just two matches across the park.
Given Liverpool have missed out on the Premier League title by one point twice in the last four years, these draws have been costly.
Thankfully, this weekend's match is at Anfield and Gareth Roberts still enjoys the derby despite the heightened pressure around the match.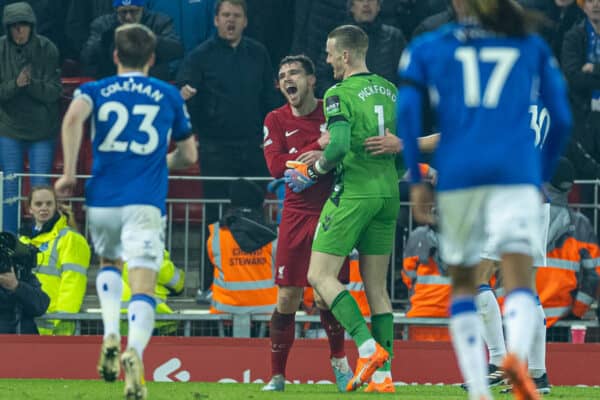 "When we had that [relegation] jeopardy fairly recently, I was thinking 'I like the derby, though'," the match-going Red explained.
"I'm really looking forward to the weekend because it's still one of those games which, having gone to the game as long as I have, still feels different and it's good, a good different.
"I know there's a lot of bitterness that's crept into it and there's a lot of unnecessary stuff around it now, but I still like it."
While Liverpool are certain favourites, Klopp's side don't have a good record in 12.30pm kick-offs and Paul is still nervous.
"Because it's Everton and because it's (Sean) Dyche, there's still that element of 'they could they take something off us', he explained.
"They shouldn't but it does happen, doesn't it."
Should Liverpool beat Everton on Saturday, it would temporarily at least move them up to the top of the Premier League table.
---
Paul Cope and Gareth Roberts are speaking on a new show from This Is Anfield and The Late Challenge Podcast.
There is a live show that airs each Monday at 5pm (UK) on This Is Anfield's YouTube, with our second show each Wednesday (UK).
You can also listen as an audio show, here.