Trent Alexander-Arnold produced an outstanding display as England beat Malta 2-0 on Friday night, with the English press lauding his ability in midfield.
While he finds himself caught between midfield and right-back for Liverpool, Alexander-Arnold is now purely viewed as a midfielder for England.
He made his latest start in the role on Friday, as the Three Lions struggled to put a lowly Malta side down, with the 25-year-old one of few genuine positives on the night.
Alexander-Arnold's ability to run games is nothing new to Liverpool supporters, but he is often overlooked when it comes to the national media.
That was not the case this time around, with journalists across England making him their headline act.
The Times' Henry Winter, watching on at Wembley, insisted that his display "made a point," and now deserves a bigger test:
"One person from Merseyside made some points on Friday. Liverpool's Trent Alexander-Arnold showed that he can run a game for England, as he'd craved.

"His passing was outstanding, whether caressed around the corner to Phil Foden, or driven over 60 yards to Harry Kane.

"He now needs to be tested against opponents more sophisticated than Wembley guests ranked 171st in the world."
In his column for the Mail, Sami Mokbel agreed, as having "passed this test with flying colours," the aim should now be to do so against North Macedonia on Monday:
"Wearing England's iconic No 10 shirt, Alexander-Arnold flicked through his full repertoire here at a sold out Wembley.

"One and two touch passing. Dropping in-between centre-backs to initiate attacks. Unerringly precise mid-to-long range balls. Driving runs into the opposition's half before releasing with impeccable timing.

[…]

"He passed this test with flying colours. It's time to see if he can hold his own in the engine room against better opposition."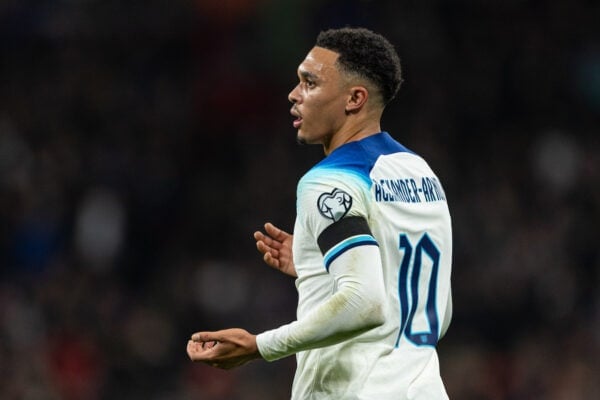 After a game in which Alexander-Arnold recorded the most touches of any midfielder and more shots on goal than any player, the Independent's Jamie Braidwood lauded him as "a bit of everything":
"Alexander-Arnold, the 4, the 6, and the 8, wearing the 10, was given Wembley to do some free jazz.

"Asked what he wanted to be for England, Alexander-Arnold's response was to be a bit of everything."
Writing for the Guardian, Jonathan Liew found himself firmly in the Alexander-Arnold camp:
"This is not a drill. Trent Alexander-Arnold may just be ready to play central midfield for England.

[…]

"Southgate's most daring gambit was his one resounding success. At the very least there was enough in those luxuriant long balls and stylish one-touch layoffs to give him another look against stronger opposition.

"Really this is the essential appeal of Alexander-Arnold, for all his well documented gifts and flaws as a player.

"You really want to give him the ball. You want to see what he does with it."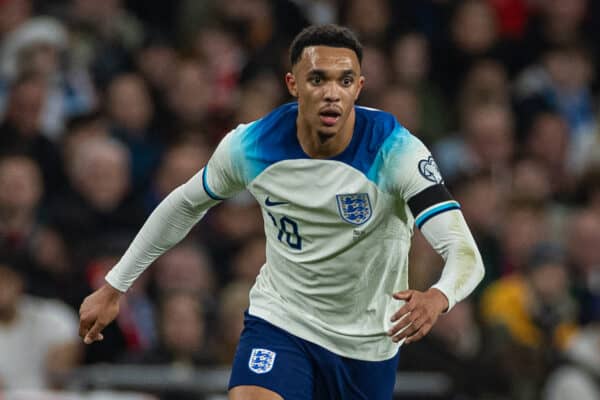 In his player ratings, the Evening Standard's Dom Smith gave him a team-high seven out of 10:
"Saw as much of the ball as any England player. While not everything came off for the Liverpool man, he was lively throughout and most of his long, raking passes were typically precise.

"A player unlike any other England have."
And finally, the Mail's Craig Hope singled Alexander-Arnold out as his Man of the Match, with a 7.5 rating:
"Probing passes and always an option, even if little came from that positivity. Definitely worth persevering with in midfield role."
Whether it was due to the narrative playing out before the game or he genuinely did enough to convince the doubters, Liverpool's No. 66 seemed to prove a point against Malta.
It could even give Jurgen Klopp food for thought going forward, with his vice-captain clearly preferring the freedom of midfield.