After Liverpool thrashed Aston Villa, Jurgen Klopp gave an update on Trent Alexander-Arnold's injury and said Mo Salah hasn't been thinking "for a second" about anything other than the match.
Here are five key points from the manager's post-match press conference…
Liverpool used the formation "properly"
Klopp was quick to credit the Reds' formation in the win, saying the Reds used it "properly."
With Joel Matip shifting right when the Reds were in possession, Alexander-Arnold drifted into the middle of defence and helped run the game with his fantastic passing.
Andy Robertson also looked improved thanks to playing in a defensive line that looked closer to a normal back four than in recent weeks.
The Reds were "really good" at both ends of the pitch
Despite picking up 10 points from the 12 on offer so far this season, the win over Villa was actually Liverpool's first clean sheet of the season.
Klopp praised his side, saying: "Top game, best for a while. I don't know the last time we were that convincing. It was really good, offensively and defensively.
"You can't do one step less against Villa. The early goal might have helped; we looked really good."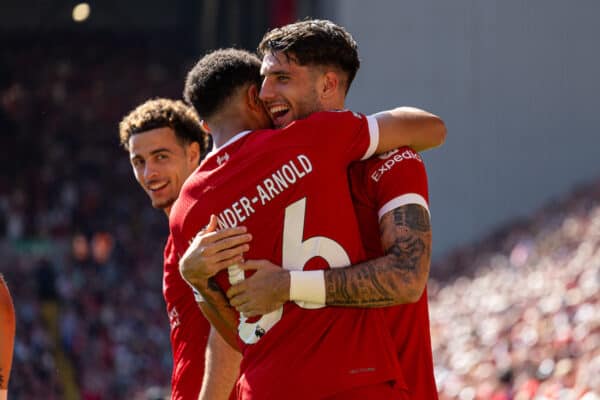 Alexander-Arnold's injury is a hamstring issue
The only thing that kept the afternoon from being perfect was Liverpool's No. 66 going off injured in the second half.
After the match, Klopp admitted "we have to wait for the scan" to determine how the severity of the hamstring problem.
The manager did add, though, that Trent deemed it 'not too serious', thankfully.
Gomez stood out and Szoboszlai is "ready for the dirty part of the game"
Both players came in for praise after the match, with Klopp calling Dominik Szoboszlai "really impressive, technically smart" and "absolutely ready for the dirty part of the game."
On Joe Gomez, he said: "I'm really pleased for him, against Newcastle he was like that when he came on. It's very helpful when you have strong centre-halves but, if you leave them alone, the pitch is too big. Today, we were really compact."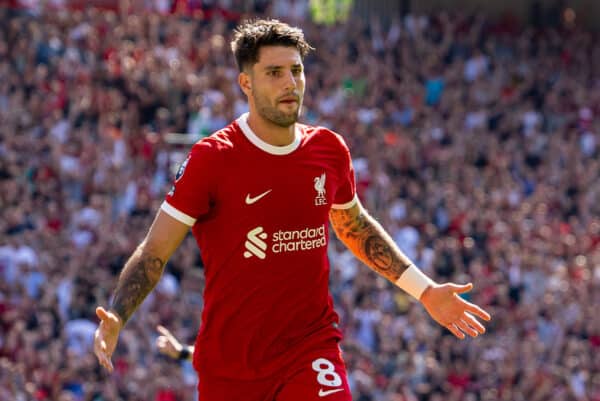 Salah was always fully focused
We suspected this was the case but it is good to hear from Klopp himself.
Despite rumours of a move to Al-Ittihad, the manager said Salah "for a second didn't look like he thought about anything other than Aston Villa."
Klopp added: "He didn't tell me (he wanted to stay), he didn't have to. The training, his behaviour [showed that]."
---
* Remember to subscribe to This Is Anfield on YouTube to watch every LFC press conference in full.