Liverpool booked their place in the fourth round of the League Cup with a dominant display and a 3-1 victory over Leicester at Anfield.
The Reds had to survive an early scare as Kasey McAteer put the visitors in front at The Kop End after just two minutes, but Jurgen Klopp's side piled on the pressure and got their reward.
Cody Gakpo levelled the scoring just after the break before Dominik Szoboszlai fired home a thunderbolt from long-range just minutes after being introduced to the pitch to put his side in front.
A clever flick from Diogo Jota put the game to bed towards the end and sealed Liverpool's progression despite a host of missed opportunities.
Ben Doak impressed fans again, but you might be able to guess who grabbed the headlines once more at Anfield.
Szobo's world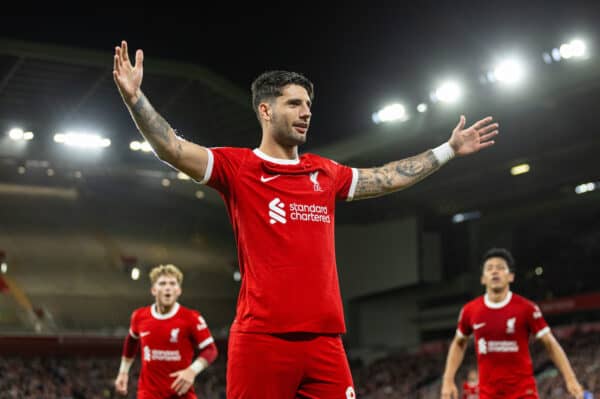 If he hadn't already given us reason to be excited, Szoboszlai's second-half strike was the major talking point after the game.
Szoboszlai is the signing of the summer, don't care what anybody says, he is absolutely unreal & so deserving of the 8 shirt, I'm obsessed.

— Rebekka (@rebekkarnold) September 27, 2023
Enjoyed that. Thought Liverpool were brilliant.

Jones superb, Gakpo and Jota showing just how strong our attacking depth is, and then there's Szoboszlai.

He feels like the Alisson and Van Dijk level signing the midfield has needed for so long.

— Henry Jackson (@HenryJackson87) September 27, 2023
Szoboszlai is him. He is him. Nothing more to add at this time.

— Caoimhe O'Neill (@CaoimheSport) September 27, 2023
"Hello, is that The Louvre, yeah, Dom Szoboszlai wants a word…." pic.twitter.com/qob1RUoYaY

— Ben Webb (@BenWebbLFC) September 27, 2023
Is it too early to call Szoboszlai our greatest ever player?

— Mick Birchall (@Mick_Birchall) September 27, 2023
You just have to laugh how good Szoboszlai is.

— Rory Greenfield (@RoryGreenfield) September 27, 2023
The fact that we didn't have to fight every big club for Szoboszlai's signature proper baffles me you know. He's superb.

— Abigail Rudkin (@rudkin_abigail) September 27, 2023
The number 8 is in safe hands ??? #LFC pic.twitter.com/Wsc9gmJBIJ

— ?????????? (@_Szoboszlai) September 27, 2023
Doak catches the eye again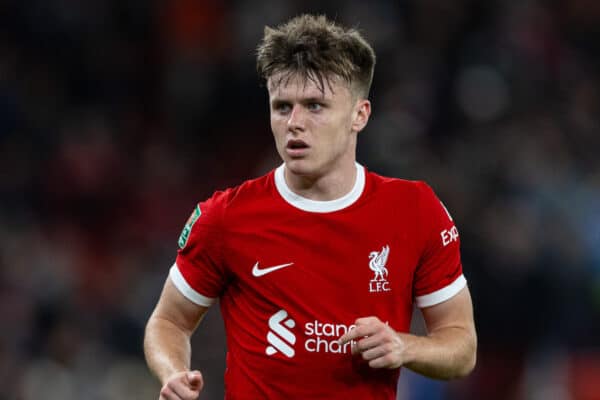 Doak proved to be a handful once more and continues to show frightening potential at the age of just 17.
Doak is never going to be dull that's for sure.

— Rory Greenfield (@RoryGreenfield) September 27, 2023
Not exaggerating but Ben Doak is the Scottish Messi.

— Samuel (@SamueILFC) September 27, 2023
It's just that last phase of Doak's attacking play. Everything else is effortless.

— ??? ? (@lfcels) September 27, 2023
Ben Doak looks quality

— Dan (@CookieDan17) September 27, 2023
Ben Doak is a live wire isn't he ???????

— The Anfield Wrap (@TheAnfieldWrap) September 27, 2023
Doak is going to be one hell of a player!! He's got unbelievably quick feet! Gutted he didn't get on the scoresheet tonight!

— Red Damo ?? (@UnbearableDamo) September 27, 2023
Jones adjusts brilliantly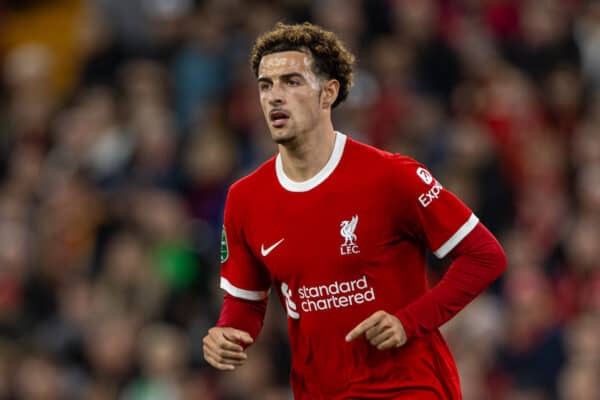 In the absence of his fellow Scouser, Curtis Jones was the man tasked with playing in the hybrid role at right-back against Leicester and he did so with aplomb as captain.
Curtis Jones just seems to keep going up a level every single game credit where he's due important part of this team now

— Manning (@JackManningOF) September 27, 2023
Before the season started, a big problem was who would slot into Trent's hybrid rb role and so far, Gomez, Bajcetic and Jones have all done that at a great level.

— s a g e ? (@tolu_manny) September 27, 2023
Just one of those days so far. Plenty of good chances but missing our clinical touch. Tsimi struggling whilst Jones really good in the hybrid role.

— Jay (@Jay82_LFC) September 27, 2023
Curtis Jones was outstanding in the hybrid right-back role.

All over the pitch. 75 touches. 54/56 passes (96%).

Second game in four days. pic.twitter.com/W7o6qLlOoE

— Jack Lusby (@LusbyJack) September 27, 2023
Doak brilliant, Jones superb, referee an absolute disgrace. Sounds about right.

— Biscanesque (@TheBiscanRole) September 27, 2023
2nd string team. Curtis Jones playing makeshift RB. And we relentlessly battered Leicester from the 3rd minute, and seen 3 summer signings contributing a goal and Gakpo + Jota on the scoresheet. Special mention to Quansah. I love this team. ??

— Samuel (@SamueILFC) September 27, 2023