Liverpool's impressive start to 2023/24 continued with their third successive 3-1 win as they saw off West Ham at Anfield.
The Reds struck first courtesy of a Mohamed Salah penalty before Jarrod Bowen threw a spanner in the works from the visitors shortly before the break.
Darwin Nunez brilliantly clipped an Alexis Mac Allister ball over Alphonse Areola to regain the lead on the hour, before Diogo Jota put the game to bed with five minutes on the clock.
Here, Adam Beattie (@beatts94), Ben Redwood (@BenjaminRedwood) and Henry Jackson (@HenryJackson87) dissect another satisfactory afternoon at Anfield.
Was that the lineup you were expecting?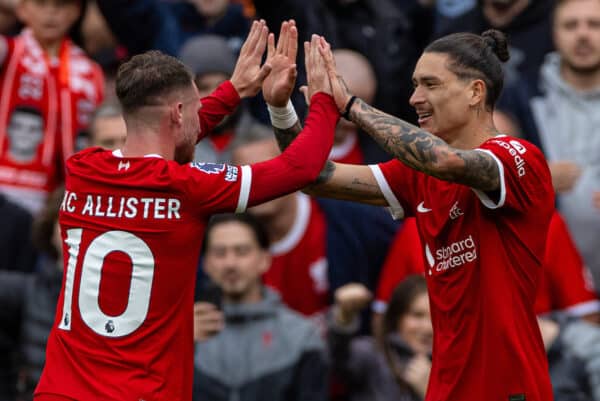 ADAM: Not quite, truth be told!
I fully expected Cody Gakpo and Diogo Jota to come back in purely because of the rest they got on Thursday night, but seeing Darwin's name on the team sheet always gets me in the mood.
The five substitutions and increased added time we're seeing are a bit of a godsend as far as keeping all of our forwards happy is concerned.
If we can keep them all fit I can see us outscoring everyone in the league and I include Man City in that.
BEN: It was the lineup that I expected following Thursday's win in Austria.
I felt that if one player was to come in and start it would be Gravenberch but I understood why he didn't.
With two big away trips to Spurs & Brighton coming up, I felt maybe Jurgen would give him a go in midfield to help his development.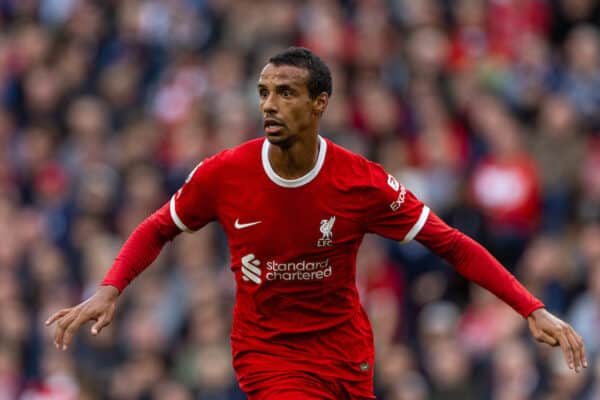 HENRY: I'll be honest, no! I'd got it in my head that Trent and Konate would both start, but that proved to be wishful thinking!
I was worried about Gomez and Matip, but they shut me up, with both excellent on the whole as they were at home to Aston Villa.
I also expected Jota and Gakpo to play after not starting against LASK, but it was a pleasant surprise to see Diaz and Nunez in as Adam alluded to.
Do you think that is a midfield that can work moving forward?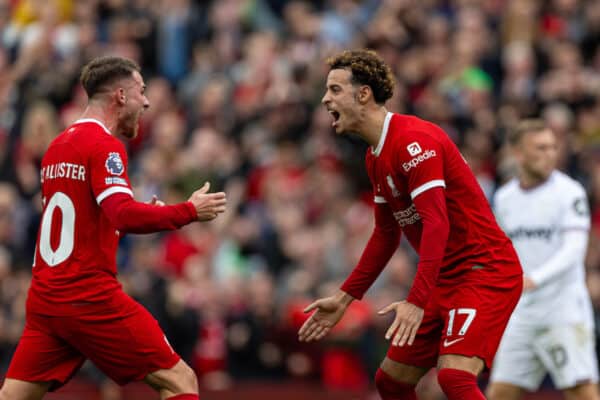 HENRY: Against the majority of teams, I think having Mac Allister as the No.6 will be absolutely fine and the midfield looks great, but I think we will come unstuck there against top sides.
Mac Allister is a fantastic player, but he isn't the quickest or most physical and lacks that defensive brain of the truly elite defensive midfielders, like Fabinho in his prime or Rodri currently.
At Spurs on Saturday, for example, I can envisage it being an issue, with top players exposing someone who isn't world-class in that six role.
BEN: I think Jurgen's creating a midfield that is incredibly versatile. We have options to play in different ways which is brilliant.
We've also got Thiago to come back in and add a further dynamic to what we've seen so far this season. So, I think the midfield dynamic will change game by game.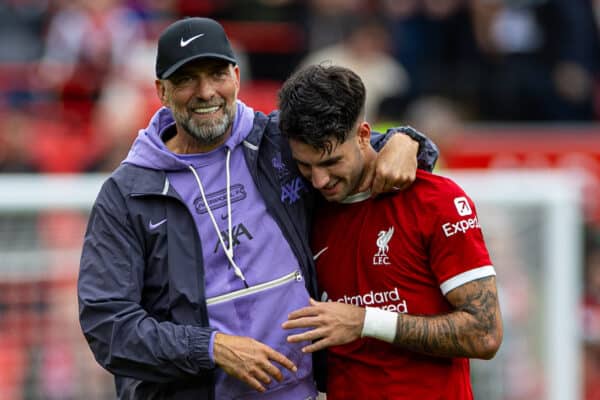 ADAM: I agree with both there. I'm not sure we're getting the best out of Mac Allister in that position but it served a purpose to an extent on Sunday.
I wouldn't be surprised to see Gravenberch dropped into the No. 6 role as he settles in, particularly if we've got Trent drifting in alongside him in the hybrid position.
Szoboszlai looks like he's playing a different game to everyone else at the minute and you would probably trust him in goal at this point, so no concerns there!
Five wins from six from a tricky start, is it too early to start thinking about a title push?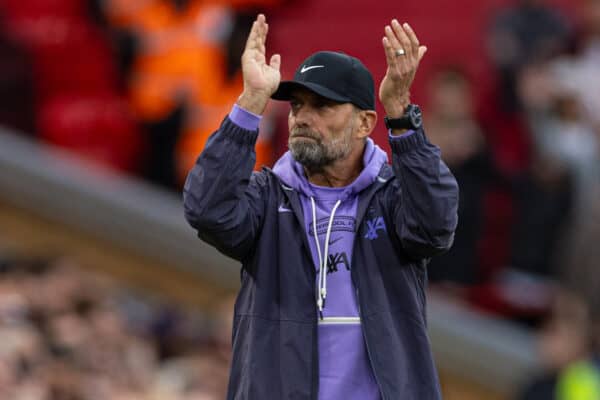 BEN: There's a lot of footy to be played over the next couple of months. We have a strong squad which can see us compete in the Europa League, whilst resting players ahead of the weekend.
By November, we'll have a better idea of where this team are.
ADAM: Why not? As fans we're allowed to dream big and outside of Man City I frankly don't see anyone else who has got more tools than us currently.
We could do with tightening things up a touch and things got a bit chaotic at times in that first half but going forward we're arguably even stronger than when we did win the league, which is saying something.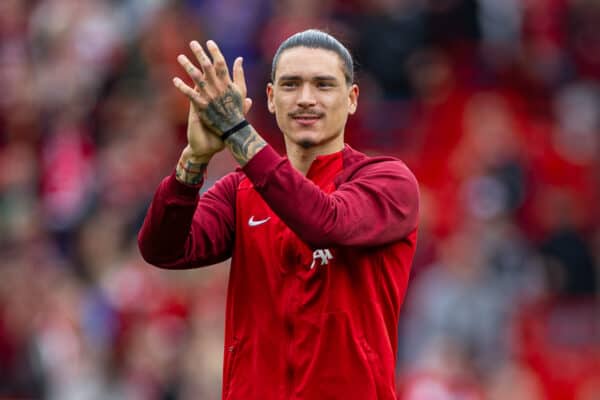 HENRY: If Man City weren't so tediously relentless, we would absolutely be in a title race, in my opinion.
They just seem like they could win about 20 matches in a row, though, and I fully expect them to eventually pull away and win the title by about 10 points. Sorry!
If this was peak Liverpool up against them, I'd fancy them 100 per cent, but that No.6 issue is the one thing nagging away at me, as well as the fact that our defence doesn't seem water-tight.
There are still so many positives, though, and they look primed to finish second, or third at the very worst.
Just one clean sheet so far this season, is that anything to worry about?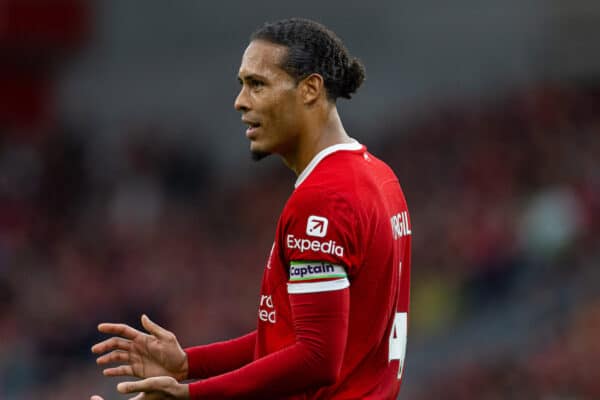 ADAM: It feels like nitpicking considering how positive the start has been, but in an ideal world you'd probably like us to be on more than that by now.
The games have been tough and you can't expect teams to roll over in this league – although some of the bottom teams are giving it a good go – so I'm definitely not at a stage of panic just yet.
HENRY: There is no doubt that Liverpool still feel too easy to get through, which feels like a combination of Mac Allister as the six and the defence giving up too many chances, as mentioned.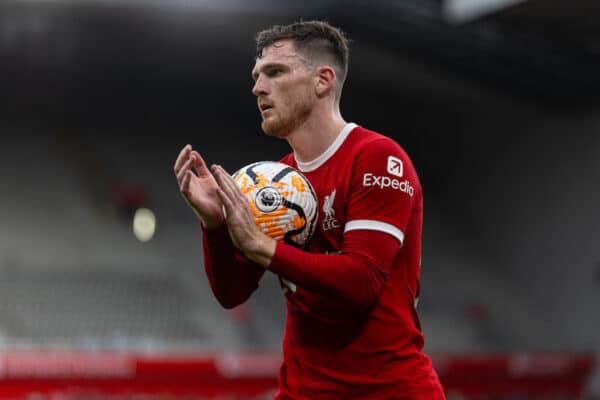 One clean sheet in seven matches, in all competitions, is telling.
Van Dijk is treated harshly at times because we compare him to the 2018-2020 version – the best centre-back I have ever seen – but he has just dropped off that tiny bit and it shows.
If we didn't have one of the all-time greats in goal, things could be very different.
BEN: If we had kept one clean sheet with Trent, Konate, Virgil & Robbo as our back four for six games I'd be a tad worried.
However, with injuries and suspensions, we haven't seen that back four too often. The true test of our defensive ability will be Spurs and Brighton away. They're two huge games.
Finally, who was man of the match for you?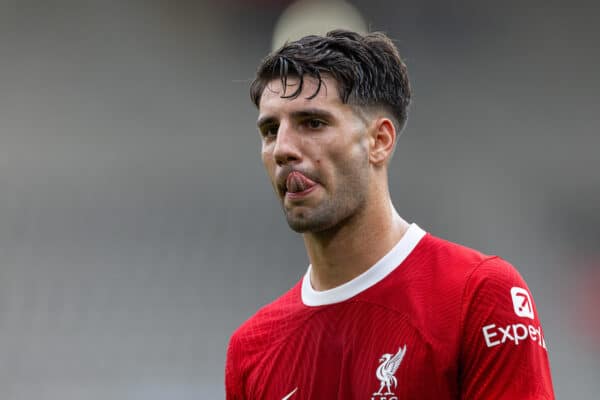 BEN: My player of the match was Szobo, he's f*****g everywhere him. I wish we'd signed him years ago!
His pressing towards the end of the game was Wijnaldum esque but his ability on the ball is incredible, we've got a serious player on our hands with him. I also felt that Gomez did ok at RB
HENRY: For all I've said about him, I thought Mac Allister was a strong contender. He was superb in the second half, both on and off the ball, and his assist for Nunez's goal was perfection.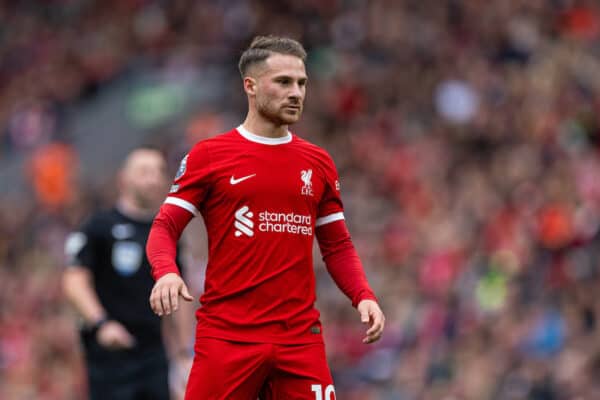 Szoboszlai and Salah were again excellent, too, as has been par for the course this season – it's ridiculous how quickly the former has settled in – while Gomez and Matip deserve huge praise for coming in and doing a strong job.
Jones was another who caught my eye, keeping the ball ticking over and simply doing his understated job expertly.
ADAM: I definitely wasn't expecting it to be Matip, but I think it might be!
He had his hands full with Michail Antonio and he made it look pretty effortless, it was reassuring to see us restrict a good West Ham side to less than a handful of chances with a makeshift back four.