Virgil van Dijk was handed a £100,000 fine and a further one-match ban for his reaction to his red card at Newcastle, and he hopes the money goes to a "good cause."
The Liverpool captain's dismissal at Newcastle forced him to miss the win over Aston Villa, but his reaction brought on another charge that landed him a further ban and a fine.
Remarkably, his £100,000 fine is one of the worst ever issued to a player in the history of the Premier League.
Van Dijk has made it clear he "totally accepts" the decision after letting his "frustrations get the better of me," but he is hoping the six-figure sum goes to a good cause.
"It has been a hard and expensive lesson," Van Dijk told the media ahead of the Netherlands' fixture against Ireland.
"I can't really say more about it. I have accepted it and I am happy that there is an end to it.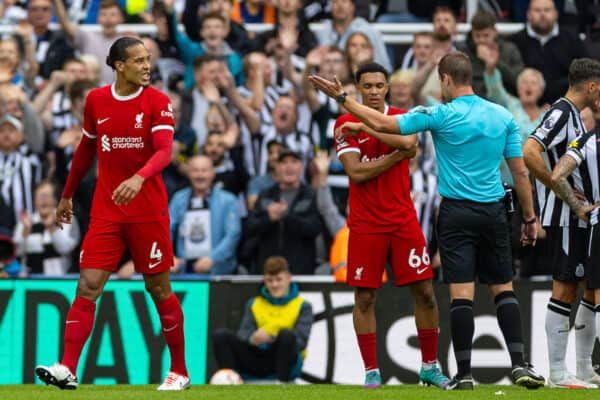 "I have been punished for it and I don't think I have been set as an example. Hopefully the money goes to the right people. A good cause is always better."
It was not that long ago, May, in fact, that Jurgen Klopp asked a similar question after being fined £75,000 for his comments regarding referee Paul Tierney.
"I would like to know, like always, where the money goes," Klopp said. "If it's for a good cause, I'm more than happy to pay it. If the FA keeps it, I think it's a bit harsh."
The FA insist they operate as a not-for-profit organisation, with all money generated through fines reinvested back into English football across all levels.
Van Dijk has, therefore, made a substantial contribution with his six-figure fine, but it is interesting to note that he feels he has not been "set as an example."
His comments towards the match officials and the deserved punishment have been heavily debated since the incident, with many left feeling other players will not be handed similar sanctions in same set of circumstances.