The world has changed rapidly in the last 20 years and so has the way we consume football. We looked back at Liverpool's website and more to see how they have changed.
Some supporters weren't even alive when Liverpool's official website launched, writer of this piece included, but as is widely known, things on the internet stay there forever.
This has allowed us to trawl over the archives and discover some of the quirky and peculiar features, by today's standards.
Liverpool supporters have been at the forefront of fan media, sometimes even ahead of the club, whether that be through organising on forums or producing broadcast standard programmes.
We decided to look back to compare how these websites compare to today's.
The early days
After Granada bought a 9.9 percent stake in the club in 1999, the company helped get Liverpool's media off the ground and eventually led to the creation of LFCTV.
However, starting with the Reds' official website, we can see how basic the first edition was.
This is how the official website looked in its infancy, March 2000, when the url was still liverpoolfc.net.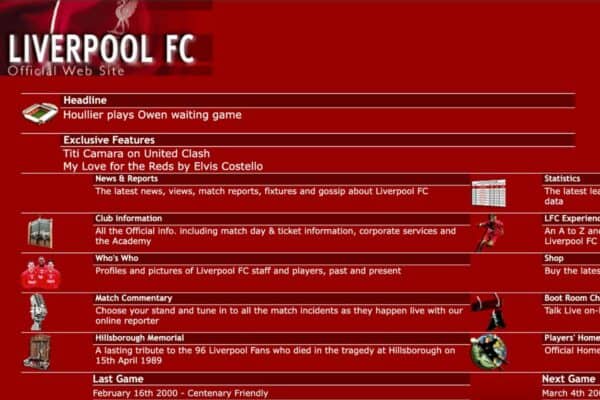 The site remained pretty basic until 2001, when the club changed domain and launched liverpoolfc.tv.
As you can see below, this was a big leap for Liverpool who advertised "5 channels of 'web TV'," a "TunnelCam" and "a post-match email from the manager with his views on the game."
A live tunnel camera is something we don't even get today!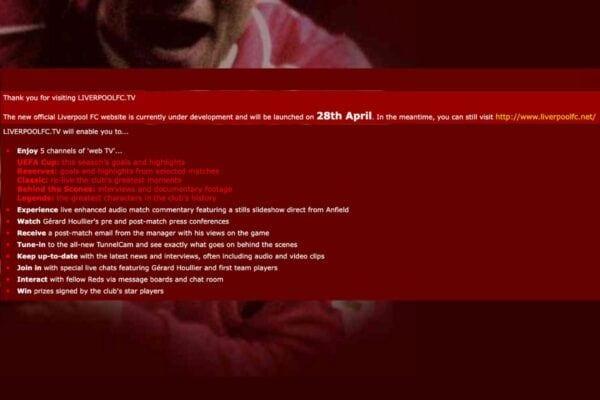 Once launched, liverpoolfc.tv looked like the image below – certainly a marked improvement from the previous year.
Due to a lack of search engine optimisation, headlines could use nicknames like 'Macca' (Gary MacAllister) and 'Kirky' for Chris Kirkland.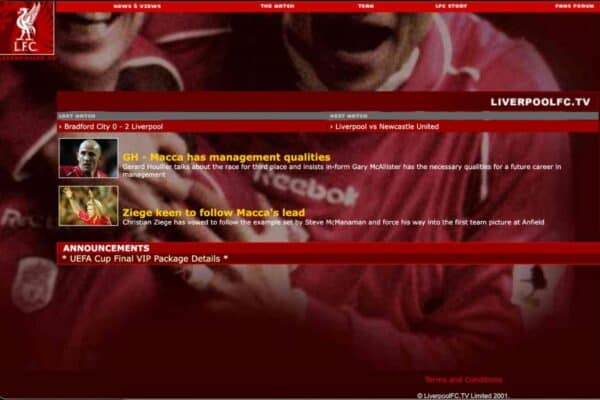 By 2003, computers were in more homes and workplaces, so the club had to keep up. There were features including an "e-ticket console," competitions and a members area.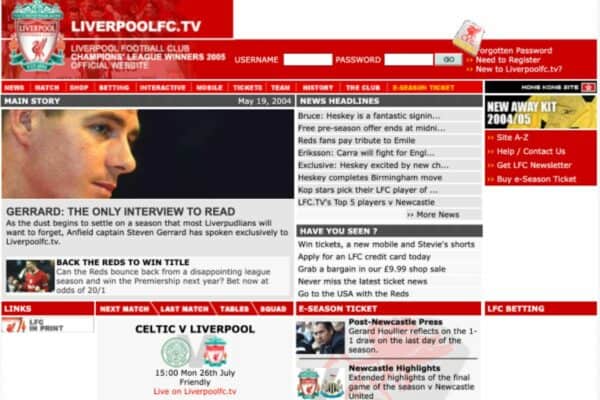 Fast forward a year and the official site had taken huge leaps. By 2005, it was looking slightly closer to what we would expect from a site today.
Here is what the official site the morning after Liverpool beat AC Milan in the 2005 Champions League final: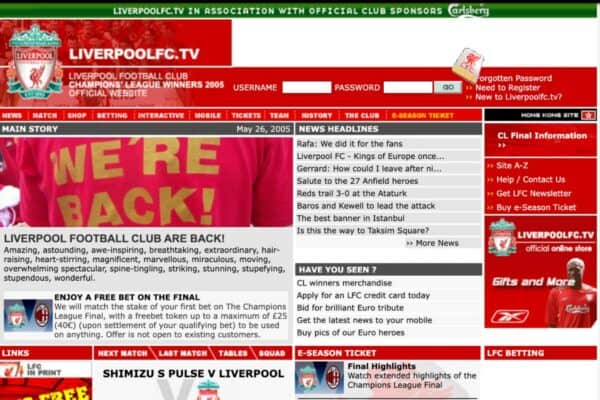 A blast from the past
Eventually, in 2007, LFCTV finally went to air. We've got some serious throwback photos of presenters Matt Critchley, Claire Rourke and Peter McDowall at launch.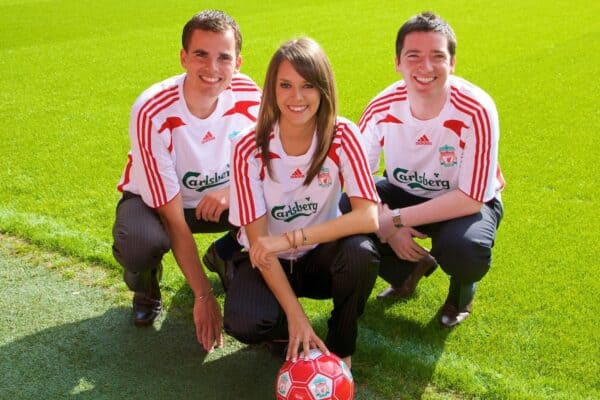 It was 2012 in which the site became what many of you reading this will be familiar with.
This format brought ticketing online, as well as games for children and far more interactivity with fans.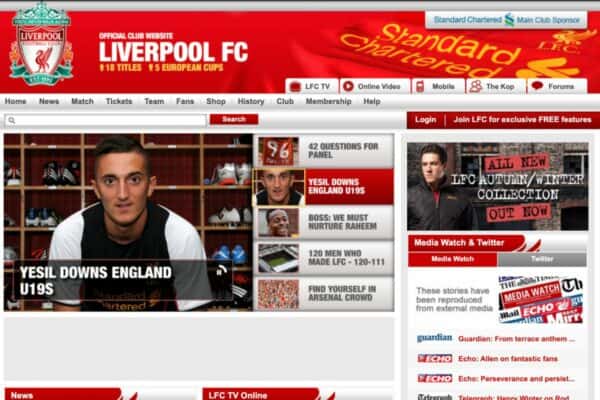 By late 2013, the Reds had finally acquired the domain name, liverpoolfc.com.
You might be wondering why it took so long, well that's in part down to Liverpool Fashion Club originally taking the name.
It took until about late 2016 for another design change. This one allowed users to easily navigate the site using the banner at the top.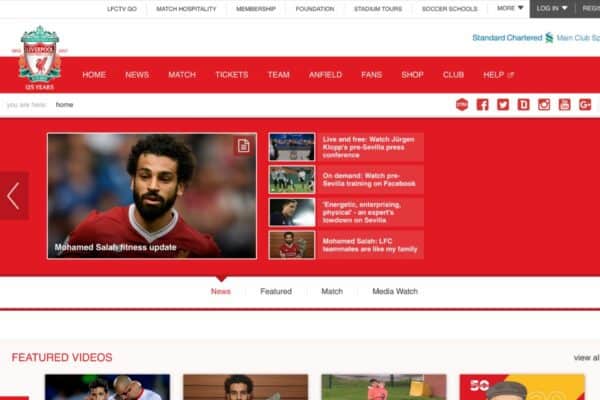 At a similar time, they thankfully did away with the annoying entry screen that was basically an advert for the shop.
Here's an example from 2014: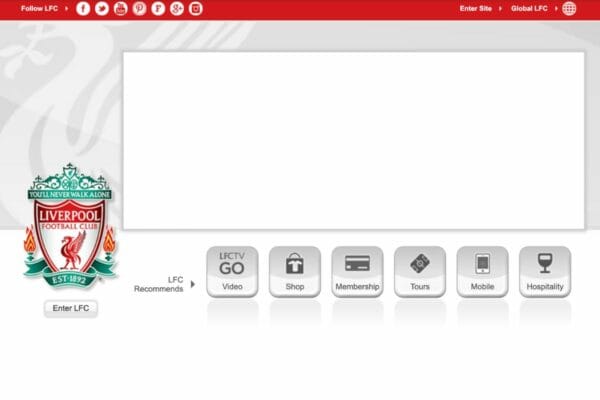 After the 2016 update, things didn't much change appearance-wise until recently. There are good and bad parts of the LFC website now – the ticketing aspect still feels like a quest to conquer, for example.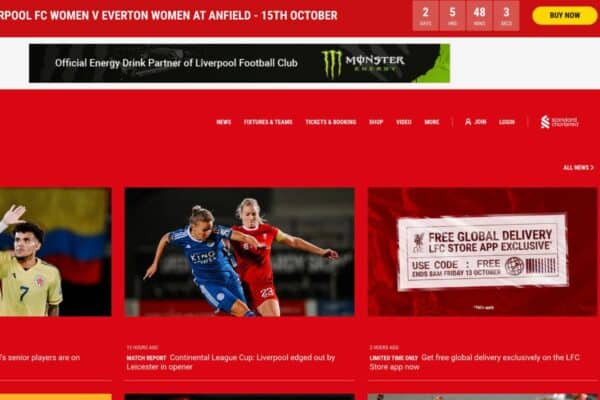 For the fans
Liverpool run a well-oiled media machine, now, that produces brilliant video content also. The Reds' fan-led media has been among the world's leaders, too, and This Is Anfield was there at the start.
This Is Anfield formed on December 26, 2001, after a merger between LFC Kop and Anfield FC.
Below is how LFC Kop looked pre-TIA – clear and simple is still the way to go!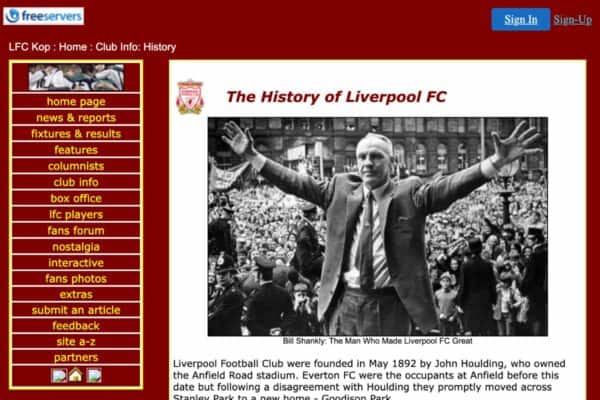 Here is how TIA looked shortly after launch: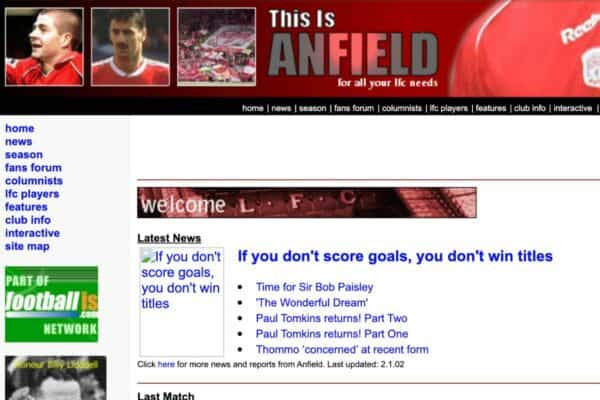 The 2005 Champions League final in Istanbul was a magical night for supporters and This Is Anfield carried the wave of emotion.
This was just a few days after the final: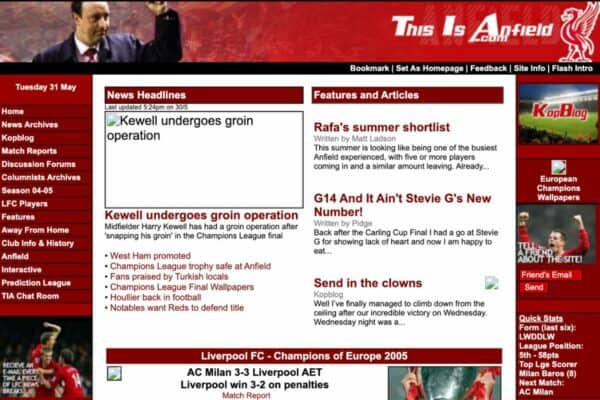 Later that summer, a transfer hit list for Rafa Benitez proved to be quite accurate in hindsight.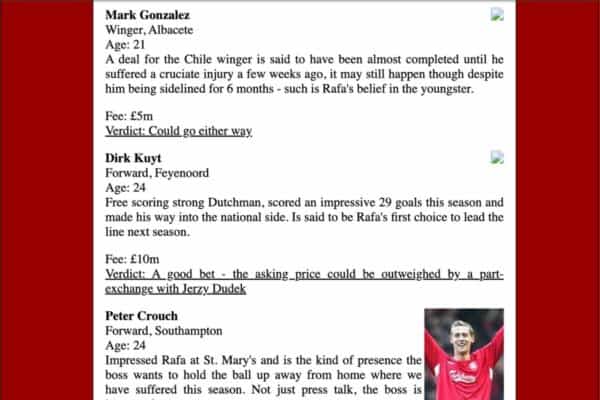 Not all the predictions worked out, though.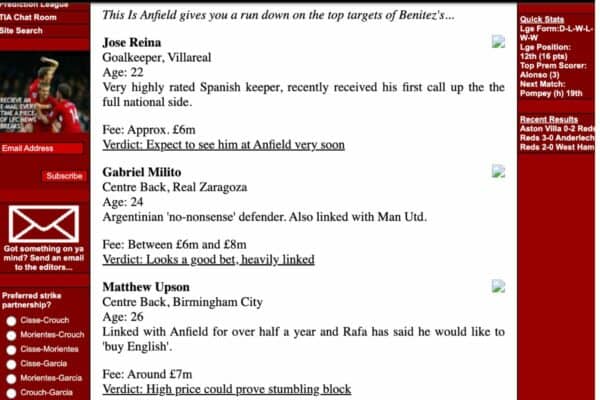 Five years later, by 2010, TIA had progressed a lot and was providing news and content to a larger audience.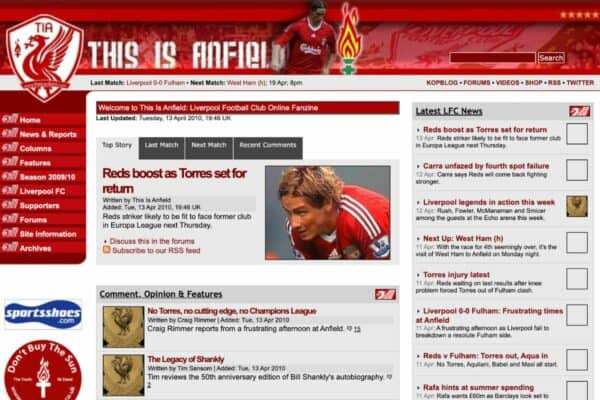 And, two years later, the site had changed again.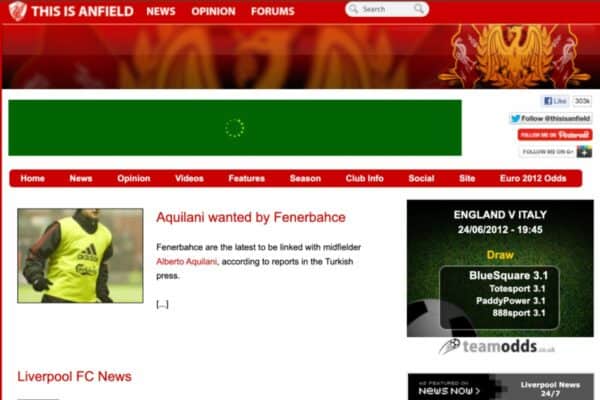 2014 saw the This Is Anfield homepage begin to look more familiar.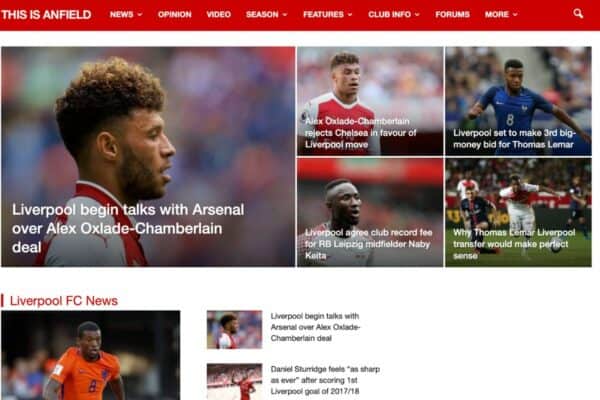 And, by 2017, the page was looking quite close to what you can see today.
Fast forward to 2023 and, with over four million followers across social media, you can see for yourself how far This Is Anfield has come.