Despite headlines of Luis Diaz 'dreaming' of Barcelona, the Liverpool winger's father did not, in fact, suggest he was pushing for a move to the Nou Camp.
It may seem untimely for Diaz Sr. to tout his son for a move away from Anfield, given the club's outpouring of support for the family in recent weeks.
Saturday saw Luis Manuel Diaz, his wife Cilenis Marulanda and their extended family arrive in Liverpool via a private jet chartered by the club, as they prepare to spend Christmas on Merseyside.
But the weekend has also brought headlines of Diaz's "dream" to play for Barcelona, following an interview from Diaz Sr. with Win Sports in Colombia.
'Luis Diaz father makes Barcelona transfer claim as he admits Liverpool forward's 'dream'
–
Liverpool Echo
'Luis Diaz's dad reveals his son's "dream" club as Liverpool sent transfer warning'
– Mirror
"It would be his dream' – Luis Diaz's father talks up Barcelona transfer'
– GOAL
"It's his dream' – Liverpool star tipped to ditch Anfield for Barcelona in stunning admission'
– TEAMtalk
There was no 'transfer claim' or 'transfer warning', though, and Diaz certainly wasn't 'tipped to ditch Anfield'.
Diaz Sr. did concede that, as a boyhood Barcelona supporter like many in South America, it would be the 26-year-old's "dream" to play for the club.
? "Hasta el momento él (Luis) no me ha dicho nada sobre el Barcelona, pero es cierto que Luis es seguidor del Barcelona y sería un su sueño llegar allá" Luis Manuel Díaz, padre de Luis Díaz. pic.twitter.com/JNEz31AVeL

— Win Sports TV (@WinSportsTV) November 17, 2023
But there was no suggestion that he was pushing for a move, simply an honest answer to a direct question.
"The truth is that I know very little about Barcelona at the moment," he explained, via Sport Witness.
"It is true that Luis is a loyal Barcelona fan and it would be his dream to go there.
"So far I would like to thank Porto and Liverpool for the way they welcomed him and received him.
"Luis is a player who finds it easy to win [fans] over because of the way he is, because of his humility, his work, his dedication. He is a very disciplined player, thank God.
"There would be no problem if Luis came to Barcelona because it is a top team and one of the best in the world."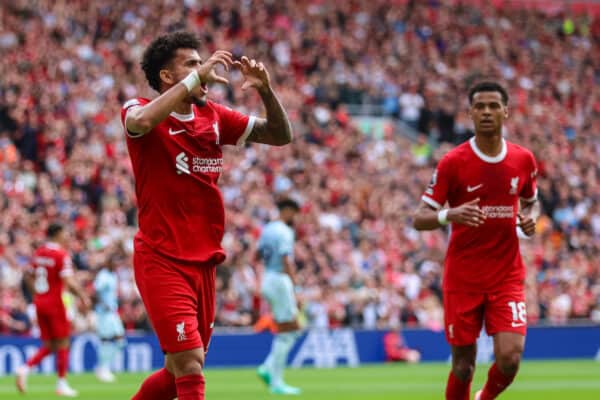 While it is far from ideal that Diaz's father is discussing other clubs in a public interview, there is no expectation that he will leave Liverpool any time soon.
It is rare for a player from South America not to have aspirations of playing for either Barcelona or Real Madrid – that is just the reality.
Liverpool have contended with this in the past as both Luis Suarez and Philippe Coutinho forced through moves to Barcelona, though they have also seen increasing loyalty, with Roberto Firmino a prime example.
If Diaz does want a move to the Nou Camp in the future, Jurgen Klopp will not stand in his way – but don't get carried away by the headlines yet.