With pre-season ending without the signing of a defensive midfielder, Jurgen Klopp suggested that a temporary solution would be needed for this weekend's opener vs Chelsea.
So what might that look like?
Scouting the opposition
It's worth taking a look at what the hosts will try to do at Stamford Bridge.
Throughout pre-season, we saw Mauricio Pochettino implement his signature philosophy: intense, high-pressing football, using a 4-2-3-1 to play on the front foot.
But he also showed he has evolved in his time away from the Premier League.
We saw this immediately during the friendly win vs. Brighton. With Levi Colwill in possession, the 4-2-3-1 becomes a 3-2-5…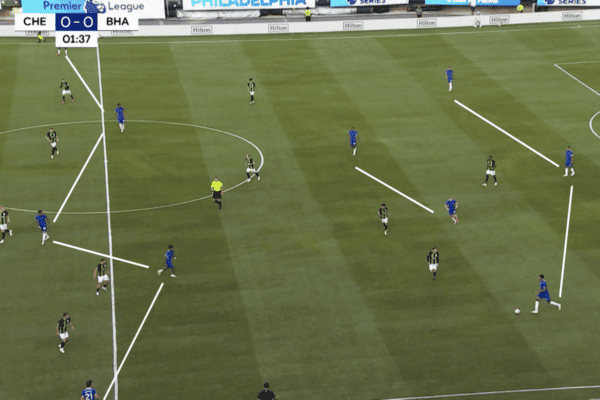 …with left winger Ian Maatsen dropping into midfield to create a box midfield. This frees up Ben Chilwell (21) to push forwards.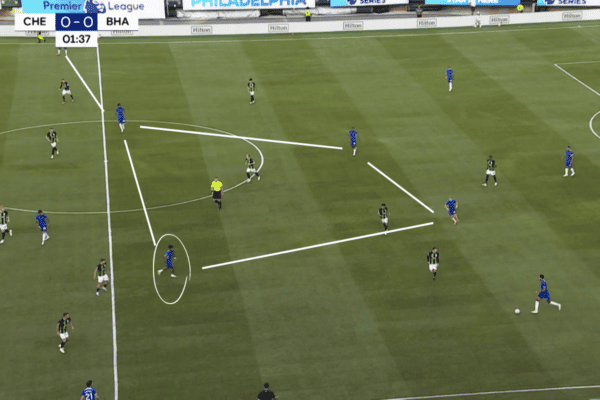 Colwill finds Chilwell with one of his excellent passes, and the full-back can race into space…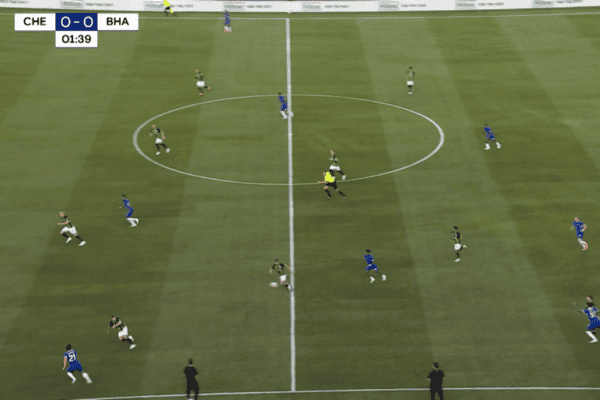 …but his cross comes too early.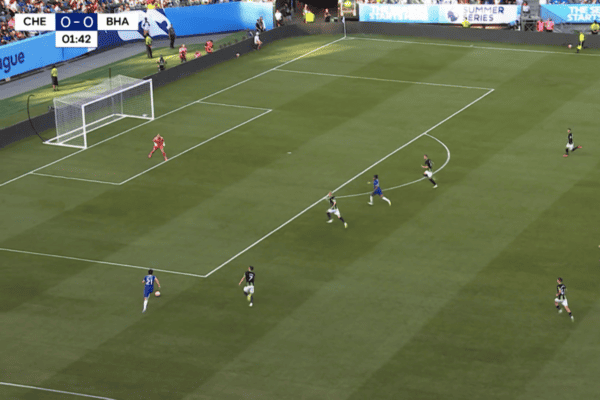 Still, it demonstrates the threat Chelsea carry down their left flank.
Given that Liverpool's right-hand side was exposed repeatedly during pre-season, it's the worst possible opponent to start with.
Or perhaps the best, as it means Liverpool have no choice but to find a solution right away.
3-box-3
After talking up a change in the media, Klopp could surprise us all and stick with the 3-box-3 shape.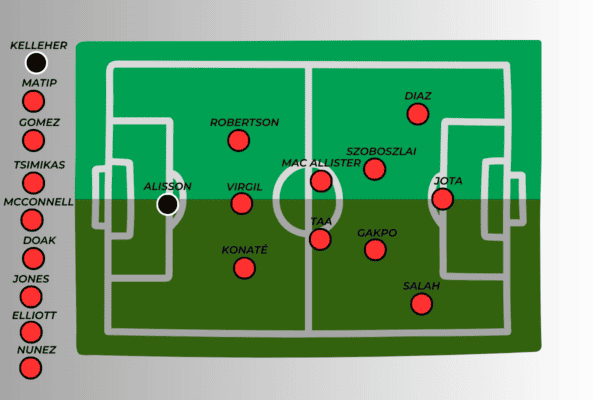 Alexis Mac Allister performed well in the No. 6 against Darmstadt, offering stability beside Trent Alexander-Arnold, while Cody Gakpo's secure link-up play on the right dovetails well with Dominik Szoboszlai's creativity on the left.
It's a well-balanced quartet that allows the back and front threes to do their jobs.
In possession, that is. Because while the compactness of the shape allows the team to counter-press well, as Klopp admitted: "We can't block every diagonal ball."
When the press is beaten, the backline has struggled to cope with runners in behind.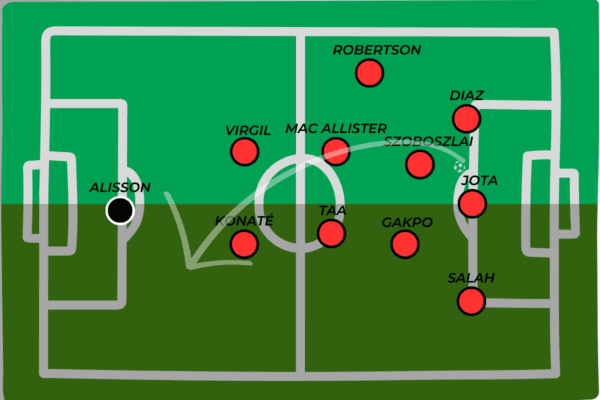 The likes of Nicolas Jackson and Mykhailo Mudryk could wreak havoc in this scenario.
4-3-3
Another possibility is the conventional 4-3-3 of yesteryear. With Mac Allister as a lone No. 6, Trent and Andy Robertson give the width once more.
Gakpo drops between the lines, allowing Harvey Elliott to recreate the flexible triangle on the right with Trent and Mohamed Salah.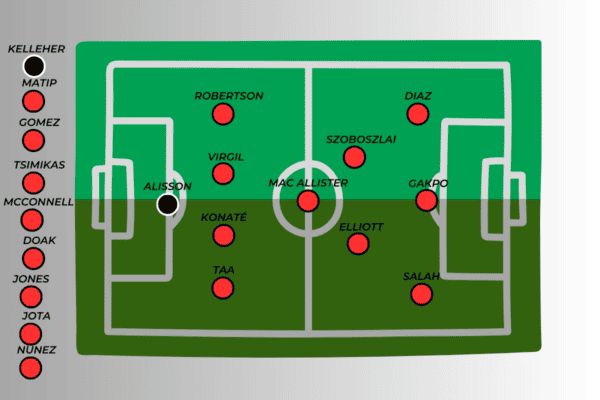 The obvious issue here is how isolated Mac Allister is in transition, which even specialist defensive midfielder Fabinho struggled with last season.
Mac Allister could easily be overrun, especially with Szoboszlai a more adventurous midfielder than predecessors Gini Wijnaldum and Thiago.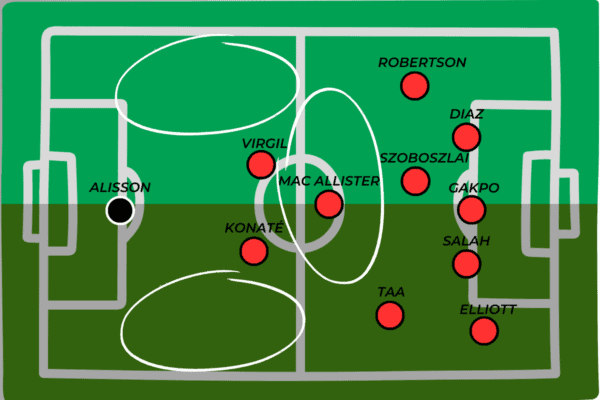 The space behind the fullbacks is then freely available, forcing the defenders to shuttle across and give up space in the centre for easy cutbacks.
4-2-3-1
As he did against Darmstadt, Klopp could unleash four of his fab five with a 4-2-3-1. Using Jones and Mac Allister as a double pivot, Liverpool could start Gakpo as a 10, free to identify and penetrate the available space at the end of each attack.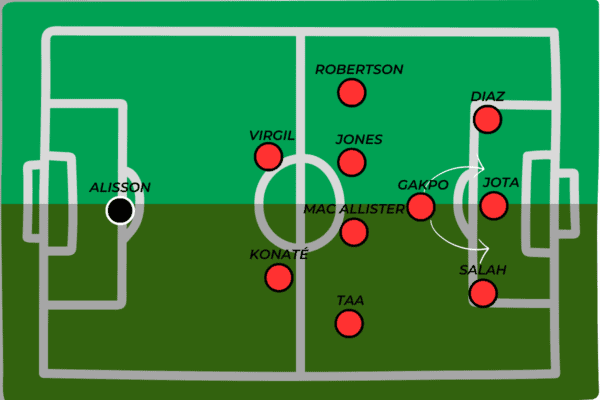 It does however rely on Jones to recover from injury in time to keep out a Chelsea side whose true level is still yet to be revealed.
4-2-3-1 lopsided
A more conservative approach in more ways than one. Firstly by keeping Jones safe on the bench, Klopp can use a Trent-Mac Allister partnership that has already played together in pre-season.
But also, Joe Gomez starting at right back allows Robertson to push forwards in possession, with a back three behind him.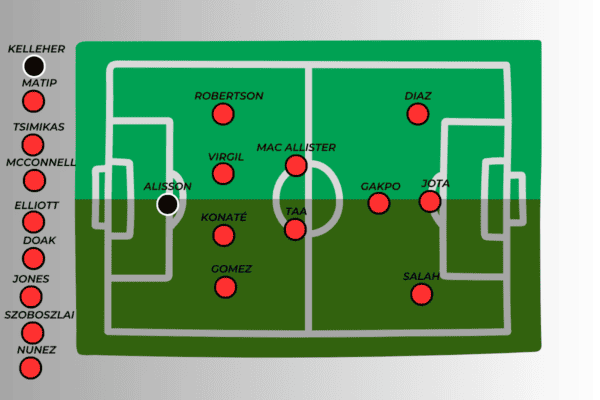 Salah holding width on the right by himself would put him in danger of blanking for the first opening game of his Liverpool career.
But the benefit is a more solid right side that can stifle that dangerous left flank of Chelsea – and allow Liverpool to unleash their own.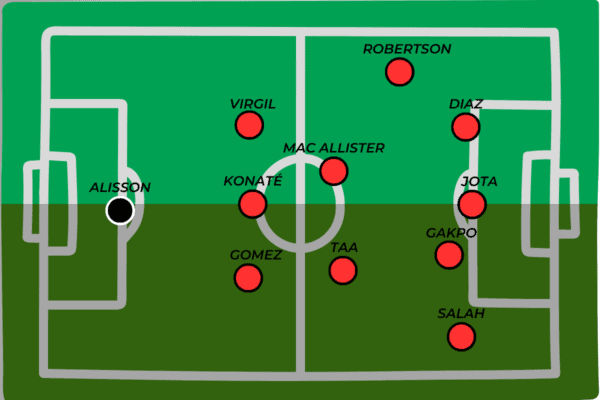 3-4-1-2
Whether it be Trent, Mac Allister or Jones, Klopp has insisted there's "no chance" anyone can defend the midfield alone.
So if one midfielder can't do it, how about three?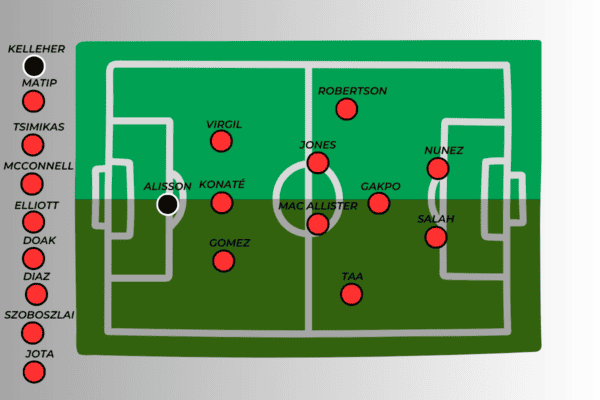 With the team now more comfortable using a back three, the full backs could be deployed as wing backs while a midfield trio keeps the inside of the pitch compact.
Gakpo once again has a degree of freedom behind the strikers, while last year's experiment with a diamond suggests Darwin Nunez can form an excellent partnership with Mo Salah.
Similar to the Chelsea setup that won the Champions League in 2021, the 3-4-1-2 would likely limit the number of chances conceded. But Liverpool would need to be clinical in front of goal themselves.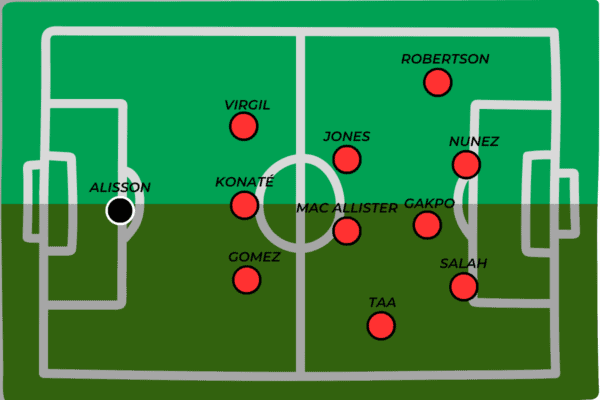 The question mark is whether the team can adapt to such a different tactical and philosophical change in such a short space of time before the game gets underway.
And that question is at the heart of all of these possibilities. The season is about to kick off, and Liverpool are still in search of who they are.
When Sunday comes, they'll need to have found themselves.