The use of Alexis Mac Allister as a No. 6 has attracted criticism already this season, but there is evidence to suggest it is, in fact, working.
With a bit of perspective applied, Liverpool fans should in truth have little to gripe about regarding their start to this season.
Jurgen Klopp's side are eight points and four Premier League places better off than at the same 11-game mark of the disastrous 2022/23 campaign.
They also sit just three points shy of Manchester City at the summit having trailed early leaders Arsenal by 11 points this time last year.
Still, the football supporter's passion for picking holes is indefatigable, and so it is perhaps unsurprising that a single perceived shortcoming is already receiving undue attention.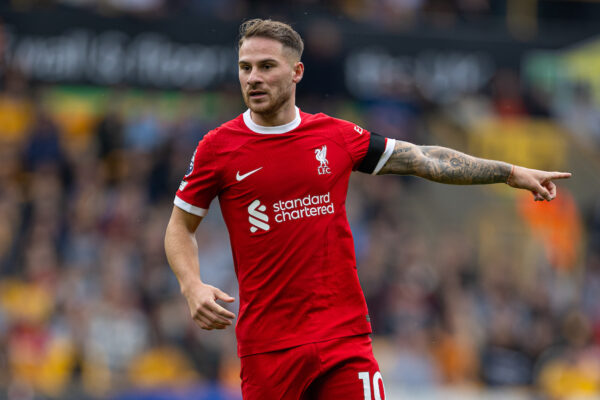 We are talking, of course, about the controversial use of summer signing Alexis Mac Allister in the No. 6 role, which has emerged as the main talking point after every poor result thus far (not that there have been many).
The Argentine was again a lightning rod for criticism after a disappointing draw with Luton on Sunday but, as has often been the case so far this season, it felt like he was being unfairly singled out.
For starters, his biggest crime at Kenilworth Road appeared to be getting outpaced by Tahith Chong during the speedy counter that allowed the hosts to open the scoring.
Yet rather than criticise Mac Allister for that, surely it is fairer to question the wisdom of deploying a player hardly renowned for his pace in a protective position during attacking set-pieces.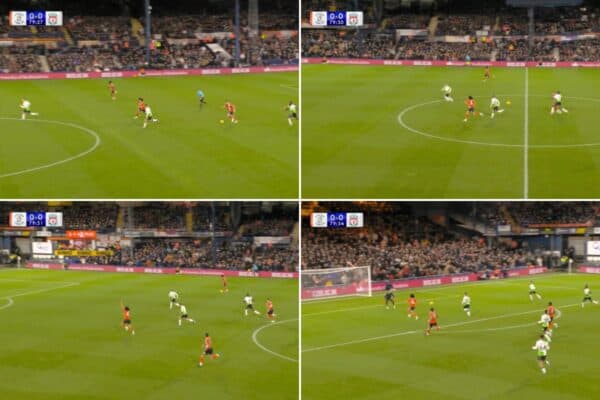 It is a situation even a prime Fabinho would not have been able to salvage given his own lack of speed, while a weak challenge from Harvey Elliott (who was otherwise excellent) in the build-up was far more worthy of mention.
That was perhaps the most egregious example of Liverpool players not named Mac Allister winning just five out of their 24 duels at Luton which, as was pointed out by the excellent Sam McGuire on Twitter, is always going to land your deepest midfielder in trouble.
The case for occasional structural failings being at the root of Mac Allister's issues is further strengthened by comparison with midfielders operating in a lone pivot at clubs with similar expectations, even in defensive measures perceived to be weakness.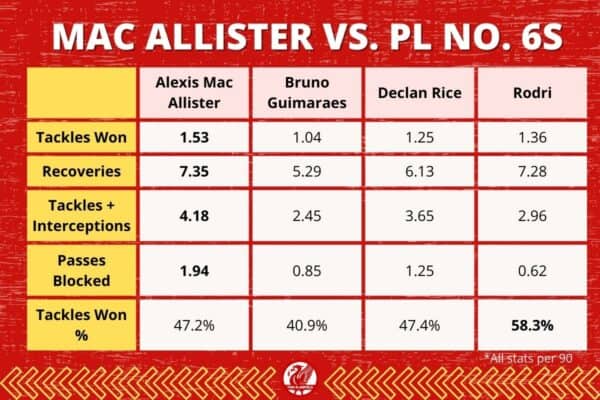 For example, he leads Bruno Guimaraes, Declan Rice and Rodri for tackles won per 90 minutes in the Premier League this season with 1.53.
He also outstrips that trio for recoveries (7.35), tackles and interceptions (4.18) and most passes blocked (1.94).
Admittedly, the high frequency of his tackle attempts have led to more losses on that front than any of his rivals, but a win ratio of 47.2 percent still puts him ahead of Bruno (40.9%) and only fractionally worse off than Rice (47.4%), with the peerless Rodri out on his own with 58.3 percent.
Underappreciated though they might be, numbers like this have provided the foundation for Liverpool to make a fine start, backed up by underlying statistics that make a mockery of suggestions their midfield has a hole in it.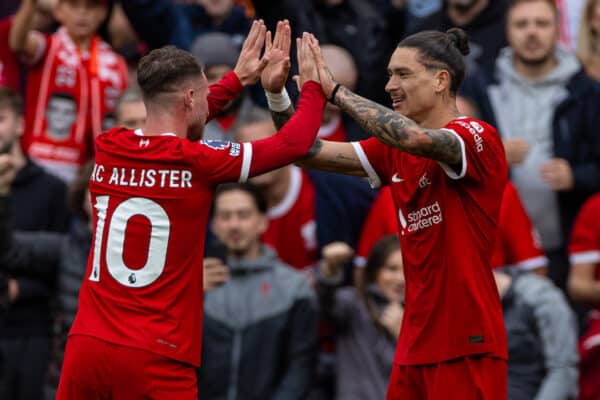 The Reds' xG difference places them third in the Premier League (their actual position), while they have the third-best defensive record (10 conceded) behind only Arsenal (nine) and Manchester City (eight).
Clearly, room for growth remains, but claims that things would be even better with a different holding midfielder in post should not be blindly accepted.
The theory that all the Reds' problems would be fixed by Moises Caicedo is a questionable one given that he has generally excelled in a double pivot during his short career.
And attempts to paint Andre – a player we are frequently told profiles similarly to Thiago – as Liverpool's saviour in that lone No. 6 role also feel wide of the mark.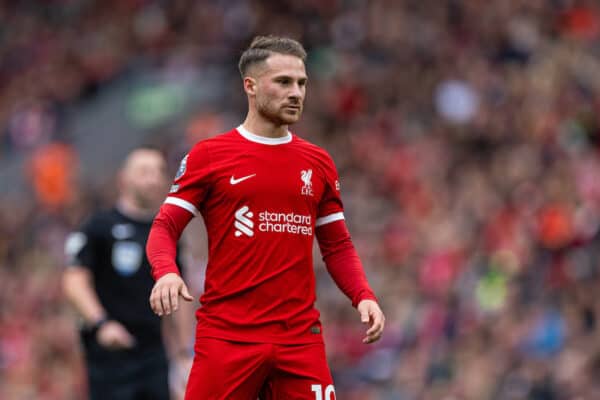 Yes, the Reds can be stiffer in the centre of midfield going forward, but the responsibility for that should not be placed solely on the shoulders of the man at its base.
Fortunately, Klopp's teams have always tended to improve as the season progresses, and so it could be that the simple passing of time and the greater team chemistry that comes with it is all that's needed for the best of Mac Allister to be unlocked at Anfield.
Of course, the only issue then is that there may well be very little left for supporters to moan about.