Ben Doak caught the eye during Liverpool's pre-season and could have a regular role for the campaign ahead, particularly in the Europa League.
Doak was one of 16 players to feature in all five of Liverpool's warmup friendlies, impressing with his direct approach on the right flank.
The 17-year-old clocked 180 minutes on the pitch – more than any other youngster involved – and scored with a well-taken header in the 4-0 win over Leicester.
It seems clear that Doak will be part of Jurgen Klopp's senior squad moving forward, providing backup to Mohamed Salah.
And with Liverpool entering the Europa League this season, and likely requiring more rotation as they play Thursdays and Sundays, the teenager could be among those to benefit.
However, despite being under 21, Doak will take up a valuable over-age spot in the squad for this season's Europa League due to UEFA rules.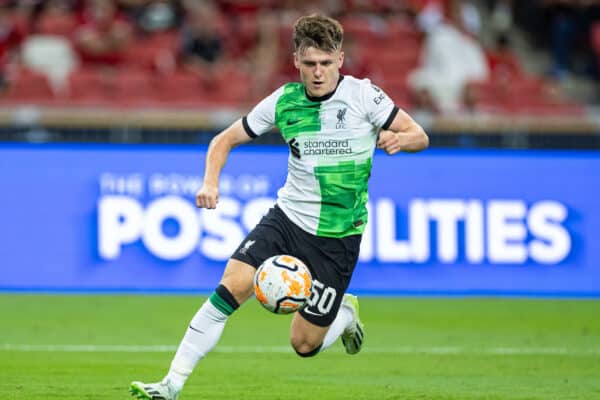 Clubs must submit two lists – List A and List B – for registration for the Europa League, as with the Champions League.
List A can include a maximum of 25 players, with a minimum of eight players eligible as 'locally trained' and at least four of those 'club-trained' rather than 'association trained'.
To qualify as 'locally trained', a player must have been with either the club or their association (in this case the FA) for three entire seasons, or 36 months, between the age of 15 and 21.
List B allows clubs to register an unlimited number of players under the age of 21 as long as they meet the following criteria:
"A player may be registered on List B if he is born on or after 1 January 2002 and since his 15th birthday has been eligible to play for the club concerned for any uninterrupted period of two years, or a total of three consecutive years with a maximum of one loan period to a club from the same association for a period not longer than one year."
Doak, who turns 18 in November but has only been registered with Liverpool since the summer of 2022, is neither List B eligible or considered 'locally trained'.
This is due to Scotland not being part of the English FA, as is the case with Wales.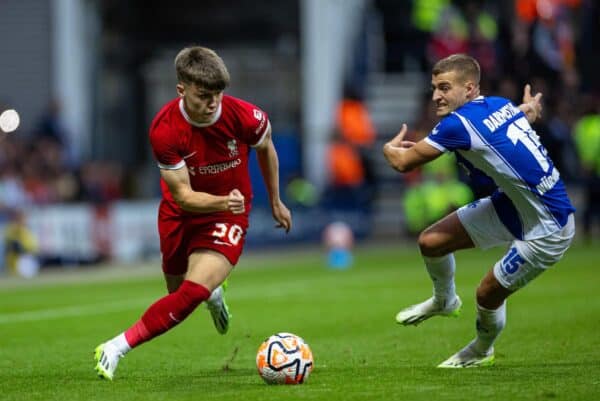 Instead, the winger will need to take up one of 17 'foreign' slots in Liverpool's squad for the Europa League.
The same scenario occurred with Stefan Bajcetic in the group stage of last season's Champions League, with the Spaniard named on List A ahead of Naby Keita.
Unlike Bajcetic, though, Doak will not become eligible for List B mid-season – he will only due so from the next campaign, when he will have been with the club for over two years.
Doak is expected to be part of Liverpool's Europa League squad despite this, though, with Klopp more likely to omit other players to accommodate his No. 50.
Fortunately, the same does not apply for the Premier League, where Doak will be eligible as an under-21 player.