Liverpool's European adventures got underway with a 3-1 victory at LASK, but it required a comeback after Jurgen Klopp's 11 changes required time to find their rhythm.
The Reds, or in this case the purples, kickstarted their Europa League campaign with a full complement of points in their first outing – to which Klopp described as "well-deserved."
It was not the prettiest of performances we will see, but it was understandable considering the full rotation in play, but what did it tell us about the bigger picture?
Here, Joanna Durkan (@JoannaDurkan_), Adam Beattie (@beatts94) and David Lynch (@dmlynchlfc) discuss the latest victory and if anyone has put themselves into contention.
Klopp made 11 changes, what did you make of the mass rotation in the end?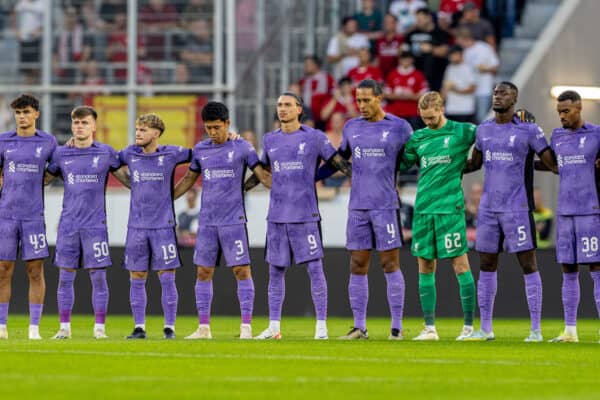 JOANNA: It was one of those lineups that you were instantly excited about but knew it wasn't going to gel straight away and wasn't going to be pretty.
In the end, the job was done and that is all that matters in the group stage, but it would have been nice if Mo Salah, for example, didn't need to come on.
It was the first start for many so if this is what Klopp persists with for the majority of group games, it will get better no doubt.
ADAM: Given how wholesale the changes were, it felt like a reasonably strong side and one that was more than capable of doing the job.
We've seen in the past that starting a makeshift midfield like that doesn't usually help things and there was definitely more of a calmness when Mac Allister and Szoboszlai came on, but I never felt worried that we wouldn't get there.
DAVID: The scare that Liverpool got in the first half underlined that there was plenty of risk involved in changing the entire starting XI, but the manager will surely feel he made the right call given the ultimate outcome.
Every fringe player who needed a run-out to keep them sharp got one, and several key players were given a much-needed rest that will do them the world of good ahead of the weekend.
For the fourth time in six games, Liverpool conceded first. It's still a big issue, isn't it?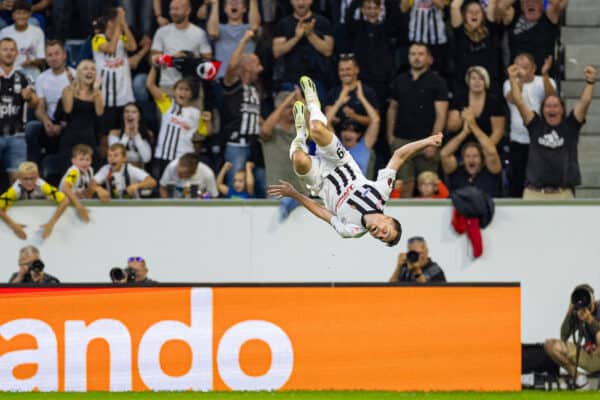 JOANNA: There is only so long you can continually muster the energy for a comeback, they feel great but it is not sustainable over a long season.
It is not a new issue either, we talked about it a lot last season and I'm sure if Klopp was to be asked about it again he would get quite prickly.
The quicker we can stop talking about it as an issue the better, it almost feels odd now if we don't have to come from behind – more attentive starts to games are needed.
ADAM: It's quite a baffling one.
There are probably explanations for each individual instance as you go through them but the theme alone isn't great, and we could do with making life easier for ourselves.
I think continuity is going to be key to solidifying us this season and if we can somehow keep Ibrahima Konate fit for the most part, I'm fairly confident we'll be okay long-term.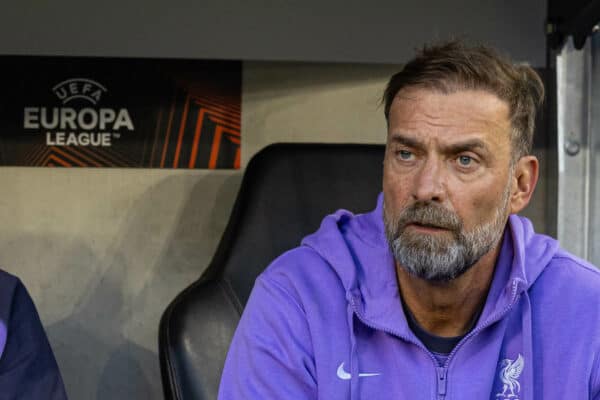 DAVID: The LASK goal felt a little bit different given that it was basically a wonderstrike against the run of play, but I agree this is going to prove to be an issue eventually if Liverpool don't cut it out.
There's going to come a time where they concede first against a side who are capable of both defending a lead and then hurting them on the counter.
In fact, West Ham, Tottenham and Brighton look to me to be three teams who definitely fit that bill, and so the Reds would be well-advised to do everything they can to avoid letting the first goal in.
Kelleher hopes this can be his competition, would you want to see that?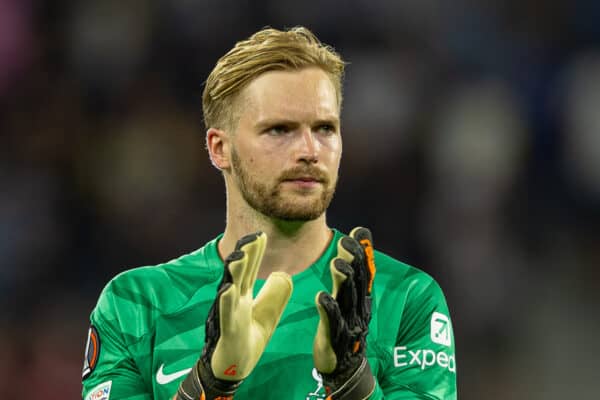 JOANNA: It is an interesting one. I expected him to start and while it may be harsh, I think he could handle the group stage before Alisson steps in for the knockouts.
The Brazilian is the No. 1 and has earned that right to take control in the business end of competitions, it is still European football at the end of the day.
So in short, not really.
ADAM: I can understand the reasoning behind it when we won the League Cup and ultimately that all ended nicely, but a European campaign is a different ball game, particularly given how many more games there are.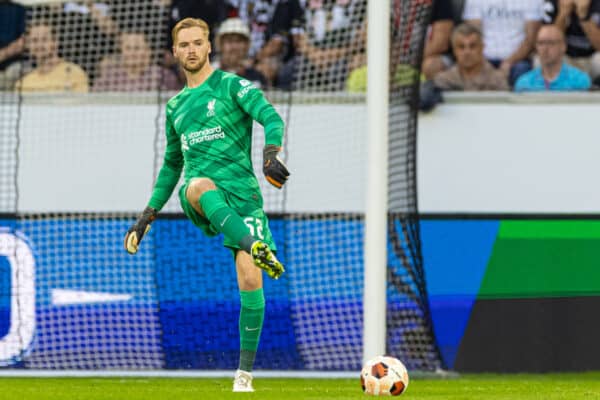 I get the sense this is his last season at Anfield regardless of the opportunities we give him.
It's not in Klopp's nature, but when the best goalkeeper is sitting there in the later rounds I can't imagine he won't be tempted, as you hinted at Jo.
DAVID: Liverpool can probably count themselves fortunate that none of the clubs who were linked with a move for Kelleher this summer firmed up their interest in the end.
The Irishman is worthy of being first choice at a high level somewhere else and it surely won't be long until an opportunity like that arises. Until then, Klopp should make the most of having such a talented back-up by using him in these early stages of the Europa League.
Finally, did anyone play themselves into contention?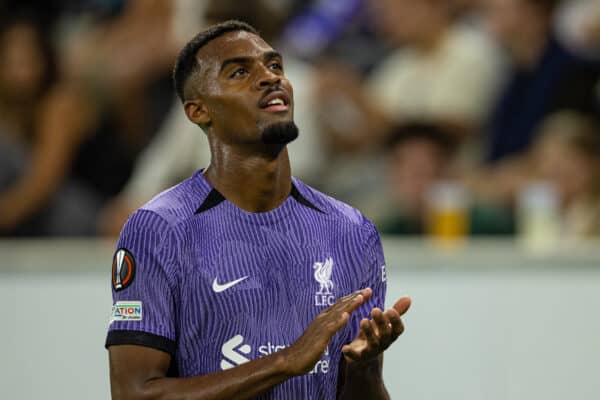 JOANNA: I really liked the look of Ryan Gravenberch. He was bright, direct and constantly in the thick of the action.
You could tell on occasion that he has not played consistently and made tired-looking decisions, plus he had to come off due to cramp, but I'm excited to see what he can do in a full strength XI.
ADAM: Gravenberch looked sharp to me too. It wasn't an ideal time to make your first start and the pitch won't have helped but he definitely showed glimpses of what he's about.
I wouldn't say he played his way into contention just yet because he's still working his way back, but Stefan Bajcetic has at least provided us with another option at right-back.
We don't have an abundance of those at the moment, particularly given Conor Bradley's injury.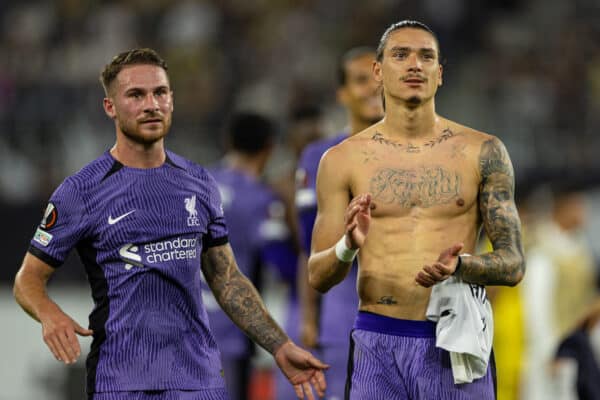 DAVID: I thought Luis Diaz and Darwin Nunez both did enough to show that they should be in the starting XI against West Ham, which is why I was slightly surprised to see them stay on the pitch for the entire 90 minutes.
I think the team is otherwise pretty settled elsewhere, but it surely won't be long until we see Gravenberch starting regularly given how impressive he was on full debut in Linz.
This is what I expect to see against West Ham: Alisson; Gomez, Konate, Van Dijk, Robertson; Szoboszlai, Mac Allister, Jones; Salah, Nunez, Diaz.