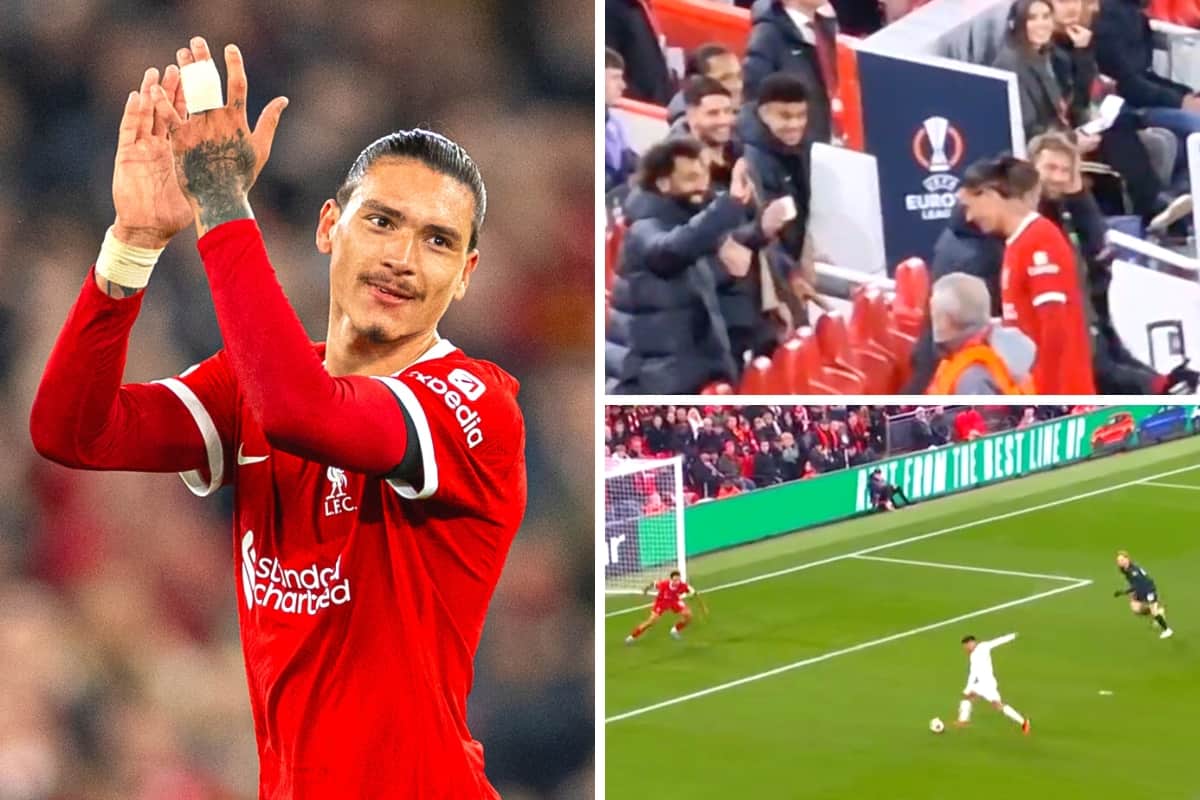 Liverpool now only need to win their next Europa League group game to progress to the knockouts, and they put themselves in that position after an entertaining night at Anfield.
Two debuts, one full debut, a maiden Liverpool goal and a night that saw academy talent shine, the Reds' 5-1 win over Toulouse had a little bit of everything.
Diogo Jota, Wataru Endo, Darwin Nunez, Ryan Gravenberch and Mohamed Salah all got on the scoresheet in what was a comfortable night for Liverpool under the Anfield lights.
Despite the straightforward nature of the victory, it was not without talking points and Nunez was at the top of the list for more reasons than one!
Here are things fans spotted on and off the pitch that you may have missed from Thursday's victory.
Can't believe it, neither could Darwin!
What an assist from Darwin!! ?#LFC #Nunez pic.twitter.com/ki9VGmUDru

— AsimLFC (@asim_lfc) October 26, 2023
It was harder to hit the upright than the open net, but it wouldn't be Nunez without a little chaos plus some shock and awe.
His instant reaction told you everything as he dropped to his knees with his head in his hands, it mirrored what was going on in the stands – though we could at least laugh after Gravenberch scored!
If you hadn't seen what happened you would never in a million years be able to guess. Hahaha! pic.twitter.com/L2YeIDYejY

— Paul (Maych) Machin (@ThePaulMachin) October 26, 2023
Darwin Núñez's reaction to missing the open goal.

Liverpool fans couldn't believe it either ? pic.twitter.com/3hyXiw8GUt

— B/R Football (@brfootball) October 26, 2023
Darwin Nunez assisted Ryan Gravenberch from this position, when he could have easily took the goal for himself.

He's the definition of completely selfless player #lfc pic.twitter.com/Pj2POsD355

— The Kop Watch (@TheKopWatch) October 26, 2023
He's taking it all in his stride, though, as he vowed to keep "working to improve personally and help Liverpool:"
No pasa nada ??, sigo fuerte y trabajando para mejorar personalmente y ayudar a Liverpool. ????

— Darwin Núñez (@Darwinn99) October 27, 2023
Just look at this team spirit
Just look at the reactions of Trent, Curtis, Gravenberch and all the lads on the bench to Nunez after his miss/RG goal ?. They all love him so much. The team spirit Klopp has built at #LFC is unreal pic.twitter.com/JSiTcTfErj

— Paul (Maych) Machin (@ThePaulMachin) October 26, 2023
Nunez was not on his haunches for long as his team got around him, first Trent Alexander-Arnold with an arm around the shoulder before some wry grins from the rest of the team.
There was a little kick in the direction of Curtis Jones, no doubt in reaction to a cheeky dig from the Scouser, and after leaving the pitch, the bench also had some fun with Nunez – who will not live the miss down.
All in good nature, this team continues to show how quickly they have gelled together and we're still very early into the season, it bodes well for what is to come!
'Endo, Endo'
His first goal followed by the first End? chant! #LFC #LIVTOU pic.twitter.com/IGq6Rv9EKE

— AsimLFC (@asim_lfc) October 26, 2023
A first goal for Liverpool is always special and that was the case for Endo, who did so in brilliant fashion with a perfectly directed header.
And he certainly will not have missed Anfield chanting 'Endo, Endo, Endo' in the aftermath, he was a man on a mission from there on out with the goal and the reaction to do him the world of good.
It was only his ninth appearance for the Reds and he continues to show all the right signs when it comes to settling into the team.
Right-back, midfield…goalkeeper?!
Trent has really taken on this inverted position. Now he's playing goalkeeper. pic.twitter.com/3fencS75I5

— Wayne Boyd (@Boydsnr) October 27, 2023
Trent's new role allows him to venture the pitch with freedom but the goalkeeper position isn't somewhere we would have anticipated seeing him.
But he filled the gap, took up his position and somehow Gabrial Suazo shot the ball directly at him – add one save to his stats!
A brilliant piece of defending from Trent Alexander-Arnold ?#UEL pic.twitter.com/Foau0pTM6A

— Football on TNT Sports (@footballontnt) October 26, 2023
Though we have to say his positioning was better than some of the goalkeeping we've seen in the Premier League so far…