Diogo Jota has revealed how events unfolded in the team hotel upon the news of Luis Diaz's parents being kidnapped, and explained his Anfield tribute.
Diaz was set to be part of the squad to face Nottingham Forest at Anfield on Sunday, but pulled out on compassionate grounds.
It came after confirmed reports of the winger's parents being caught in a kidnapping in Barrancas in their native Colombia, with his father still yet to be rescued.
The 26-year-old discovered the news while staying with the rest of the Liverpool squad at their usual pre-match hotel in the city.
He subsequently left to return home and hold talks with authorities in Colombia, as police and military forces freed his mother and continued to search for his father.
Jota replaced Diaz in the starting lineup against Forest and opened the scoring in the 31st minute, before holding his No. 7 shirt aloft in tribute.
"Luis was with us in the hotel then he went home," Jota told Match of the Day.
"It's a very hard situation and I don't know how anyone would react if it happened to you.
"He was going to play. I played instead of him and I showed him his shirt to show we're with him and we hope everything works out.
"It's unimaginable to think a situation like this could happen. We can just support him and show him we're with him."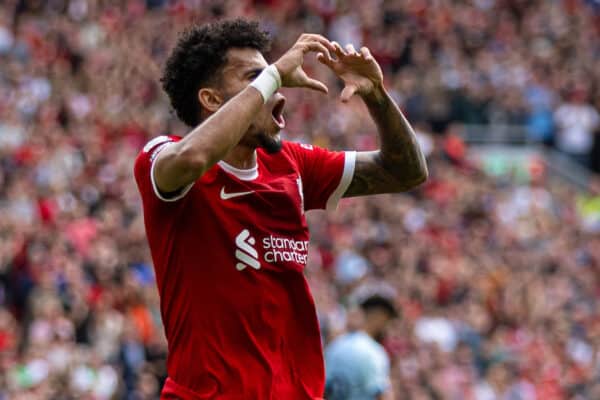 Diaz's name rang around Anfield during the 3-0 win, with Darwin Nunez and Mohamed Salah also on the scoresheet as Liverpool made it seven wins from 10 in the league.
The latest reports from Colombian outlet Semana reveal that a group of 240 military and police are part of the rescue mission amid fears Diaz's father, Luis Manuel Diaz, could be transported to Venezuela.
A reward of 200 million pesos (around £9.1 million) has been offered for information leading to Diaz Sr.