The aftermath of the "significant" VAR error during Liverpool's trip to Tottenham has now seen a 'conspiracy' and claims over referee Darren England and the Reds refuted.
Five days on from the events in north London and the fallout continues after the unprecedented incident denied Liverpool a legitimate goal.
There have been various repercussions and subsequent changes mooted to ensure this does not happen again, with the PGMOL releasing a statement pertaining to VAR.
On Wednesday evening, though, The Telegraph reported that lead VAR during the incident, England, would consequently be removed from ALL Liverpool games for the rest of the season.
It would be a significant development but it is one Sky Sports have now refuted, saying that they "understand no decision has yet been taken by PGMOL to stop England refereeing matches involving Liverpool for the rest of the current season."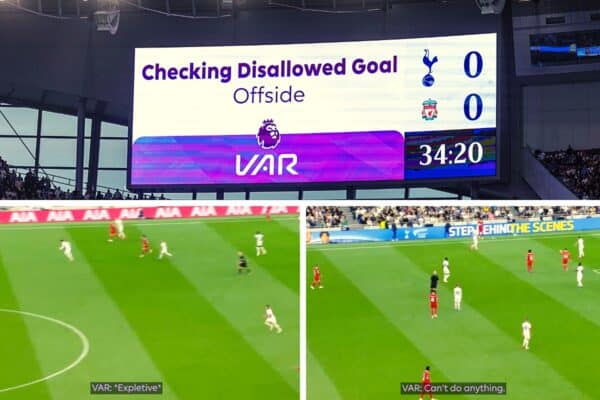 The Telegraph report was a standalone one and although his unavailability for the Reds would ensure there could be no further incidents between the two parties, it would be a big statement from referee chief Howard Webb.
This will no doubt continue to rumble on, though, but one could expect England will not be selected to oversee Klopp's side in the short term with the fire still burning.
With an incident like this not seen before, it has led to quite the reaction across the footballing world, and beyond, including from former Premier League goalkeeper Ben Foster.
Foster, who runs his own Youtube channel and podcast, claimed that "Sky are in bed with the people at VAR and [the PGMOL]."
"Because they must have got straight on the phone and said 'do not highlight the fact that we've cocked up here, do not show it, do not bad-mouth us'," Foster claimed.
"I guarantee you that's what's happened. So that's why Sky were under direct orders to not say a single word about it."
The Independent have now reported that "a source inside the PGMOL dismissed Foster's allegations as 'unfounded and simply not true'," with the referees' governing body having no say in what TV companies show.
Sky did brush over the incident during the first half and actually missed the second-half kickoff as they started discussing what may have occurred, though they did "not want to comment on Foster's claims."
This incident still has plenty of legs and we certainly have not heard the end of it!