Liverpool are big on creating a sustainable culture that lives beyond those who depart the club, and Curtis Jones has stepped into big shoes for the club's latest academy talents.
Jurgen Klopp places a huge emphasis on recruiting the right characters for his squad, players who are good people and have a winning mentality.
While Jones was not an outside recruit, he has more than shown off these traits since rising through the academy to become an integral member of the next evolution of Klopp's squad.
But he has taken up a role beyond being one player in the machine, as he is one who is helping to drive the standards for the next batch of academy players drafted into the team.
It is something he experienced with the likes of James Milner, Adam Lallana and Gini Wijnaldum when he was drafted into the first team, and assistant manager Pepijn Lijnders is delighted to have seen evidence of the club's culture being passed on.
"So, when Curtis Jones came in [to the first team], Milly, Adam Lallana, Gini were on top of him all the time, they were speaking every time he did something wrong or right," Lijnders explained.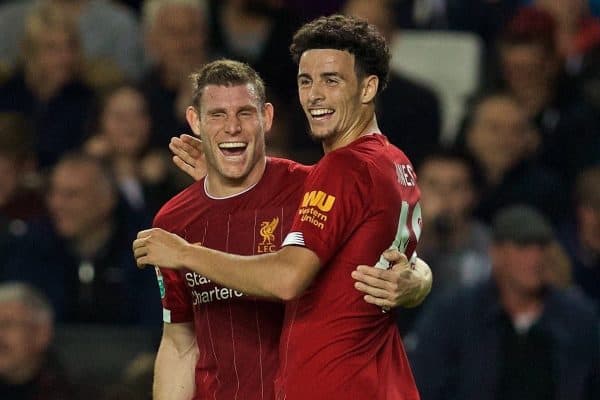 "They cared, and now you see Calum [Scanlon] coming in or Luke [Chambers], and Curtis is speaking [to them] in the same way to how Milly was speaking. And then you create a culture.
"That was a dream and we knew it was possible but, in the end, we are here and all these guys I just mentioned, believe and want [to succeed]."
Lijnders added: "We really want this [academy] pathway to be open, because we feel that only then you create a healthy club, a club who is sustainable and who has culture.
"One of the reasons why we all love working for this club is [because] it is much bigger than the first team. It is an institution, in my opinion."
Lijnders' words on the academy pathway were captivating, as always, and in the likes of Jones and Trent Alexander-Arnold, Liverpool have the fresh inspiration they always dreamed of having.
Wednesday's trip to Bournemouth signals the end of Jones' three-game domestic suspension, which started after the trip to Tottenham, meaning he is free to return to the squad.
"Curtis trained yesterday [Monday], and how Curtis is [he] was full of energy," Lijnders said. "He's still making unbelievable steps, so really happy how he is playing for the team."