Football has evolved since Jurgen Klopp walked through the door in 2015, with the manager often required to show a willingness to adapt to what is unfolding around him.
Eight years ago to the day as I write this, Klopp was insistent: "I do not have only one vision."
He was yet to take charge of his first game at Liverpool, yet many column inches had already been devoted to his "high tempo," "intense" and most famously "gegenpressing" style of play.
More recently, however, the perception of Klopp as a singular vision coach is changing. Following his eight-year Liverpool anniversary, it's worth exploring what those changes are, why they came about and how they fit the broader landscape.
Specialists vs generalists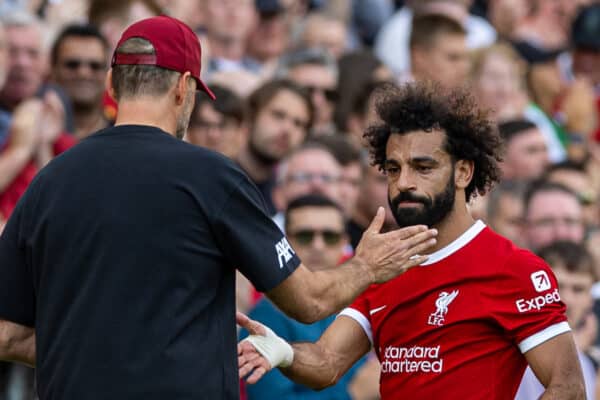 Among tactical circles, a tactical binary is being posited: generalist vs specialist coaching.
Generalists are focused solely on winning. They tend to like working with the best players available, focusing on the absolute basics – scoring goals and keeping clean sheets – and adapting to the challenges of each opponent.
The likes of Sir Alex Ferguson and Jose Mourinho ruled the Premier League with this approach. Perhaps the most successful modern coach, Carlo Ancelotti, remains a master generalist at Real Madrid.
Specialists, however, have a vision of "how football should be played." Bold, intelligent, specific game plans are devised on magnets and drilled into players religiously.
Gradually, a squad is built to carry out Plan A to an elite level. Any setbacks are used as fuel to make Plan A better rather than changing the approach.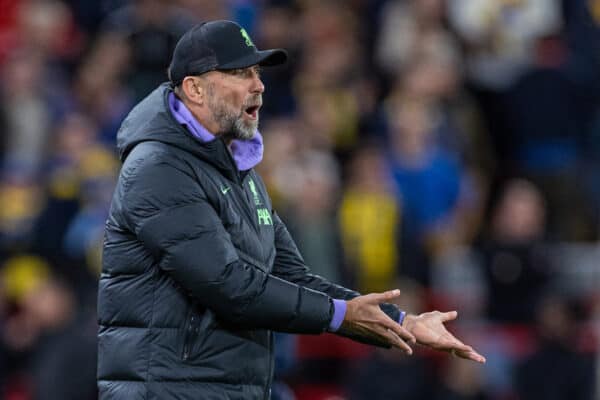 More and more clubs are buying into this approach, with the likes of Roberto de Zerbi and Ange Postecoglou immediately impacting the Premier League.
Owners like the immediate visible evidence of specialist teams, the previous evidence of the method in action, and the patience it engenders in fans who are willing to "trust the process."
But there's a third possibility that has already proved fruitful. Pep Guardiola, serial Premier League winner, broke into coaching with a specialist "tiki-taka" philosophy at Barcelona.
However, his subsequent posts at Bayern Munich and Manchester City gave him access to seemingly unlimited funds and soft power to build teams.
He subsequently has evolved each year around a core of world-class, versatile players. Last year's treble winners, featuring four centre-backs and a goalscoring number nine, were about as far from tiki-taka as it gets.
The ideal journey for a coach may well be to establish themselves as a bold new specialist, thus earning the resources to become a well-rounded generalist.
Klopp's Transition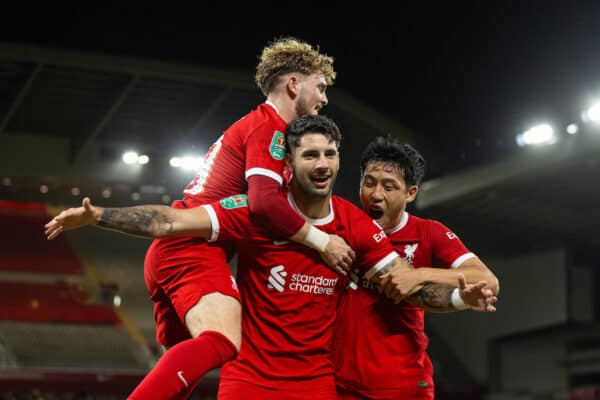 Part of Jurgen Klopp's decision to extend his Liverpool contract was a sense of duty to oversee the transition away from his great Liverpool side to something new.
Since then, most of the recruitment and data team have been replaced, with Klopp becoming more involved in transfers directly.
The approach to domestic cups was tweaked in 2021/22, leading to two trophies, and outgoing player profiles have seldom been replaced directly.
Several players have been dubbed the "new Wijnaldum" but none have truly nailed down the role. Cody Gakpo inherited false nine duties from Bobby Firmino, but he's also been used in midfield and from the bench more often than the Brazilian.
Darwin Nuñez is the first out-and-out number nine Klopp has signed since Dominic Solanke in 2016.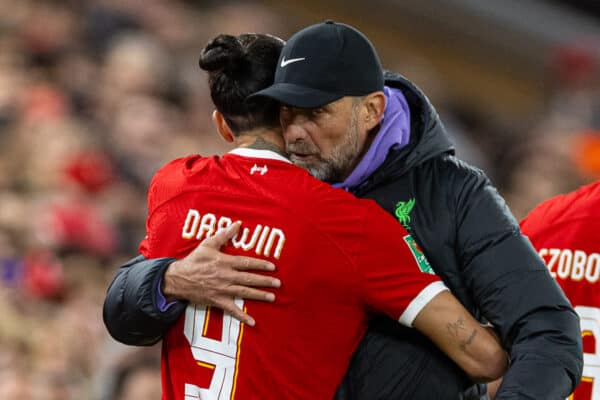 The overhaul of midfield this summer solidified the change; none of the incoming players were exact replacements for their predecessors. Yet all four of them are excellent, multi-talented players in their own right.
Dominik Szoboszlai impressed with his powerful running against Chelsea, his superb progressive passing from deep against Aston Villa, his defensive steel against Newcastle and his fine long-range striking versus Bournemouth (and later Leicester).
Alexis Mac Allister has showcased his press resistance and technical security in a deeper role so far, but he's also unlocked defences with key passes versus Chelsea and West Ham.
Wataru Endo has been used as a "closer," but he also counter-pressed superbly and laid on a brilliant assist for Szoboszlai in the Carabao Cup.
And Ryan Gravenberch, who remains an option at No. 6, laid on three assists in his first three games.
What has Klopp done with these multi-talented men in the middle?
The most recent matchup saw Brighton, led by in-vogue specialist De Zerbi, hosting Klopp's Liverpool.
Brighton had a number of attacking injuries and were winless in the past three games, but De Zerbi fielded a winger at left back and four attackers. Philosophy first.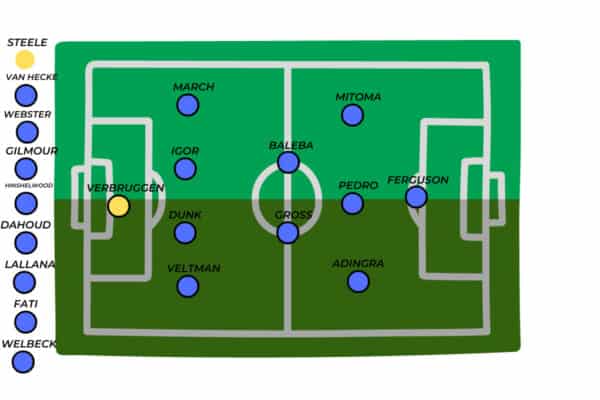 Liverpool meanwhile lined up in a 4-3-3 that more closely resembled a 4-4-2 in practice.
With Szoboszlai switching from the right of a midfield three to the left, he typically supported Mac Allister in the middle, while Harvey Elliott could push forwards on the right to rotate with Mo Salah.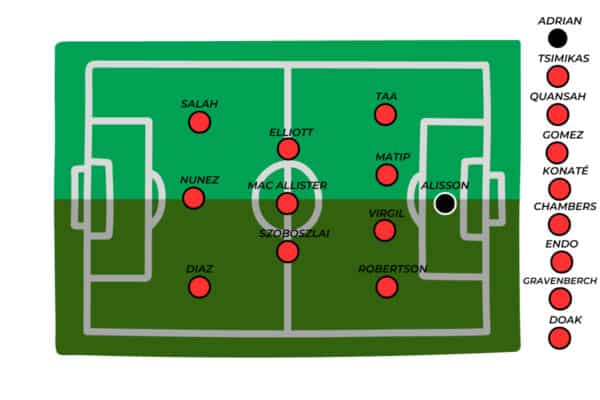 This allowed Liverpool to press in a 4-2-4, with Szoboszlai pushing forwards to support the press (which allowed him to win the penalty for 2-1) and Mac Allister helping the back four to nullify Brighton's four attackers.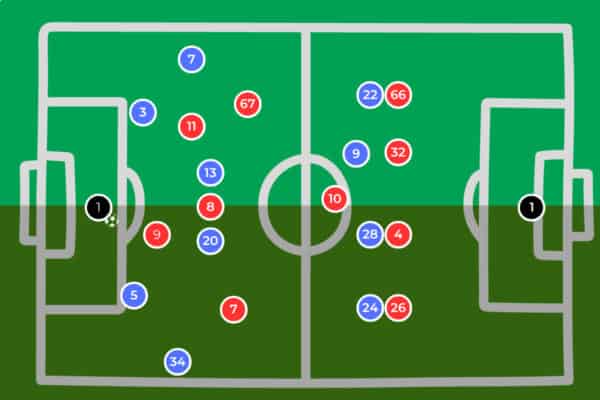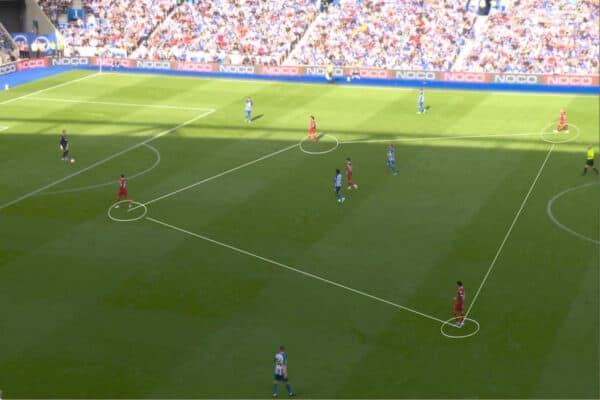 Liverpool did not concede a goal from Brighton's expert build up play, but they did occasionally have runners bypass Mac Allister in midfield to take shots from range.
In the past, Klopp might have used half time to re-energise and re-focus his players. Instead, he used it to sub on Gravenberch and shift Szoboszlai onto his favoured right side.
Not only did this put the more robust Gravenberch into midfield, it also allowed Alexander-Arnold more freedom to move inside, with Szoboszlai supporting his excellent work keeping Kaoru Mitoma quiet.
All three then combined for what could have been a winning goal. Szoboszlai notices Alexander-Arnold free in the build-up and directs the ball to him.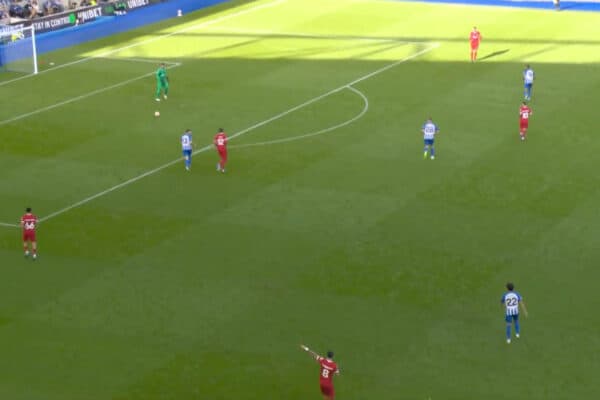 He then makes a run for Alexander-Arnold to pick out…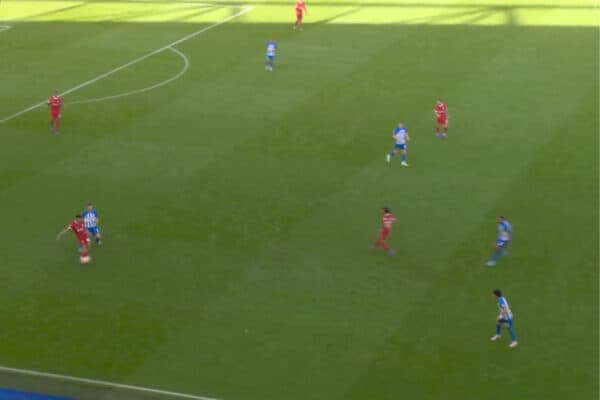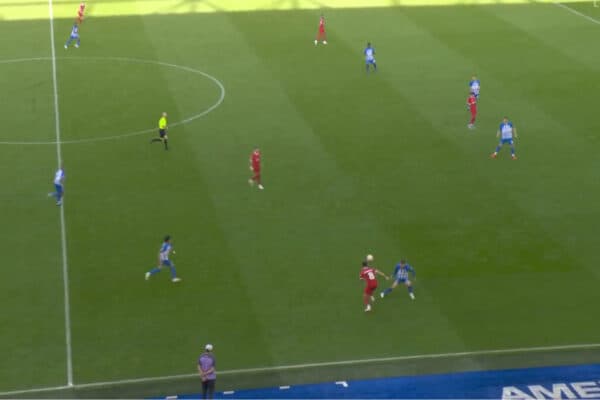 …before working his way into the box and delivering a perfect cross to Gravenberch…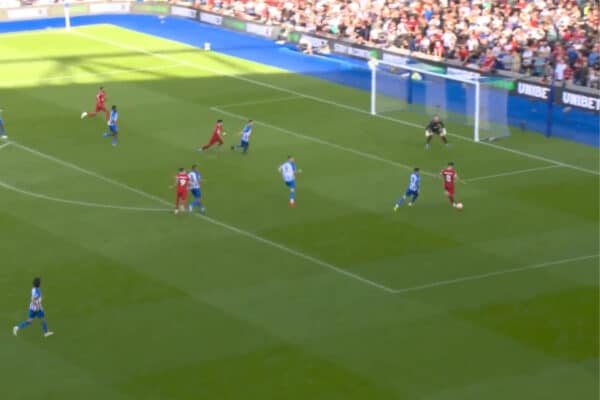 …who arrives unmarked at the far post but somehow hits the bar instead of the gaping net.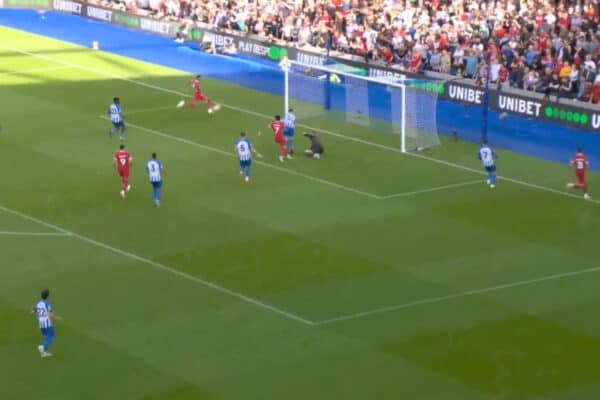 Of course, Liverpool drew this game, and it could be argued that Wataru Endo should have anchored the midfield three to stop Brighton carrying the ball through the centre.
But the fact that there are now multiple options per game – and that Klopp's performance is now viewed through a tactical lens rather than a philosophical one – shows that he is becoming more generalist than ever before.
Liverpool 2.0 is indeed not simply "one vision." This reloaded Reds side is a collection of awesome talents, and they can make many different teams – each one capable of winning.