After Everton's latest defeat to Liverpool, goalkeeper Jordan Pickford was less than complimentary of the officials and said "less arrogance would be nice."
Ibrahima Konate could have been sent off for a second yellow card against Everton, but referee Craig Pawson opted against dismissing the Liverpool centre-back.
This decision brought plenty of backlash, with Pickford telling Premier League Productions, with quotes via the Liverpool Echo: "We gave it our all, worked hard and decisions definitely didn't go our way, no shock there."
Jurgen Klopp even admitted he could "imagine the frustration of Everton and Sean Dyche."
However, while Everton defended well at times, they offered very little threat in attack and couldn't complain too much about the defeat, you would have thought.
Pickford added: "I think the whole world will know. We can't comment too much because you will just get done anyway. A bit of dialogue would be nice and less arrogance would be nice as well."
The 'keeper's teammate, James Tarkowski, also felt aggrieved, telling TNT Sports, with quotes via BBC Sport: "For me it didn't feel like a real fair game.
"We had a man sent off, they got a penalty which I have not seen back but at the time did not feel like a penalty at all.
"Their lad should have been sent off and they were dragging him off the pitch to save him. It didn't feel like a fair game. We got done with a penalty and a late counter attack.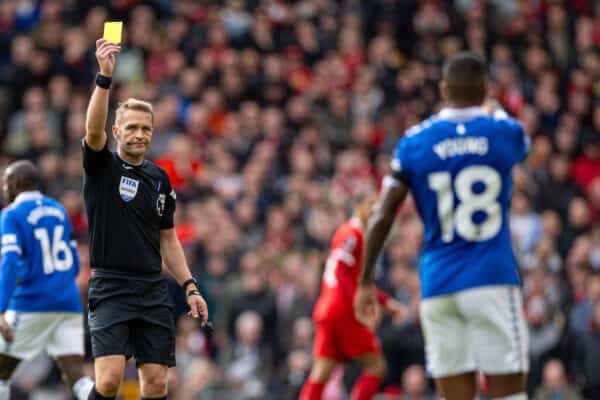 "It is disappointing not so much in our performance but the game. I got booked in the first half for fouling a lad in midfield and the referee said, 'you are out of position and fouled him so it is a yellow card.'
"Konate is out of position, fouls our lad and it is not a yellow card, so for me where is the consistency? If he is saying that is why he has booked me, I expect the same in the second half, and that's where it doesn't feel like a fair game."
It's fair to say many of us would disagree with some of Tarkowski's assessments there.