Jurgen Klopp has insisted there is still plenty more to come from Darwin Nunez, claiming he is actually "a bit afraid" of the striker's immense potential.
After enduring a mixed first season at Anfield, the Uruguayan is now starting to show the sort of form that convinced Liverpool to pay a fee potentially rising to £85 million to snare him from Benfica last summer.
He has scored seven goals and provided five assists in 14 outings across all competitions thus far, while also showing major improvement in terms of his defensive work and contribution to build-up.
But when asked if Reds supporters are now seeing the best of their No. 9, Klopp replied: "Of course not, but it's completely different now.
"The first year was hard for him, and then hard for me as well because you see this incredible talent, massive potential, but it's difficult to unfold it.
"I'm obviously a manager who can help a player but I need contact for that. In an ideal world, you can speed up the process by talking a lot with the player.
"I was not able to do that because I don't speak Spanish, but his English is now much better and my Spanish still isn't.
"[He's] settled in the team, when you see him around the building here, everything is different. He's in a very good moment and it's still only the start for him.
"He's in a good moment and long may it continue, hopefully it will continue like that forever. I'm a bit afraid of the highs he could reach because there is so much there, it's crazy.
"Now we've found the real starting moment and let's work from here."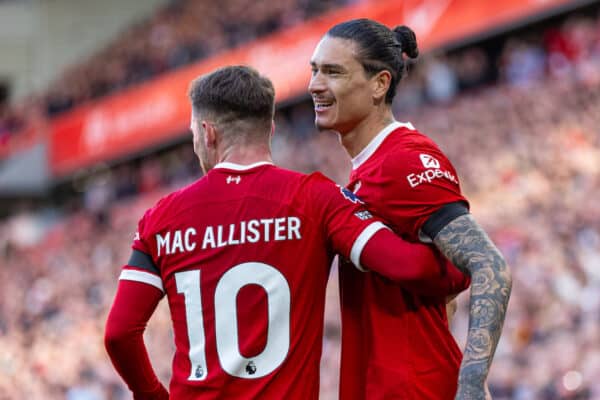 As well as crediting Nunez's improved English, Klopp also spoke up the importance of having an additional on-pitch translator in Alexis Mac Allister.
He added: "The football English is not complicated, we don't have to speak about everything in life, but the football communication is now possible which is absolutely helpful.
"And, of course, we have an extra on-field player; so far it was always Ali as the translator, now we have Macca and they are really close
"And Macca is a super smart footballer so if I forget to tell him something Macca tells him anyway.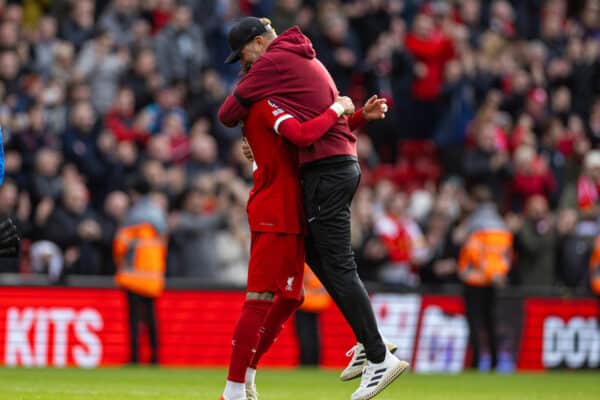 "Strikers need to know where to go when midfielders have the ball and that's the stuff you talk to players about.
"In an ideal world the players talk to each other as well about it and Macca is super helpful.
"Lucho's English is also getting better and they are very close as well and that's how it is.
"There's just not a specific amount of time, for each individual it's different, to really arrive, but who cares? It's done now and that's good."