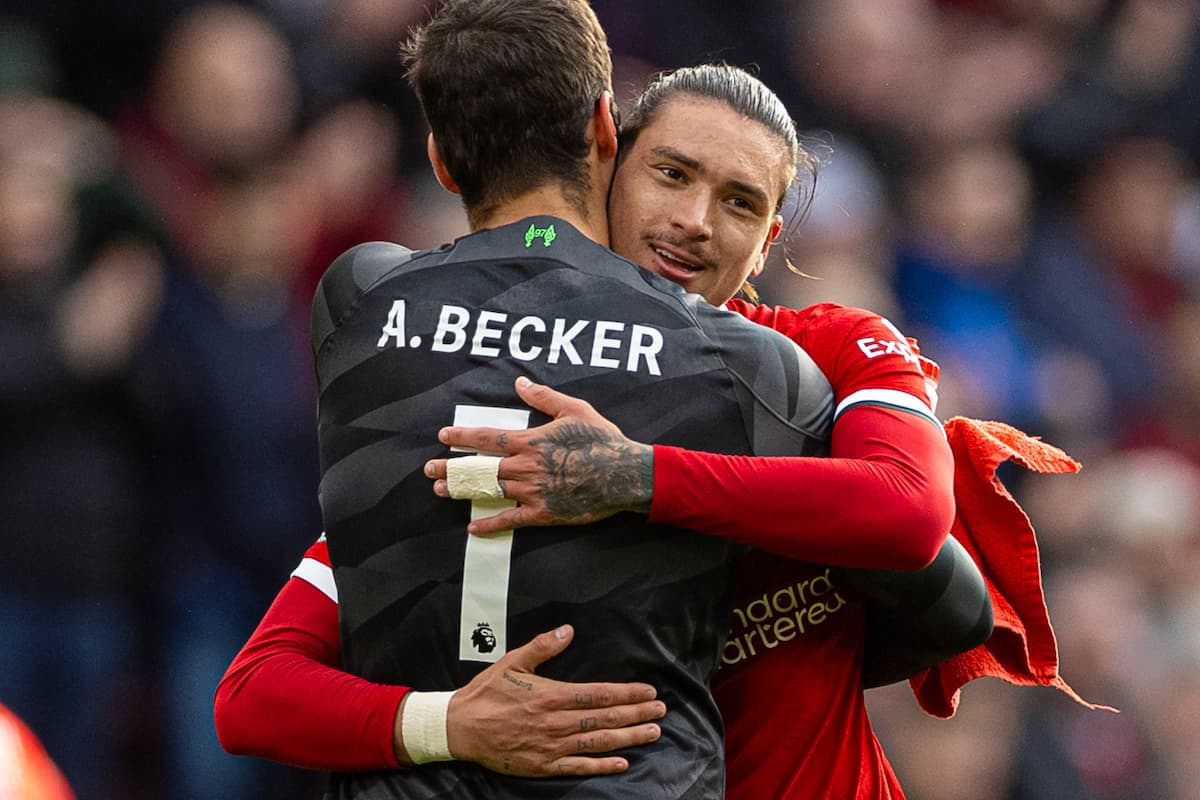 Liverpool's 2-0 victory at home to Everton on Saturday wasn't a classic, but supporters still revelled in a hard-earned three points.
The Reds hosted their local rivals in the Premier League, looking to bounce back from two consecutive games without a win in the competition.
Ashley Young was sent-off in the first half, following two yellow cards, but Everton defended doggedly for much of the game.
Mohamed Salah fired Liverpool into the lead with 15 minutes remaining, with Michael Keane's handball leading to a spot-kick, and he also fired home in stoppage time to finish the scoring.
Here's how some Reds fans reacted to the win across social media and in This Is Anfield's comments section.
Klopp's subs and their timings were impressive…
Nunez & Elliott brilliant from the bench! #LIVEVE

— Jamie Carragher (@Carra23) October 21, 2023
Elliott is a good option off the bench. Was very good today.

— Akki (@Akki_GymGuy) October 21, 2023
Darwin has already assisted Mo more than Sadio

— SimonBrundish (@SimonBrundish) October 21, 2023
Harvey Elliott has been brilliant since he came on. Every touch seems to turn to gold. #LFC

— Declan Carr (@Declancarr96) October 21, 2023
I liked Elliott's mature sub appeance. Was progressive and forward thinking when we were chasing a goal and got the ball to Mo often. After we scored he noticeably kept it simpler and shorter to manage the tempo. Completed all 31 of his passes and nearly scored a worldie.

— Red (@TaintlessRed) October 21, 2023
Get the fuck in Red men. All about the 3 points.

Harvey and Nunez made a big difference

— Ian Ryan (@Ian1892T) October 21, 2023
Doesn't always convince from the start, but Elliott's ability to read a game from the bench and know exactly what to do when he comes on is so impressive. Not the first time this season he's come on and raised Liverpool's level.

— Joel Rabinowitz (@joel_archie) October 21, 2023
It wasn't a derby classic, that's for sure…
Well that was pure poison from the Reds and yet a 2-0 win hahaha get it up ye

— Ryan (@ryan3levis) October 21, 2023
File that under 'ugly derby win I'll happily never rewatch ever again'. Get in!

Salah was dire by his standards and he still bags a derby brace.

— Henry Jackson (@HenryJackson87) October 21, 2023
This is why I get nervous before derbies. Liverpool's record disguises the challenges they often face in the games. Job done in the end, but really had to work for it as usual.

— David Comerford (@Dave_Comerford) October 21, 2023
"Not a great performance, made hard work of it but three points will do."

– Richard Metcalf on Facebook
"Happy to take 3 points for an early kick off post international break. Ugly but effective."

– Maninder Singh in the This Is Anfield comments
We'll take that. We'll take that all day.

— Dave Hendrick (@HendrickD82) October 21, 2023
Great advert for not televising good teams at home to shit ones that.

— Phil Blundell (@PhilBlundell) October 21, 2023
Liverpool is red and no problems at 12.30, again!
The Saturday 12:30 slot mightn't be everyone's favourite, but after a win like that, it feels extra sweet to put the feet up and let everyone else slug it out over the weekend! ?? #LFC pic.twitter.com/uL16CJJBil

— Liam Togher (@liamtogher88) October 21, 2023
Poor game really, made it easy for them to defend for most of it. Konate definitely should have gone, Diaz a definite pen. No idea how he didn't give the handball on field. But sod it, 2 goals, 3 points and top of the league for now. Settle for that.

— Ste Davies (@StevenD1977) October 21, 2023
we all complain about early Saturday games, especially after international breaks, because dammit it's early and the games are usually trash but wins after early Saturday games are THE BEST. guarantees a great weekend.

— nate (@natefc) October 21, 2023
"Good result and top of the table for a brief moment, and what do we say about Salah? Deserved his huge pay rise last summer and goals pays the rent." – Richard Folabi Martins on Facebook
All extremely winnable, until City. Hopefully we start to get some rhythm, have some concerns about our left side but otherwise looking pretty balanced. pic.twitter.com/HGMod8BM80

— Rory Greenfield (@RoryGreenfield) October 21, 2023