Jurgen Klopp has given his perspective of the situation around Luis Diaz and how it impacted Liverpool's preparations, telling his players to "fight for Lucho."
Diaz was absent from Sunday's 3-0 victory over Nottingham Forest following the news that his parents had been kidnapped in Colombia.
The winger's mother has since been rescued but the search goes on for his father, with a 200 million peso reward offered for information leading to his location.
He learned of the distressing situation while in the team hotel in Liverpool, with Klopp explaining the club's response in his post-match press conference.
"We heard about it late last night," the manager said.
"We spoke to Lucho, he wanted to go home, we sent people with him, have people there who take care [of him].
"There are parts of his family there as well, that's why they want to be together, that's absolutely understandable.
"We got the news with the mum, which is fantastic, and since then nothing really. They all work on it, clearly.
"It's quite some distance and we are obviously not the first people who get informed, but we try to get knowledge of everything as much as we can.
"But we don't want to disturb in any way. We are not the important people there, we just want to support. That's it."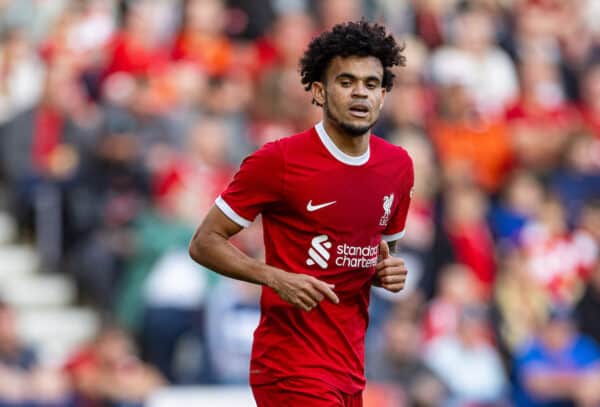 Klopp described the preparations for the game as "the most difficult" he had ever experienced, adding that "we cannot really help, so the only thing we can do is fight for him."
The squad's support of Diaz was evident after the opening goal at Anfield, with Diogo Jota – who replaced the Colombian in the starting lineup – holding up his No. 7 shirt in tribute.
"How can you make a football game really important on a day like this? It's really difficult," Klopp continued.
"I never struggled with that in my life, it was always my safe place, sometimes my hiding place.
"As a player, as a coach, you are allowed in these 90-odd minutes to focus just on that.
"And it was impossible, absolutely impossible to do that.
"It was clear we have to give the game an extra sense, and that was fighting for Lucho.
"Then the boys pulled out the shirt and I was not 100 percent prepared for that, to be honest. It was really touching, but wonderful as well."