The Moises Caicedo saga has been a rollercoaster so far and it is Liverpool CEO Billy Hogan that is leading the negotiations for the Reds, instead of the club's new sporting director.
It has been a wild 48 hours where Liverpool, Chelsea and the hunt for Caicedo is concerned, and conflicting reports have given fans whiplash as they hang on for every update.
This Is Anfield understands that Liverpool remain in the hunt for Caicedo, despite Chelsea's ongoing attempts to trump the Reds' £111 million British record fee.
Chelsea are expected to test Brighton with another bid but so far Liverpool are the only club to reach an agreement with the south coast club.
And it has been Liverpool CEO Billy Hogan who has worked "quietly behind the scenes" to strike the deal with Brighton, as per BBC Sport.
With a deal of this size and magnitude, it is not a complete surprise to see Hogan front and centre instead of Jorg Schmadtke – in the past, FSG president Mike Gordon has signed off on deals such as these.
But it is a curious situation with Schmadtke, who stepped into the role after Julian Ward's exit at season's end.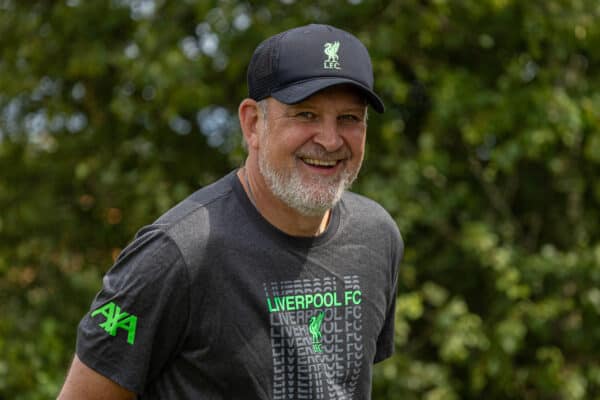 Schmadtke joined the club at the end of May and explained his position as one that helps present Jurgen Klopp with all the information he needs to make his decisions.
He will have, no doubt, been involved in the discussions for Liverpool's swift and sizeable move for Caicedo, but it is Hogan that has been leading the negotiations.
What Liverpool's business looks like beyond Caicedo, whether it is formalised or not remains to be seen, but one would expect Schmadtke is doing his own behind-the-scenes work in the interim.
The German revealed in July that he signed a one-year contract with an option to break at the end of August after all parties assess the success of his three-month spell.
"If someone isn't sure, then we shake hands and I might get a ticket if I want to stop by," Schmadtke told Sky Germany.
So far this summer, Schmadtke has triggered the release clause of Dominik Szoboszlai, the groundwork for Alexis Mac Allister was done at the time of his arrival, and he has been ever-present during Liverpool's pre-season preparations.
From an outsider's perspective, you feel there is more work to be done to extend the relationship beyond the summer, but Klopp will have a big say in its overall success.
For now, we wait and see where Hogan's pursuit of Caicedo leaves us once the dust has settled – hopefully, it is with the Ecuadorian in the red of Liverpool.