Howard Webb's attempts to explain the failures of referees and VAR around the Luis Diaz offside goal have not washed with Liverpool supporters.
Webb, the head of refereeing body PGMOL, appeared on Sky Sports' 'Match Officials: Mic'd Up' on Tuesday night, covering a number of controversies.
At first, the former Premier League seemed to be taking a conservative route as he discussed Liverpool's 2-1 loss at Tottenham and Arsenal's 1-0 win over Man City in particular.
But there were two significant claims made by the 52-year-old in the process:
1) Referee Simon Hooper was supposedly not aware of the Diaz offside farce until AFTER the game
2) Referee Michael Oliver did not show Mateo Kovacic a red card for two nasty challenges in quick succession to avoid having a "negative impact"
Webb's analysis of Diaz's disallowed goal – which has led to major changes to the implementation of VAR in England – can be seen below:
Those two claims are eye-opening, and for Liverpool fans, Webb's attempt at explaining the situation at Tottenham has not matched up to the reality.
To suggest that Hooper did not know VAR had wrongly ruled out a goal for the Reds until after full-time, when Spurs had emerged 2-1 victors against a side with nine men, is remarkable.
Previously, it had been claimed that the referee did not know the extent of the error until half-time, which certainly makes more sense.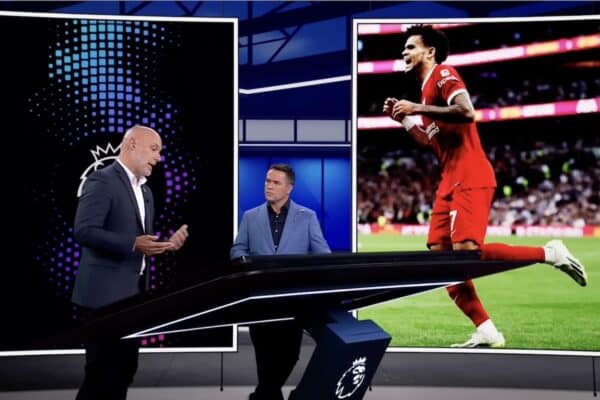 But even then, there was a moment soon after Diaz's goal where Hooper appeared to have learned of the situation on the pitch, with the gravity etched on his face.
That is largely speculation, with PGMOL only releasing the audio between officials of two minutes or so around the decision.
Either way, supporters on social media took exception to Webb's claims – including those around Arsenal 1-0 Man City:
Absolutely zero credibility if he's expecting anybody to believe the infield officials were unaware of this until after the final whistle.
Surely they communicate with the VAR team at half time.
(He knew within seconds) https://t.co/yCdyMTPhv8

— Br19n Durand (@BrianDurand56) October 10, 2023
Howard Webb wants us to believe this referee had no idea about VAR cockup over Diaz's disallowed goal until after the game.

If that was true, he should have grave misgivings about the competency of his officials.

They would already be out the door. pic.twitter.com/2hWxA2YIdG

— Jack Lusby (@LusbyJack) October 10, 2023
This is like when Mike Dean said on record he didn't send referees to the monitor because he wanted them to have an easier game and Howard Webb and PGMOL said, "nope, no, that didn't happen" when Dean literally said it did. https://t.co/E4k4H4Idvp

— Red (@TaintlessRed) October 10, 2023
Yeah so nobody told him at half time minimum

This is a cover up. Straight lies

— ???? (@Midjourneygw) October 10, 2023
Howard's confused which lie to go with tonight it seems, considering they said he "found out at half time" last time. Absolute disgrace to the game @FA_PGMOL

— Zamir (@_ZamirKaya) October 10, 2023
The VAR should be sacked if that's the case. And Webb. No admission here that his officials have been catastrophic this season. Defends the indefensible. Car crash interview. Oliver failed twice to sent off Kovacic. Indefensible. Webb isn't up to the job.

— Mike Wilson* (@Redsmail) October 10, 2023
how was that "protocol" upheld then, when a VAR official (who is working to those same "laws"), decides the ref is having an off day, so we're not going to upset him and highlight a "clear and obvious error"???!!!

— Sparks1886 (@sparks1886) October 10, 2023
????? Where do you even start with nonsense like this? Just apply the laws of the game properly. https://t.co/BsRHd2rDAO

— James Pearce (@JamesPearceLFC) October 10, 2023
Having stated that the first challenge was a red. The first in Oliver's game was a straight red. Say it and we might get some consistency out of this group of referees. A red would not be overreacting. A red would have been the correct application of law https://t.co/4Gq4sZhndu

— KEITH HACKETT (@HACKETTREF) October 10, 2023
Absolute hate this language that if called a red it stays a red. If not it won't be changed. That's where the grey area is. Infuriatingly inconsistent. If it's Red call it. With VAR or otherwise. https://t.co/hers9ctJy7

— keith costigan (@KeithCostigan) October 10, 2023
Mike Dean was on Sky at the weekend arguing common sense couldn't be used in the Spurs game due to strict adherence to the laws of the game.

PGMOL chief is out here arguing that one of his refs didn't enforce the rules and issue a red for Man City to preserve the game. https://t.co/t2e3YqCpHl

— LE GROVE (@LeGrove) October 10, 2023
Watching Howard Webb explain nonsense on tv reaffirms that it's a circus inside the @FA_PGMOL they are utterly lost. Apply the laws of the game properly or stop being a referee. Simple.

— Moby (@Mobyhaque1) October 10, 2023
Going on TV to defend every error with bluster and bullshit is not the transparency we ask for. It's propaganda with the firm belief enough people and an overly helpful media will dig Webb and his shower of bastards out of the holes they dig for themselves every week.

— Dan (@Dan23_92) October 10, 2023
Mad how Howard Webb is able to just lie on this Mic'd Up show without being called out on it. Just propaganda at this point.

— Sam McGuire (@SamMcGuire90) October 10, 2023
---
Somehow, in speaking to Sky Sports over a week after the incident, Webb has made the situation worse for the referees he is responsible for.
His claims have not only brought the integrity of the game into further question, but cast an abysmal light on those officials for somehow not communicating an unprecedented error before full-time.
If that was really the case, all involved would already be out the door.