Luis Diaz has given his side of the story after the uproar over his disallowed goal against Tottenham, admitting the VAR decision "hit him very hard."
Largely overlooked in the fallout of Liverpool's 2-1 defeat to Tottenham was the sheer quality of Diaz's finish for the goal controversially ruled out.
Rightly, the focus in the aftermath was on the error of VAR Darren England and the team of officials, with PGMOL forced to announce major changes moving forward.
But on a basic level, Diaz was denied an excellent third goal of the campaign that would have galvanised 10-man Liverpool towards a potential victory.
While Jurgen Klopp has given his take and PGMOL chief Howard Webb will explain the situation on Sky Sports on Tuesday night, the wronged goalscorer had remained quiet.
Speaking to reporters ahead of Colombia's clashes with Uruguay and Ecuador, however, Diaz has now given his view.
"The goal issue was a bit complicated. At the time it hit me very hard," he admitted.
"But not only for me, but for all my colleagues. [At half-time] we talked a lot about it, it was a positive [goal] that was going to help us.
"These are things that happen, referees are human. We have to take it easy and [there] will be a next time."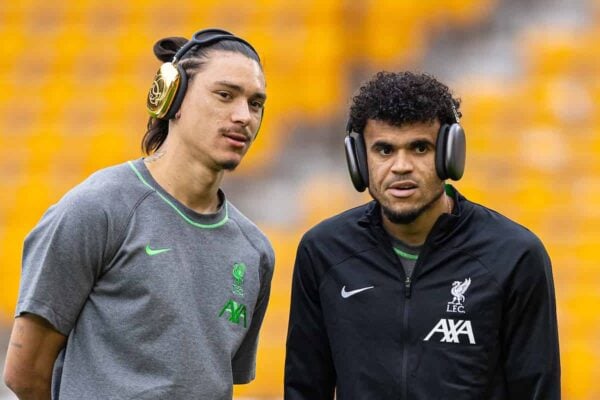 Like Klopp and his team-mates, Diaz has already moved on, with the winger's focus now on Colombia duty, having flown to Barranquilla on Monday with Darwin Nunez.
The Liverpool forwards will be on opposite sides on Thursday for a World Cup qualifier played in excessive heat, with temperatures above 30 degrees.
"More than anything we talked about how the game was going to be difficult," Diaz told El Heraldo of their conversations on the flight over.
"We joked that 'you are going to lose', and so on. We wish each other the best and that the best person wins.
"He knows that the heat issue is hard, that it is hard to play at this time.
"He took well what I told him about the temperature. Now it's his turn for the best to win. We are going to go look for the result."