Efforts to see Luis Diaz's father safely released continue and while his kidnappers promise to "release him," they first want "security guarantees" before they do so.
It has been more than a week since Diaz's parents were kidnapped in Colombia, and while his mother was founds hours later, the search and negotiation for his father's release continues.
The Liverpool winger returned to the pitch for the first time since the unimaginable happened and after scoring the equaliser at Luton, he revealed a message under his shirt that read, "FREEDOM FOR DAD" in English.
He later released a statement to deliver a message to his father's kidnappers, guerrilla group ELN, asking for the "prompt release" of his father.
The National Liberation Army of Colombia (ELN) had said a few days ago that a release would be immediate, but they have now stated it has been impossible due to "militarised" operations in the area.
A statement from the ELN, shared via Colombian outlet Semana, read: "On November 2, we informed the country of the decision to release Mr. Luis Manuel Diaz, father of the player Luis Diaz.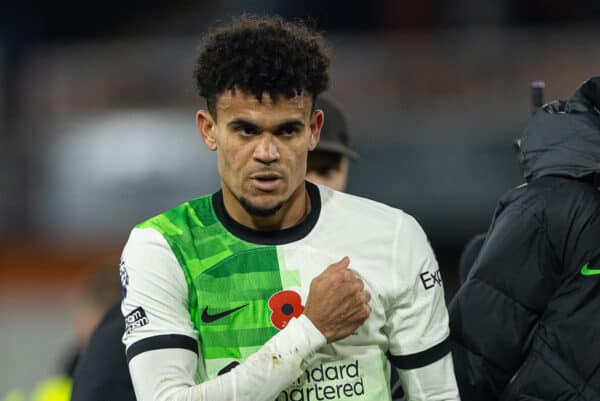 "From that date, we began the process to accomplish this as soon as possible. We are making efforts to avoid incidents with government forces.
"The area is still militarised, they are carrying out flyovers, disembarking troops, broadcasting and offering rewards as part of an intense search operation.
"This situation is not allowing for the execution of the release plan quickly and safely, where Mr. Luis Manuel Diaz is not at risk.
"If operations continue in the area, they will delay the release and increase the risks.
"We understand the anguish of the Diaz-Marulanda family, to whom we say that we will keep our word to release him unilaterally, as soon as we have security guarantees for the development of the liberation operation."
There have been more than 130 trained personnel involved in the search on the ground and in the air as efforts continue to reunite the Diaz family.
There was an outpouring of emotion for Diaz after his goalscoring return at Luton but as Jurgen Klopp stressed, it was a "wonderful moment" but the priority is "his father gets released."