Luis Diaz has been convinced to avoid returning to his native Colombia as the search for his father continues, according to reports in the country.
Diaz is not expected to feature for Liverpool as they travel to Bournemouth in the League Cup fourth round, following the kidnapping of his father.
His mother, Cilenis Marulanda, was also involved in the incident at the weekend but has since been rescued, with a search for the winger's father, Luis Manuel Diaz, moving to mountain ranges amid concerns he has been transported to Venezuela.
Liverpool have granted Diaz compassionate leave, with Jurgen Klopp and his players dedicated Sunday's 3-0 win over Nottingham Forest to their No. 7.
But according to Colombian outlet Semana, Diaz will not travel back to Colombia despite having had "every intention of being in the country."
It is claimed that the 26-year-old was persuaded to stay in the UK by his relatives, with "security issues" understandably cited.
Police and military forces have been deployed to locate Diaz Sr., with a 200 million peso (around £40,000) reward offered for information on his whereabouts.
Speaking ahead of Bournemouth vs. Liverpool on Wednesday night, assistant manager Pepijn Lijnders gave his support to Diaz.
"You guys know Lucho. He's an incredible player, everybody can see that," Lijnders said.
"We knew this when we got him, but then the whole of England could see it and the whole of the world saw it.
"He's the guy who always smiles. So we really care about him. The only thing now for us is we try to support him as much as we can.
"A lot of things are out of our hands. We hope that the authorities there can find his dad and everything is good. We just pray for that.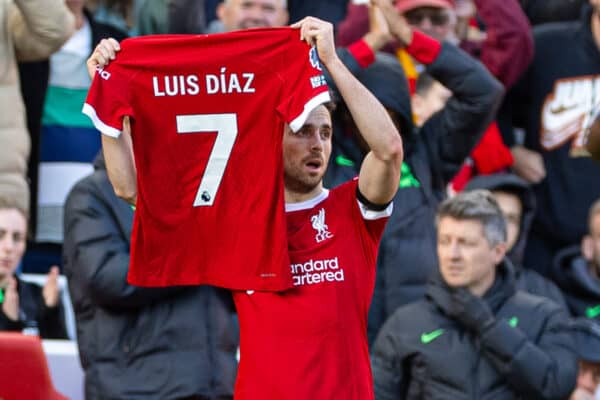 "It's not for me sitting here to tell the whole world what we are doing, or for Lucho. As long as we know we are doing the right things for him.
"I think the team responded after the goal unbelievable, with putting his shirt up for him.
"I think that was a nice gesture, that he just knows we are here for him. And how the stadium reacted, that was special as well.
"The whole fanbase is behind him as well. Our motto is You'll Never Walk Alone. Let's just pray and hope that everything is quickly to a good situation again."