For just a moment, forget the move to Old Trafford and his questionable commentary career, instead recall the golden boy who lit up Anfield.
A player born for the big stage, one who defied his tender years and still ended his career with questions of what if?
What if he stayed at Anfield? What if his hamstrings remained in one piece?
But for all of that, Liverpool bore witness to a generational talent who burst onto the scene at the age of just 17, a product of the academy and a player that made a new generation fall in love with football.
Who but Michael Owen?
Always 17 at heart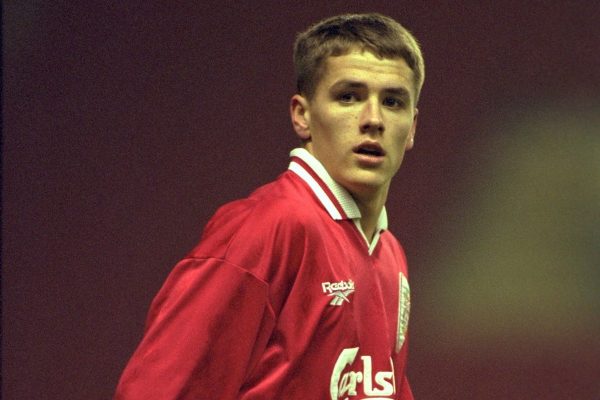 "He is ready for whatever you throw at him; nothing fazes Michael Owen," Steve Heighway, Liverpool legend once said. "He's ready. If the manager wants a recommendation from me, Michael gets it."
As recommendations go, few are better.
Blistering pace, a lethal finisher and elite awareness, Owen's capabilities bellied his age and at just 17, he made his debut for Liverpool off the bench.
The Englishman had superstardom waiting on his doorstep and he did not wait long to show what was in store, scoring 16 minutes into his debut against Wimbledon in 1997.
It was the first of 158 goals for the club during his seven years at Anfield and made him the Reds' youngest-ever goalscorer at 17 years and 143 days, a record that stood until November 2016, when Ben Woodburn netted against Leeds at 17 years and 42 days.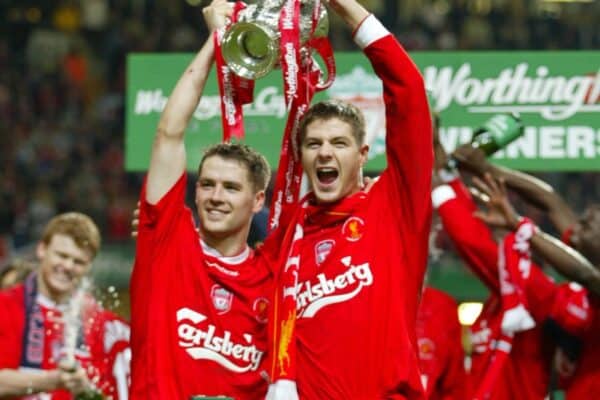 He quickly became irreplaceable, stepping up in Robbie Fowler's absence and becoming Roy Evans' go-to man in attack – responsibility Owen would relish on his young shoulders.
His emergence came within a 22-month period that saw Jamie Carragher and Steven Gerrard also burst onto the scene, a defining era for the club.
In his first full season in the first team, Owen scored 23 goals across all competitions and, in fact, he would hold the title as the club's leading goalscorer for seven successive seasons.
He had a child-like excitement each and every time he found the net, relishing each strike as though it was his first.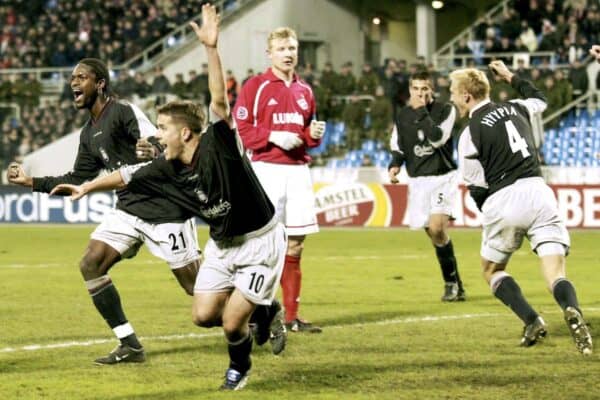 It was that unbridled joy that endeared him to many.
Owen's game may have looked simple compared to today's standard but he was brutally efficient, becoming the youngest player to reach 100 Premier League goals does not happen by accident.
Nor does winning the Ballon d'Or, which Owen remains only the fourth Englishmen to do so after an impeccable 2000/01 season, he scored 24 goals in 46 games to help Liverpool to an unprecedented treble.
And we fondly remember his rapid-fire double in the FA Cup final against Arsenal, a moment that defined his time at the club.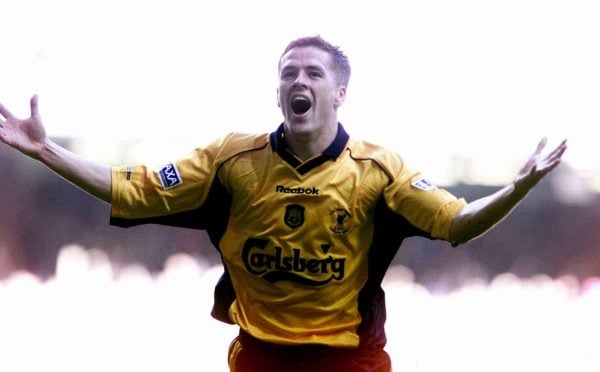 By that time, though, a defining hamstring injury in 1999 had started a dreaded clock towards a gradual decline in his body's ability to compete at the top.
"You try to kid yourself at the beginning and tell yourself everything was going to be OK but there was no doubt my physical ability was on the wane for a long time and my career was slowly being taken away from me," Owen reflected with The Athletic.
But that did not stop Real Madrid from swooping in 2004, with £8 million enough to prize him away to Spain after 297 games and 158 goals for the Reds.
"I have always had a burning desire to push myself and that is why I was disappointed with some of the defeatist reaction to my transfer," Owen said of his transfer.
It was a move which would set in motion a future switch to Man United – ensuring his legacy at Anfield is one which is, for many, tainted.
Injuries and legacy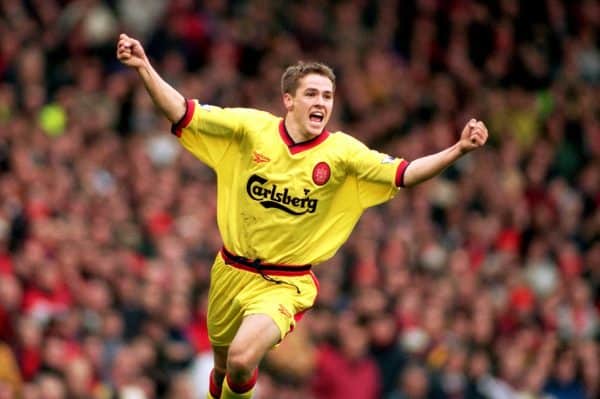 From the highs of leading Liverpool's forward line and collecting one individual accolade after another, his Anfield departure certainly altered the perception of the once golden boy.
Owen would play for Real Madrid for just one season before moving to Newcastle for a staggering £17 million, a fee Liverpool could not and would not match despite both parties being open to a return.
"I flew back to Liverpool and then Newcastle had made an offer of £17m and the president said to me you either go to Newcastle or you stay," Owen recalled on the events of 2005.
"Liverpool had to match it and they said they could only go to £10m, but I decided on Newcastle and I had it in my contract I could go to Liverpool after a year, and after two years and the fee would come down and we let Liverpool know.
"Newcastle was great, but I wanted to go to Liverpool…At every opportunity I tried to get back to Liverpool, but it just never happened."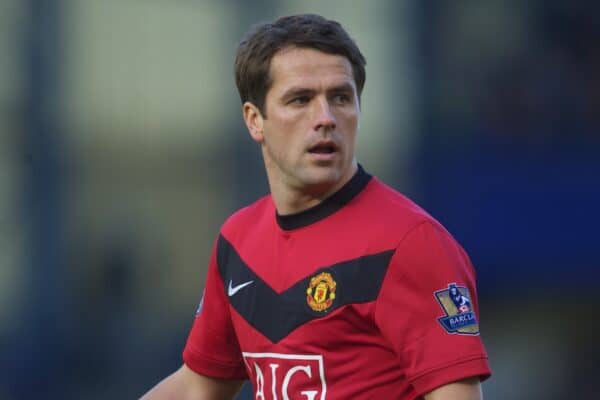 Instead, he went on to make the controversial move to Man United in 2009. A move that lost him plenty of fans and tainted his Anfield legacy, especially when he later referred to United as "we."
Unlike Carragher and Gerrard, who remain adored and revered figures, Owen's personal achievements never quite saw the Kop bestow the same feeling upon him.
But he did give his best years to the Reds and I am just one of many who idolised and was inspired by Owen – I even religiously watched his 'Soccer Skills' DVD that is now widely accepted to be a tragic comedy.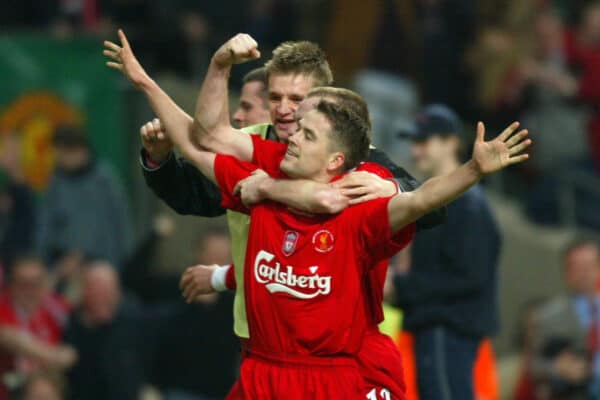 His post-Liverpool adventures have murked the waters when it comes to the forward's legacy, but his explosive rise to superstardom should not be forgotten – few were as lethal in club history.
Remember Michael Owen the Red.
The teenager with the world at his feet and pace to burn, the one who inspired and made many fall in love with the game and Liverpool thanks to his child-like enthusiasm.