Mohamed Salah's double against Everton was monumental in more ways than one as he clinched victory and eclipsed both Sir Kenny Dalglish and Steven Gerrard's Anfield tallies.
It was not a hallmark performance from Liverpool's No. 11 in the derby, far from it. But as great players do, they always find a way to be influential.
And Salah's double in the space if 22 second-half minutes was just that as he ensured the Reds added three points to their tally, first from the penalty spot.
The brace took him beyond 200 career league goals and saw him surpass both Dalglish and Gerrard when it comes to Anfield goals (104), with Salah now on an incredible 105.
It speaks to his astonishing consistency since arriving at the club in 2017, with his tally now ensuring he is the outright sixth top goalscorer on Liverpool's home turf.
Ian Rush, of course, is top with an incredible 185 Anfield goals in all competitions.
Speaking to TNT Sport after the victory, Virgil van Dijk – who has played alongside Salah 215 times – noted the Egyptian's ability to shoulder pressure and consistently deliver.
"Great players do [step up]," the Reds captain said. "Obviously I think this season, towards the end of last season, he missed a couple, but to still step up and deliver is something we need. It's part of being a big football cub.
"Yeah, because consistency is the most difficult thing in football. To do it each and every game. Mykolenko did very well against him, but big players step up when we need them.
"I'm very proud for him and all at the football club."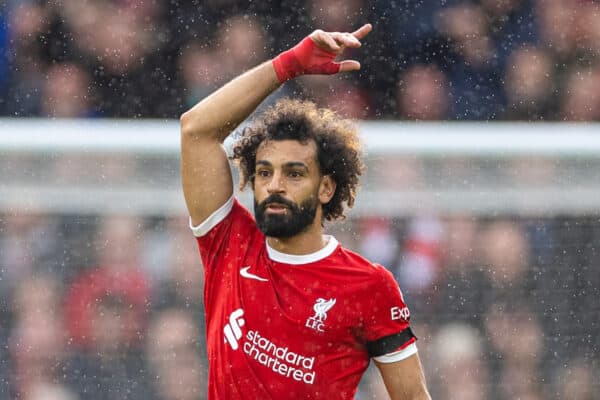 Salah's brace on Saturday means he has now scored in each of the Reds' four opening home games of a league season, the first to do so since Peter Beardsley in 1990/91.
The records will continue tumble so long as he is around and Jurgen Klopp said as much after the derby win, even if his all round performance was not up to his typical world-class standards.
"Mo Salah played for us an incredible amount of fantastic games, today was not his best game," Klopp said. "But being that clinical on the penalty and there to score, that's probably his biggest quality. I love that.
"You need somebody who puts the ball over the line, he was that again. I couldn't respect that fact more. The numbers are crazy, he will never stop! That's his nature and that's really cool for us."