Mohamed Salah has been breaking records yet again, this time surpassing Thierry Henry to become the highest-scoring Premier League player in European competitions.
The Egyptian knows nothing but setting new standards and breaking records that have stood for years, or even decades – and it was the same again against Toulouse.
Turned to off the bench for the final 20 minutes, Salah capped off the comfortable victory with the fifth goal of the night, thundering his shot in off the crossbar in stoppage time.
He came on for a goal and he got one, his 43rd in European competition for Liverpool. He does have 44 if you include Champions League qualifiers, though.
And his latest strike is significant in that it saw him eclipse Henry's record 42 European goals for Arsenal, a tally he notched in 79 appearances between 1999 and 2006.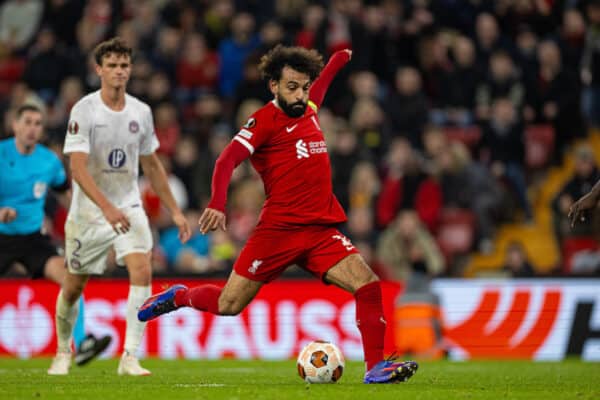 Salah, on the other hand, has featured 70 times in European competition for the Reds and sits comfortably at the top of the club's all-time top goalscorers in Europe, ahead of the likes of Steven Gerrard (41 goas) and Sadio Mane (26).
The 31-year-old can now add the player with the most goals for an English club in European competitions to his long list of records and achievements at Anfield, which will undoubtedly continue to grow.
And Salah will have known a record was within reach, it is just the way he is wired.
"He knows the numbers, he knows everything," Jurgen Klopp previously told TNT Sports.
"He knows before all of us that there's a record around the corner he can grab. He doesn't need help there.
"If he doesn't score the last game, there's a good chance he will score in the next game because it just increases his desire, and that's good for us."