Pep Lijnders has revealed that Liverpool always believed they would provide an environment in which Ryan Gravenberch could prove himself to be a "special player."
The Dutchman arrived at Anfield in a £34 million deal over the summer, after enduring a frustrating single season at Bayern Munich in which he made just three Bundesliga starts.
He has made an instant impact at Anfield, scoring twice and providing as many assists across his first 11 appearances in all competitions.
A recent suspension for Curtis Jones has also allowed him to claim a midfield starting spot that, on current form, it is difficult to see him relinquishing.
Gravenberch's performances have come as no surprise whatsoever to Lijnders, though, the Liverpool assistant boss having long thought he would be a good fit for Jurgen Klopp's team.
He said: "We see the Ryan of Ajax and that was already really impressive at that time.
"That is why the cup is so important as well because everybody is playing; a player who doesn't play a game in two weeks will never get confident.
"We all know that a player with confidence or without confidence is not the same player. I'm not sure what happened at Bayern but not playing and with no confidence…
"Here, he comes with full trust and we knew the potential before because we wanted him back then.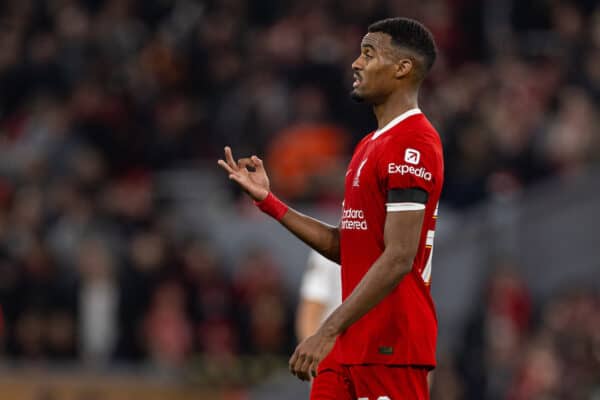 "And we knew that with training, with good conversations, with showing our idea, with the clarity of the whole group, that we had a special player.
"You see in the final third how he glides, his first touch, how he has the overview to play the last pass.
"The difference between a good team and a top team is how you dominate between the lines, and Ryan has everything to be an eight like that and still arrives in the box, still shoots, this mentality to score as well.
"So yeah, thank you owners and thank you scouting and everyone who was involved! We have an eight and I'm always happy when the team is a little bit more orange as well!"
Gravenberch's arrival was part of a midfield overhaul that has resulted in Klopp's engine room possessing infinitely more attacking threat than previous iterations.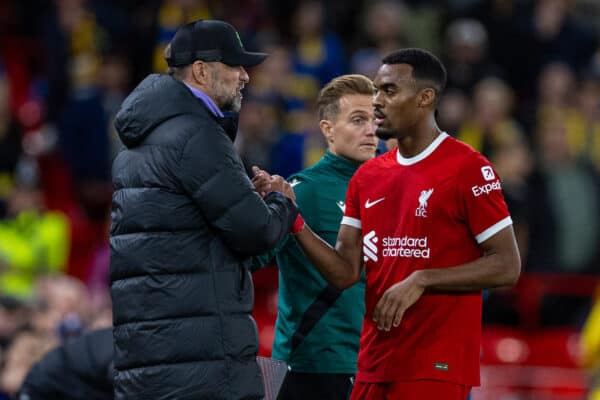 But Lijnders insists that was not necessarily part of a grand plan formulated by the coaches, with the different profiles possessed by every new player instead dictating their approach.
He added: "You cannot get a new Fabinho, you cannot get a new Roberto Firmino, a new Henderson – they are unique!
"As staff, you have to see what the qualities are. Take Ryan for example, we create spaces and dynamics for his qualities to shine and always so that they can make the difference.
"That they can just go and enjoy football because a happy guy plays better than a guy who just has to do what the coach tells them.
"I feel that we found that mixture this season and that's just nice! We have to just prove each day [that we can continue] but with the values and the principles and the ideas of the past. That will never change."