Chris Kavanagh has been appointed the referee for Liverpool's Premier League match against Man City on Saturday, with the VAR also being confirmed.
Ahead of Liverpool's trip to the Etihad, Kavanagh has been given the role of referee for the table-topping clash, despite being from Greater Manchester.
Meanwhile, the lead video assistant referee (VAR) for Saturday's fixture will be Stuart Attwell, and assisting him is Tim Wood.
On the field, Simon Bennett and Dan Robathan will be the referee's assistants, while Thomas Bramall will act as the fourth official.
Kavanagh has taken charge of Liverpool 15 times in his career so far, and Liverpool have a good record with him on the pitch. Of those 15 games dating back to 2018, the Reds have won 13 and lost just two.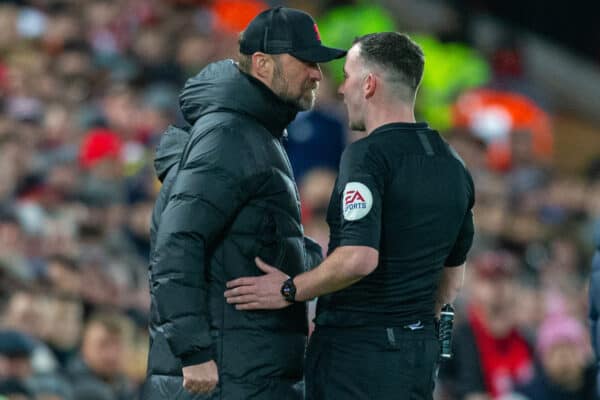 In fact, Liverpool have won their last six games with him as referee, including victories over Nottingham Forest and West Ham this season.
While Kavanagh has refereed two Merseyside Derbies, the 38-year-old has never taken charge of a Liverpool match against either of the big Manchester clubs.
Saturday's VAR appointment, Attwell, bodes less for the Reds. Earlier this year, Fulham player Tom Cairney said that the referee told him 'it wasn't a penalty' after VAR awarded one in Liverpool's favour.
If having Kavanagh referee is a good omen, then the Reds' record at the venue cancels that out. Liverpool have just one league victory in the last 15 years at the Etihad Stadium.
Across all competitions, the Reds have won three games in their last 15 at the venue – not a good record, even while acknowledging the strength of the opposition.
With players coming back from international duty, Liverpool will need things to go their way, performance and officiating-wise, if they are to take three points back down the M62 on Saturday evening.