Controversial VAR Darren England is back on Premier League duty this week, though he will not be involved in Liverpool vs. Everton on Saturday.
England has not been involved in any football games since his monumental error in Liverpool's 2-1 defeat to Tottenham, upholding an offside against Luis Diaz.
The official appears to have been taken out of the firing line rather than punished, with PGMOL chief Howard Webb employing spin in explaining decisions on Sky Sports last week.
• READ: Webb's Mic'd Up 'lies' have somehow made things worse for referees
It had been reported that England would not be considered for any Liverpool fixtures for the remainder of the season, though this has since been denied.
But he is not part of the team appointed for this weekend's Merseyside derby, with Craig Pawson referee and David Coote VAR.
Stuart Burt is assistant VAR, Thomas Bramall is fourth official and Marc Perry and Wade Smith will serve as linesmen.
Bramall is the referee who wrongly sent off Alexis Mac Allister in the 3-1 win over Bournemouth in August, while Burt was part of the group who travelled to the UAE to officiate two days before the blunder at Tottenham.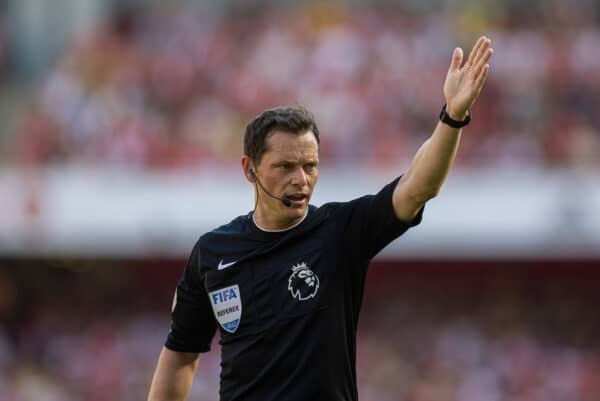 While he will not be involved at Anfield, however, England will return to Premier League duties for Brentford vs. Burnley.
He has been appointed fourth official for the clash at the Gtech Community Stadium, in a low-profile resumption of his role.
Simon Hooper, the referee who managed to avoid punishment for his part in the debacle in north London, is VAR for Newcastle vs. Crystal Palace.
Hooper will also referee Norwich vs. Middlesbrough in the Championship on Tuesday night.
And Dan Cook, who was assistant VAR and as culpable as England in ruling Diaz offside, is linesman for Sheffield United vs. Man United.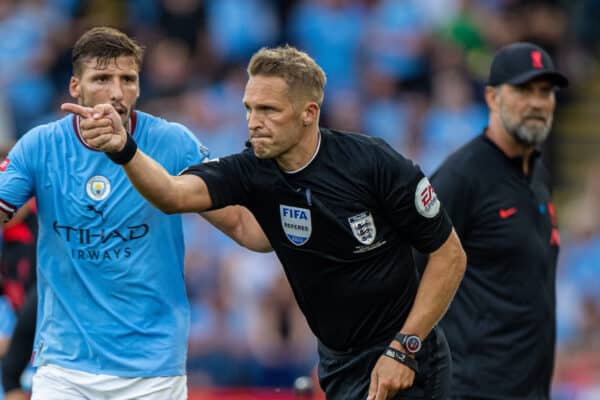 Pawson has refereed 36 Liverpool games in his career, more than any other club aside from Leicester (40), with the Reds winning 25 of those.
He has never sent a Liverpool player off, while he has shown two red cards to their opposition, along with four penalties in their favour and two against them.
His most recent Liverpool game was the 3-0 win at Leicester in May.