Trent Alexander-Arnold has suggested he would prefer not to return to right-back in the future, insisting a long-term move to midfield would "get more out of" him.
In recent comments on possibly using Alexander-Arnold as a midfielder, Jurgen Klopp argued that it would mean Liverpool "lose one of the best right-backs in the world."
Since his promotion to the first team in 2016, the Scouser has proven himself just that.
But more recently, Klopp has looked to unleash him in a hybrid role, stepping forward from right-back to midfield, allowing him to dictate play.
For England, though, he is viewed as an out-and-out midfielder, while his drop in creative influence for Liverpool this season has led to calls for a more defined role.
Alexander-Arnold's comments on playing in midfield during a pre-England vs. Malta press conference on Thursday were particularly interesting.
"My specific skill set and what I'm best at is someone who plays in the middle," he is quoted by the Times.
"Someone who controls the game, controls the tempo, creates, breaks line, progresses the ball up the pitch.
"You probably get more out of me from being in the middle and I'm able to show off that skill set as much as possible.
"My role is to go and create and make things happen, control the game in the middle of the pitch, get the ball on to the attackers, play forward, run forward, goals, assists, create chances, get people off their seats."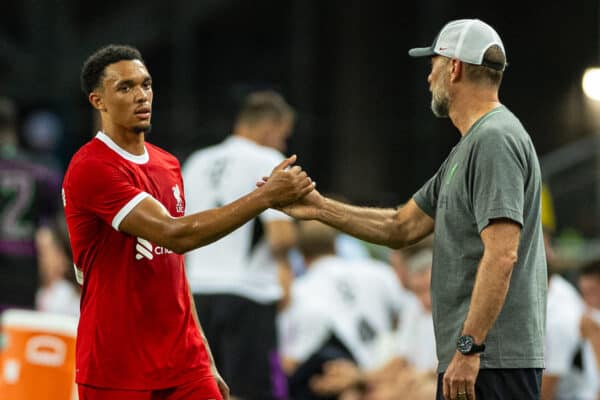 Given Alexander-Arnold was specifically speaking on his role with England, it is certainly noteworthy when considering where he sees himself at Liverpool.
"Growing up in my teenage years I was a midfielder, so it's a position I have some knowledge of," he continued.
"From going from a midfielder and trying to learn the full-back role, getting into the first team and pushing on, I'm now again in a position where I'm trying to learn how to play midfield.
"How to conduct myself and perform in the middle of the pitch is something that I've been tasked with."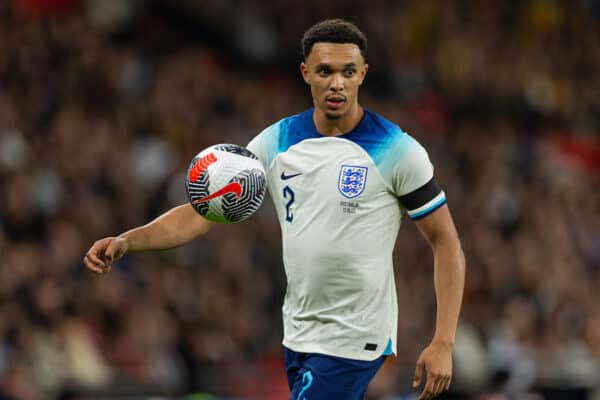 Liverpool's vice-captain maintained that he is still comfortable playing as "close to a Trent version of a full-back as you can get" when required.
But those comments could raise eyebrows with regards his use by Klopp, with an increasingly popular opinion being that he is diluted in the hybrid role.
Alexander-Arnold, who is averaging fewer touches per 90 for his club this season than in each of the last five campaigns, added: "[Southgate] explained to me there could be a potential opportunity in midfield going forward for me.
"When I heard those words, it ignited something within me. There was a chance for me to go out there and take it and I think that's what I did.
"Hopefully I'll be able to build on that."