Trent Alexander-Arnold has revealed that he is modelling his game on two Manchester City stars as he continues adapting to his new hybrid role at Liverpool.
Since the back end of last season, 25-year-old has been deployed in a position that see him combine both right-back and midfield duties.
The Reds' form has been vastly improved since that tweak, with Alexander-Arnold's ability to consistently dictate play from central areas a key factor.
But the young Scouser insists he is still learning, and is looking to a Premier League rival and legends of the past as he does that.
Asked to name his inspirations, he said: "I think as someone who plays the inverted, hybrid role – I don't know what people call it these days – then it is obviously John Stones.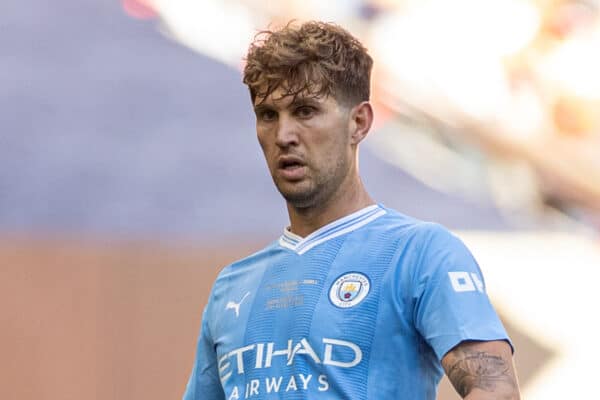 "He is someone who, for long time, I have admired his game, he is exceptional, so I watch him a lot. Clips or even when I am just watching City's games, I will sit and focus on him.
"I have always admired him, I do admire the way Rodri plays.
"He is pivotal in that team and someone who is massively underrated, but like we have seen recently when you take him out of the team, they are not the same. That just shows how important he is.
"I would say it is those kinds of players I watch, but there are a lot. I will watch players from the past as well – Busquets, Alonso, Pirlo, Stevie G, those players I have always enjoyed watching."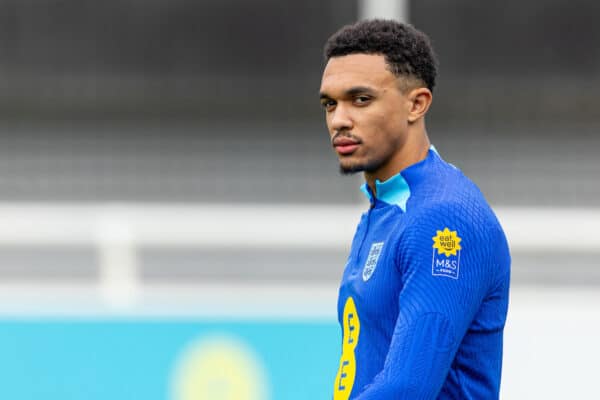 Alexander-Arnold's name was featured among the midfielders when the latest England squad was confirmed late last week.
And he has revealed that Gareth Southgate now views him as an option in the engine room, rather than the back four.
He added: "The conversations I have had with [Southgate] and the staff there, I go there as a midfielder, I train there and that is where I try and play on the pitch, barring the Australia game last time.
"It really does help me in that sense, I am not playing midfield week in, week out here, but I am getting on the ball in central areas and knowing how to receive and conduct yourself and play a game in midfield is a lot different to at the side of the pitch."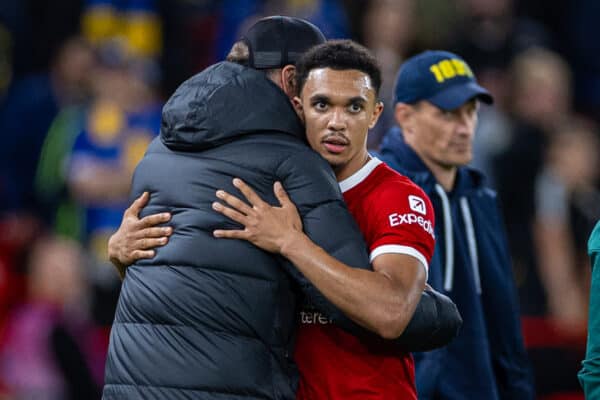 Jurgen Klopp took the unusual step of using Alexander-Arnold as an out-and-out No. 6 in the closing stages of Liverpool's recent League Cup win over Bournemouth.
But he is adamant there are major differences between playing in that position and the mixed role he typically occupies.
He continued: "For me, it has always been about playing with freedom to get on the ball and try and create and make things happen, progress us up the pitch.
"I think it is same, but it is about playing those passes from more of a central area and a more set in stone midfield area.
"It gives me opportunities to create for the team and make things happen and win us games essentially and that is all I am trying to do out there.
"When I come in as a right-back, there is still Endo or Macca there, Fabinho last season, their job and their role is to stay as the No. 6. It doesn't waver.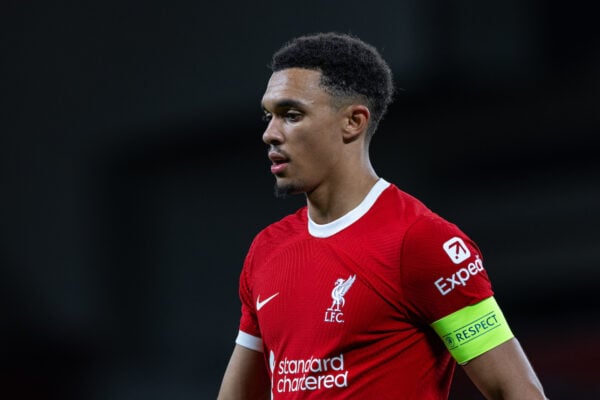 "My job is the one who comes in and still has the freedom to underlap Mo or overlap him, get into the box, shoot or cross.
"Whereas as a No. 6 it is more rigid, you are a defensive midfielder and it is your role along with the two centre-backs to ensure that when the ball pops out of the box, it doesn't go into the striker's feet and they can build from there.
"That is probably the main one, the rest is positionally getting used to where to be and a lot of it is very instinctive and trying to read the game before it happens and put myself in the right position."