Trent Alexander-Arnold has provided the perfect comeback to a cheeky James Maddison jibe earlier this week about replaying the Tottenham game.
Jurgen Klopp hit the headlines last week by suggesting that last month's 2-1 defeat at the Tottenham Hotspur Stadium could be replayed following the VAR communication error that led to Luis Diaz's goal not being allowed to stand.
The football world found all sorts of ways to poke fun at Liverpool and the situation, with Maddison getting involved in the joke while on England duty with Alexander-Arnold.
The Tottenham midfielder posted an Instagram story of the two in camp with the caption: "Still asking for a replay."
Liverpool's No. 66 was asked about the photograph in an interview with Channel 4 and he used the famous Scouse wit to get his brutal revenge!
"Nah," was Alexander-Arnold's response when asked whether Maddison's account of the conversation was really what happened.
"No, he was asking me to teach him how to put a free-kick in the top corner.
"But, I'd just shown him the video when I scored at Leicester last year and they got relegated!"
It was a tongue-in-cheek retort to match the nature of Maddison's dig, but it is one that will go down brilliantly with Reds fans.
Liverpool and Leicester supporters have clashed in recent years following a series of tasteless chants from the Foxes faithful and it is fair to say there was little sympathy from our side when they went down last season!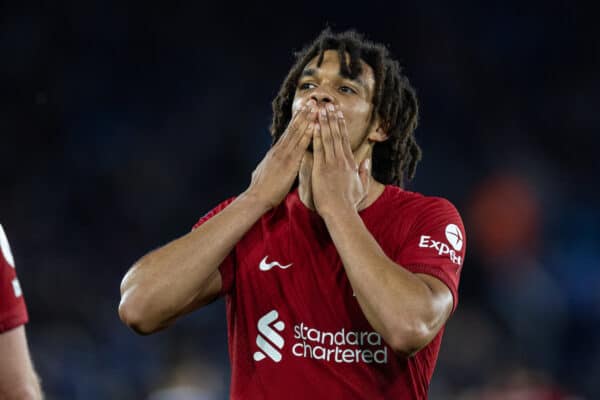 Alexander-Arnold's brilliant set piece during the 3-0 win at the King Power helped seal Maddison and his side's Premier League fate back in May.
The 25-year-old was also instrumental in the famous 4-0 win on Boxing Day in 2019 en route to Liverpool's record-breaking title assault and Foxes fans will at least be pleased that they don't have to deal with him in the league this season!
Tottenham may have stolen the points at the death a couple of weeks ago, but it is fair to say that Trent has had the last laugh in this particular exchange!