Liverpool captain Virgil van Dijk accepts they were lucky not to have Ibrahima Konate sent off in the 2-0 Merseyside derby win over 10-man Everton.
Mohamed Salah scored twice late in the second half after Ashley Young was dismissed for a second bookable offence just before the interval but the hosts were fortunate referee Craig Pawson did not deem the already-cautioned Konate's tackle on substitute Beto to be worthy of another yellow.
Manager Jurgen Klopp's decision to immediately substitute the France international to avoid a fifth red card of the campaign was almost an admission of guilt and Van Dijk believes they may have finally had some fortune with the officiating after a number of decisions going against them this season.
"Definitely. He (Pawson) could have given it, he didn't give it. Bit of luck for us. So what can I say? Nothing else," said the Netherlands captain, who has suffered personally already with a red card at Newcastle in August.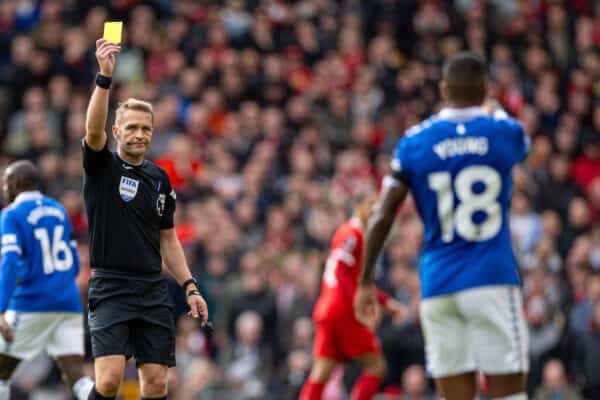 Liverpool managed to have Alexis MacAllister's dismissal at home to Bournemouth overturned on appeal but have seen Diogo Jota and Curtis Jones sent off in the controversial defeat at Tottenham during which VAR officials made a huge error in disallowing Luis Diaz's perfectly-good opening goal.
For a time it appeared the club were engaged in a running battle with Premier Game Match Officials Ltd over the incidents in that game, which has led to a lot of questions being asked about refereeing standards and some of the decisions being made generally.
In particular the threshold for yellow cards appears to be lower this term in relation to time-wasting and complaining.
Van Dijk said the players were trying to steer clear of allowing that to spill out onto the pitch.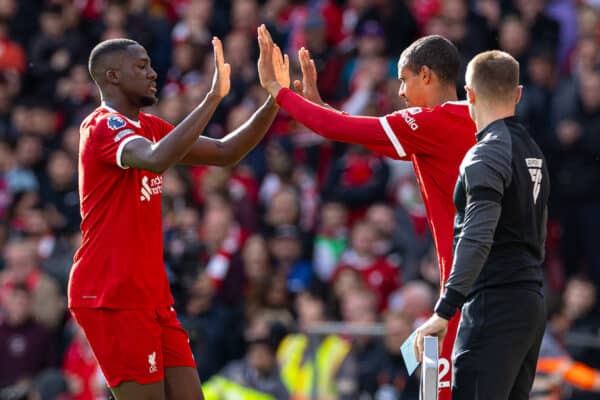 During the win over Everton there were a couple of occasions, such as for Young's second caution and during the wait for VAR to overturn Pawson's decision not to award a handball against Michael Keane, when the Liverpool captain could be seen ushering his team-mates away from the official.
"I think tackles and stuff that's for the referees to judge," said the Dutchman.
"When there is a decision we wanted to stay away from the referee and to make sure we don't get yellow cards for shouting or saying, 'Ref, yellow for this'.
"That's something we have influence on and something we should stay away from. We did that very well, especially with the circumstances."
While Young's dismissal made Everton's task more difficult they were on the back foot for the entire match after their only shot on target came in the opening minute.
A solid defensive effort plus some poor execution in the final third kept the game goalless until Keane's handball allowed Salah to score his 200th career league goal from the spot, adding his second from a rapid breakaway from Darwin Nunez deep into added time.
"It was the game we expected. The red card changed it a little bit but we had our game plan, we had to be very patient," added Van Dijk.
"In these games when you score the 1-0 it changes the whole dynamic of the game."
A fourth successive home win maintained Liverpool's position in the top four and only a second Premier League clean sheet was another boost.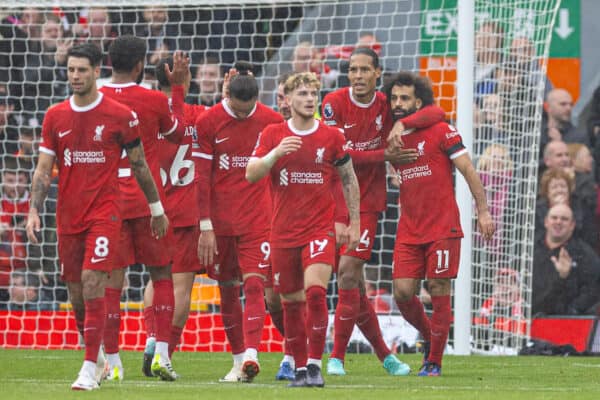 "Obviously we are still at the beginning of the season but there are very positive signs, very pleased we kept a clean sheet, won quite comfortably, didn't give many chances away," said Van Dijk.
"We shouldn't panic anyways, we have the quality that whatever happens in the game, 1-0 down or in the last couple of minutes still 0-0, chasing for the winner, we have to be calm.
"That's a sign of a great team because we have players that can make a difference."