It is not always popular to point out that Liverpool might not have played well after a win, particularly when it comes in a highly charged fixture like the Merseyside derby.
Yet it was clear enough to everyone who watched Saturday's contest at Anfield that, in putting their rivals Everton to the sword, the Reds had not been at their best.
Mohamed Salah's late breakaway goal added gloss to the scoreline, but it was easy to imagine the hosts might have failed to score without the game-breaking penalty they were awarded in the 75th minute.
And, even if it was a stonewaller, there was definitely an element of luck to that moment given Michael Keane had neither any intention or need to block the ball with his hand.
Of course, even if you acknowledge their fortune, Jurgen Klopp's side still deserve huge praise for elements of their performance.
The fact is, you do not get the chance for the margins to go in your favour late on if you do not stick to your task during the trickiest parts of the match.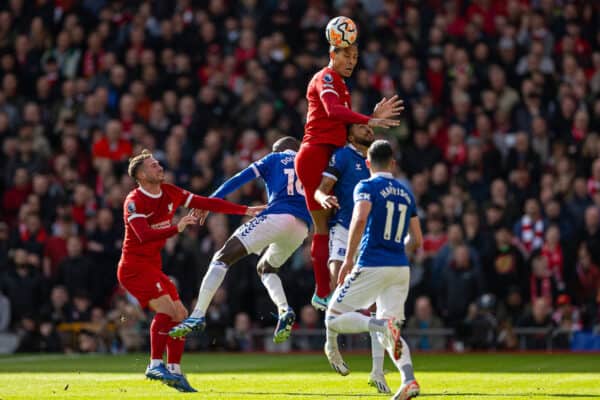 And that is a quality that Liverpool, inspired by their captain Virgil van Dijk, have clearly added back into their game after its disappearance last season.
There has been much debate about the level of the Dutchman's performances this term but, as Jamie Carragher accurately put it in a recent column, even if he has fallen away from his peak somewhat, he is still easily among the best in the world.
As much was evident in a colossal performance on Saturday that saw Van Dijk make five clearances and win 12 of his 17 duels according to FotMob, neutering both Dominic Calvert-Lewin and Beto to keep Everton trapped in their own half.
This dominance at the back gave Liverpool a platform from which to take full advantage of their late fortune, and they are making something of a habit of that despite spurious claims that they have not defended well this season.
Only Arsenal, Man City and Tottenham (the latter having only played eight games) have conceded fewer goals in the Premier League thus far.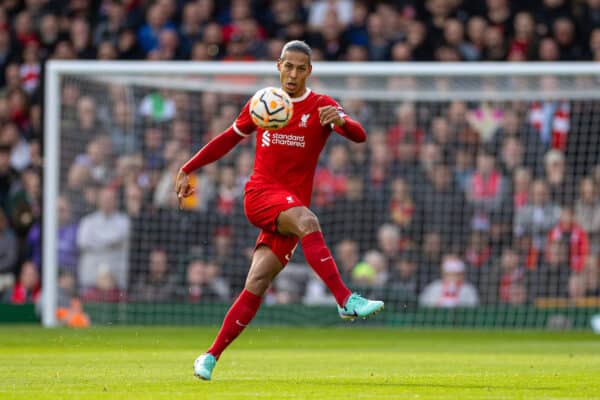 Speaking to reporters after helping secure three points and a clean sheet against Everton, Van Dijk was right to point out that this bodes incredibly well for the campaign ahead.
He said: "We are still at the beginning of the season but there are very positive signs.
"[We are] very pleased we kept a clean sheet, won quite comfortably, didn't give many chances away.
"Set-pieces, they could be dangerous; free-kicks from their own half, they can be dangerous, but we knew that. I think we dealt with it pretty well."
Liverpool are also helped by the fact that this rediscovered defensive solidity comes combined with a returning belief that games can be won late on – thanks in no small part to that recent against-all-odds victory at Newcastle.
As Van Dijk explained: "You try to be patient, you try to play quick and sometimes you take a bit of risk with passing and if you lose the ball that can happen.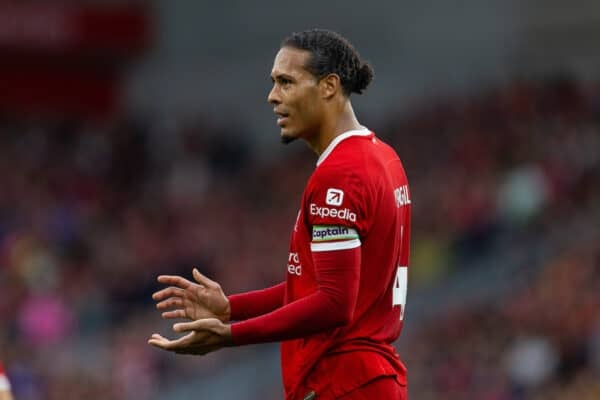 "It's about how you react and work defensively and I think we did that very well.
"We shouldn't panic anyways, we have the quality that whatever happens in the game, 1-0 down or in the last couple of minutes still 0-0, chasing for the winner, we have to be calm and that's a sign of a great team because we have players that can make a difference.
"Today we did that very well."
It all suggests that, going forward, supporters should not be too concerned if the early parts of a match pass by with Liverpool looking short of their usual fluidity.
That is because the Reds appear to have regained their knack for winning regardless, as they did so frequently during their best days under Klopp.