The UK and Ireland have been named hosts of Euro 2028, but despite being among the largest stadiums, Anfield will not host games at the tournament.
Tuesday brought the news that Euro 2028 will be played across the UK and Ireland, with fixtures to be played in England, Scotland, Wales, Northern Ireland and the Republic of Ireland.
Their project was successful despite a rival bid from Turkey, while Portugal and Spain, six Scandinavian countries, Italy and Russia all saw proposed bids aborted.
But while fixtures will be played in the city of Liverpool itself, none will be played at Anfield.
After an initial 14-stadium shortlist, the UK and Ireland bid cut that down to 10, with Old Trafford, the London Stadium, the Stadium of Light and Dublin's Croke Park all omitted.
The stadiums chosen are: Wembley, the Principality Stadium, the Tottenham Hotspur Stadium, the Etihad, St James' Park, Villa Park, Hampden Park, the Aviva Stadium, Casement Park and Everton's new stadium on Bramley-Moore Dock.
Notable in its absence from both the preliminary list and the final submission is Anfield.
However, Liverpool's stadium was never eligible for consideration due to the size of the pitch not meeting UEFA regulations.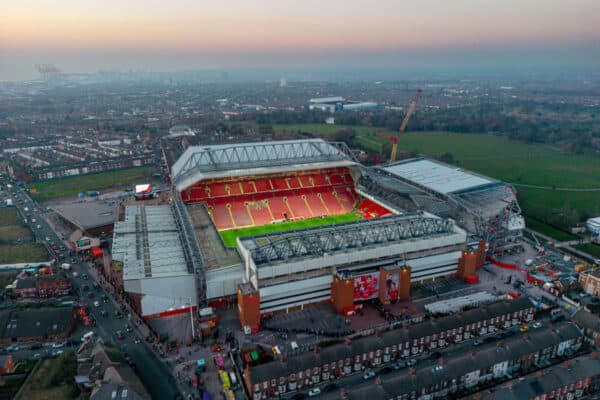 UEFA's guidelines stipulate that for a stadium to host tournament games, "the field of play must have the standard dimensions of 105m by 68m."
Anfield's pitch is 101m long, which falls short of UEFA's parameters.
This is despite the stadium soon becoming the fifth-largest in England when the expansion of the Anfield Road Stand is complete, bringing its capacity over 61,000.
It would, therefore, be the fourth-largest among the list of stadiums submitted by the UK and Ireland, behind only Wembley (90,652), Cardiff's Principality Stadium (73,952) and the Tottenham Hotspur Stadum (62,322).
Anfield is unable to host Champions League or Europa League finals for the same reason, while it was also not in the running for Euro 2018.