It was lazy to think that Darwin Nunez might be on the same track as last season after a 25-minute Stamford Bridge cameo, writes Tim Ellis.
His first trap and control let him down against Chelsea on the opening day of the season where there might have been a hero moment. The pass was overhit by Alexis Mac Allister, but it was easier to roll the eyes because of the previous narrative. His one shot was deflected agonisingly wide.
Never mind.
At Kenilworth Road, Liverpool's No. 9 had nine efforts – the joint-most in the Premier League so far this season – and none of them looked like going in.
While the first few attempts were at least sharp ones from outside the box, it seemed increasingly obvious that this might be one of those days. Which was fine.
Until that is, the 70th minute when Mo Salah's misdirected header – a bad miss in itself – provided an easy tap-in for the big man. He put it over. It was offside. Relief. Except it wasn't offside. Luton scored 10 minutes later.
Make the chances, then comes a surprise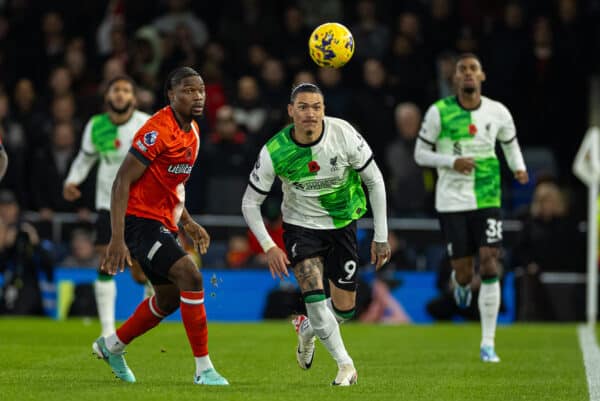 When the Uruguayan saved his team with those two jaw-dropping finishes at Newcastle on the third match day, something clicked. Things haven't been quite the same since. In a good way.
Then, something happened against Toulouse last week to provoke jarring memories of previous x-rated xG content on what was generally a feel-good Thursday night.
Nunez was having a super evening at Anfield, he had done all the hard work, was already on the scoresheet, and did the hard part by rounding the 'keeper to make it 4-1 deep into the second half. Except he hit the post and slumped to his knees.
Nunez is a man who does not hide his emotions. He is an open book. If that was at Brentford in January, Gary Neville might have come off his long run on comms.
Ryan Gravenberch ensured the opportunity wasn't lost by following up to score. No longer was the crowd overplaying the miss. Nunez had arrived. He could laugh it off, and fans would laugh with him, not at him.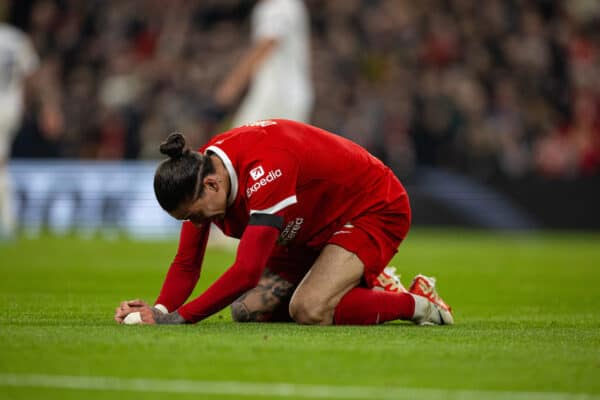 Klopp immediately tried to silence any doubters afterwards: "Honestly, in this moment, couldn't care less that he hits the post in that moment because everything before was super convincing, was absolutely clear, how he took the defender away, how he passed the goalie."
That is all perfectly true. Yet, there was still a sense of keeping old bad habits alive, something that might trip the team up when the opposition, the environment, and the scoreline were less accommodating.
Much of the talk last season was reminiscent of the Andy Cole's first year at Man United variety. Nunez's misses were exaggerated to the point where the audience was only looking at them through a negative prism.
The stats for big chances missed were not pretty. Both Nunez and Salah came joint-third with 20 excellent opportunities spurned in the Premier League in 2022/23. The Egyptian's mitigation is that he scored 30 across the board and was the one remaining band member of the red arrows.
Last season, after scoring the winner against West Ham, Klopp claimed that Nunez had arrived "100 percent." It wasn't quite true. His manager acknowledged that his striker was overwrought before games, rushing things and feeling the responsibility rather than relaxing with it.
That came back a little to haunt him at Luton.
Still a work in progress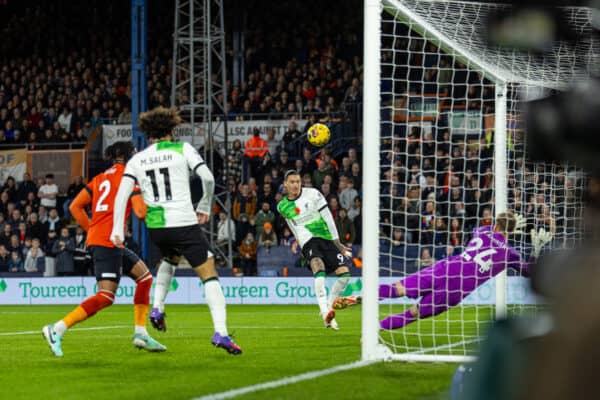 Nunez's bodily strength and physicality are never going to be an issue. It's the composure to finish like a hard-nosed killer that he is working towards.
The prism that people still see him through was exemplified by Jamie Carragher during Sunday's commentary, who said after the spurned chance: "He might be relieved that the flag's gone up, but I still don't think people will forget it."
Progress reports are promising. Before the match at Luton, his minutes-per-goal ratio had gone from 189 last season to just over 100, and his xG had risen from 0.64 to 0.84.
Sunday's match was a reminder of two things. Although there is a better image now of what Liverpool 2.0 looks like, it is still a work in progress, especially against newbie teams that narrow the pitch and have pace off the leash.
Secondly, although the attacking options the Reds possess are ones most other teams would die for, it is questionable whether any of them have the cold-blooded instincts of Salah just yet. It is not so long ago that Diogo Jota had a scoreless streak lasting more than 30 games.
Big strikers spurn big chances and come again. Erling Haaland missed 28 of them last season. Liverpool's xG at Kenilworth Road was 2.85, and they ended up relying on Luis Diaz's late intervention after a week of personal pain.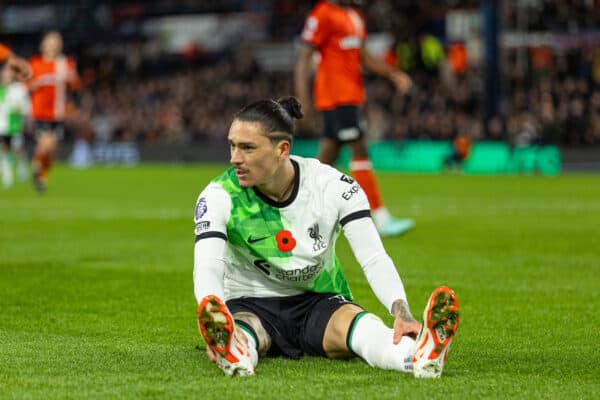 It can at least take the headlines away from the misfires. For context, Liverpool have still scored in every league game this season, with 24 in eleven matches.
If Nunez can score a beauty against the wind on a cold and wet night on the south coast, maybe it was tough to expect the same again four days later in the pouring rain.
That mitigation is the only thing that can cover for his lapse, and the others who were off the pace, also featured at Bournemouth.
There's no blame apportioned in Anfield corridors. It just means that Brentford is now a must-win before the international break comes between the Reds and the Etihad.
There won't be many second or third chances there.
---
* This is a guest article for This Is Anfield by Tim Ellis. Follow Tim on Twitter, @Timotei365.