Liverpool were left with a bitter taste heading into the break having taken just a point from the last two league fixtures, but there are still plenty of reasons to be cheerful ahead of their return.
The Reds flew out of the blocks with five straight wins after the opening-day draw at Stamford Bridge but were stopped in their tracks by a heartbreaking defeat at Tottenham and a frustrating draw at Brighton.
Having an extra week to mull over such disappointments is never helpful, but Jurgen Klopp's side already look capable of outperforming the levels many expected from them back in the summer.
Concerns were raised over potential shortages in certain areas of the pitch and those may yet be ratified as the campaign wears on.
This side, however, have shown the sort of resilience that made us fall in love with them and the toughness that helped them on their way to conquering the world under this manager not too long ago.
We are taking a look at all of the positives to come from the Reds' start to the 2023/24 campaign in the context of the challenges they have already faced.
Within striking distance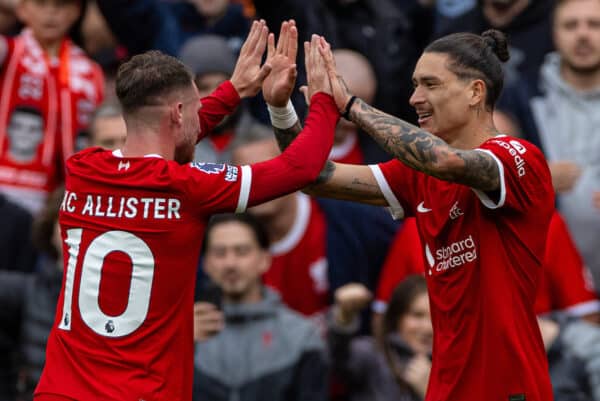 The Reds find themselves handily placed despite the dropped points before the break and have had a tougher start on paper than those around them.
League leaders Tottenham are the side everyone wants to talk about at the moment having amassed 20 points from a possible 24 with no European football to sidetrack them.
Liverpool, meanwhile, are simmering nicely in the background and that might just be how the manager likes it at this stage of proceedings.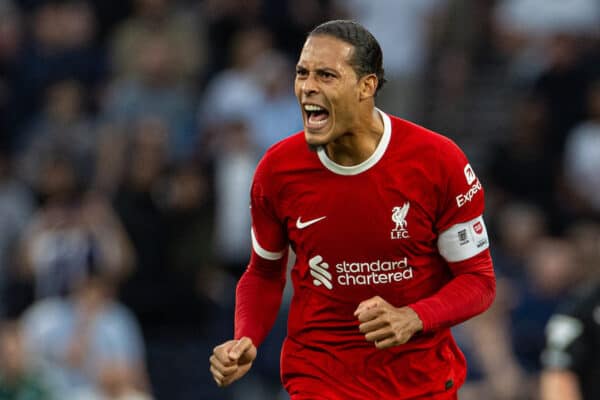 Ange Postecoglou's side have only travelled to one of last season's top eight, with the Reds having visited three in comparison in a list that of course doesn't include Chelsea.
While it may look like they are having a lot of fun at the Tottenham Hotspur Stadium, I don't for one second believe there is a Liverpool supporter in their right mind who would change our current situation for theirs.
We have five forwards who would arguably walk straight into any other top-flight best XI and they have all hit the ground running already.
The eagerness that comes with such stiff competition can only spell goals and they certainly haven't been in short supply so far in 2023/24.
Familiar rivals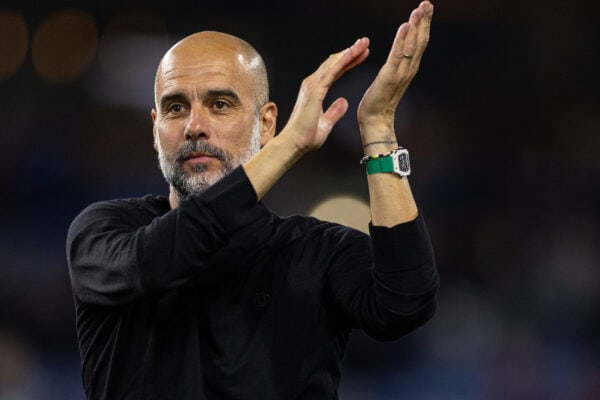 The unavoidable measuring stick remains an hour down the M62.
Liverpool have gone toe-to-toe with Man City on plenty of occasions and know all about the mental and physical toil that it entails.
A general school of thought at the start of each season from our perspective is that if you finish above Pep Guardiola's side you will almost definitely win the league.
The league table doesn't necessarily reflect that as things stand, but there were no Liverpool fans cheering on Man City at the Emirates before the break, let's put it like that.
Right now, we find ourselves just a point behind the treble winners, who have also had a relatively gentle start in the grand scheme of things.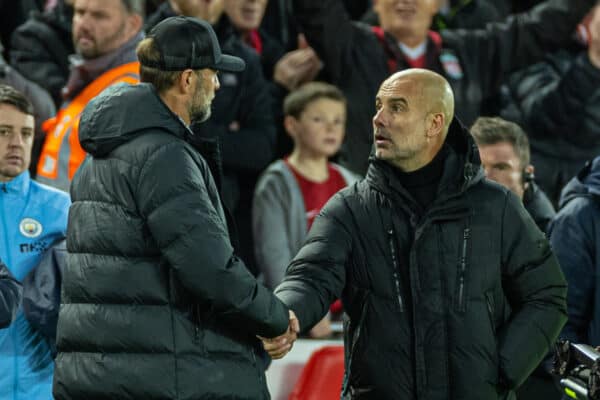 Arsenal represented their first away trip to a side that finished in last season's top 12 and they happened to fall at that particular hurdle, with their first two league away days coming against promoted opposition.
Winning an unprecedented fourth straight league title won't be straightforward and they will have an even larger target on their backs than usual after their historic 2022/23 season, they are by no means invincible.
The Reds must continue to keep the Citizens within arm's length until Christmas, by which point we will have a much clearer idea of what our realistic credentials are.
For now, we ought to acknowledge that the squad are in better shape than many were willing to give them credit for and that last season might have been merely an inevitable blip in the cycle of the sport.
The best is yet to come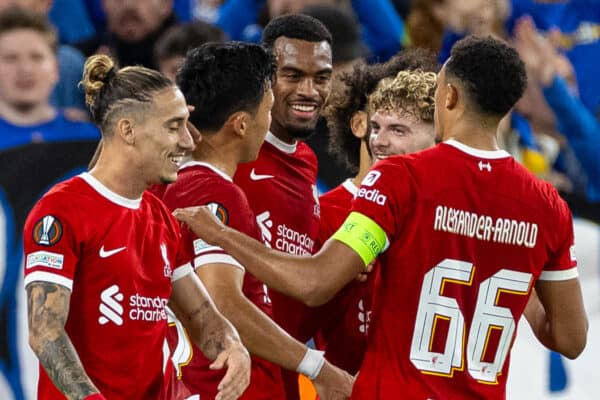 Away from the Premier League, things couldn't have started any better.
The Europa League has provided the manager with an ideal opportunity to forge a 'midweek' team that can build rhythm and ensure that the minutes are shared equitably around the dressing room.
Liverpool have made a perfect start in their first Europa League group since 2015 and the side that progressed in the League Cup third round against Leicester took a similar shape.
Until the latter stages of the other competitions, the league is likely to be the only time Klopp will field his strongest side and that will afford some of his key men some much-needed rest.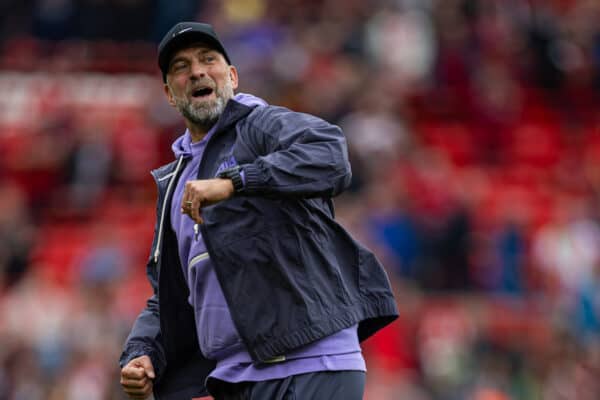 The brutal 63-game 2021/22 season elicited an almost inevitable drop-off in intensity in the 12 months that ensued and the schedule this season gives the manager the luxury of keeping all of his players fresh.
Doing so while being successful on all fronts will be the aim and we are already showing signs that we have the depth to do just that.
Winning Group E in Europe would allow the Reds to bypass an additional playoff round and progress straight to the last 16 stage, at which point Liverpool would begin to fancy themselves as one of the strong favourites to go all the way.
Setbacks are unavoidable at the top level and that is exactly where we want to be, but 2023/24 promises to be an enjoyable ride as it always is under this manager.
He asked us to turn from doubters to believers back in 2015 and we have every reason to continue to believe in this team all the way to May.