Jurgen Klopp walked through the doors at Anfield eight years ago and has not looked back since, leaving fans with plenty to reflect on for his Liverpool anniversary.
The German is now Liverpool's seventh-longest serving manager in history and by the time he sees out his current contract, which runs until 2026, he will be fourth.
Klopp arrived saying he was "The Normal One" but he has proved to be significantly more than that, transforming the club and adding long awaited silverware to the trophy cabinet.
You could talk endlessly about what Klopp has done for us all, and his eight-year anniversary is certainly the perfect time to do so! Enjoy what these six Reds had to say about Jurgen Klopp.
Cut from the same cloth as Shankly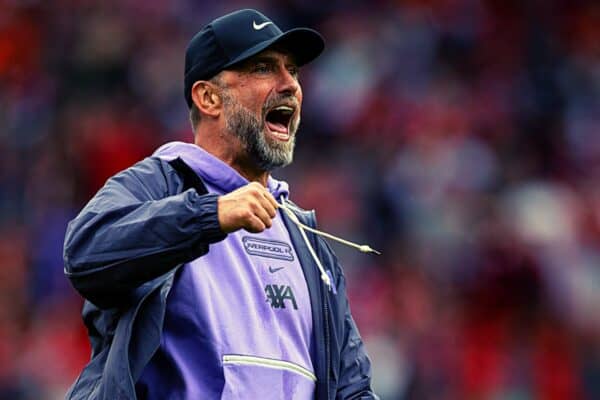 "Liverpool was made for me and I was made for Liverpool," the iconic Bill Shankly once said.
Thankfully for Liverpool fans, Jurgen Klopp is cut from exactly the same cloth as the legendary Scotsman.
Not only has he built the best footballing team in many fans' lives, he has also totally bought into the culture of the football club. The way he fist bumps to the fans after games shows the symbiotic relationship; he gives the fans energy and they reciprocate.
Nobody wants the think about the day he leaves, and many hope he will be coaxed into renewing once again, but the day he does leave, the club will be – thanks in a large part to the affable Black Forest native – in a far stronger position.
To have won what he was won, in the style he has won it in, against clubs with more money – and some that has used supposedly nefarious means to garner success – cements him as a Liverpool legend.
But his iconic status is assured by the way, in a true Liverpool fashion, he has railed against the establishment and fought for fairness.
– John O'Sullivan (@NotoriousJOS)
Klopp banishes The S*n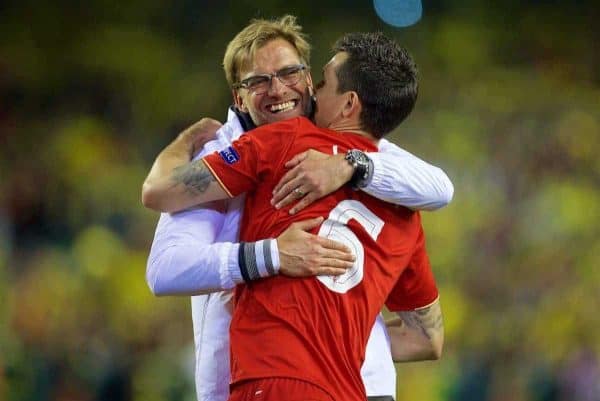 There are so many amazing memories that Klopp has given us, but one which sticks out for me is when Klopp banished a reporter from The S*n newspaper less than a year into his tenure.
What should have been a post-match press conference from Klopp as we beat Barcelona 4-0 in a pre-season friendly quickly took a sour turn when Klopp replied to a question with a very cold, "I don't speak with The S*n anymore."
He followed up with, "It's not because I'm with Liverpool now, it's because of things which will happen…"
Very cryptic, but without even knowing the context of what was to come (The S*n releasing an article which dived into the personal life of Dejan Lovren's marital problems at the time), Klopp won the hearts of every die-hard Liverpool fan across the globe.
With everything that The S*n has done, we couldn't understand how they were still allowed in our press conferences. For Klopp to finally take a stand and ban them, it was such a pivotal moment in making me truly fall in love with him. He was made for Liverpool. He was one of us.
– Nish Veer (@CouchNish)
"He never holds back"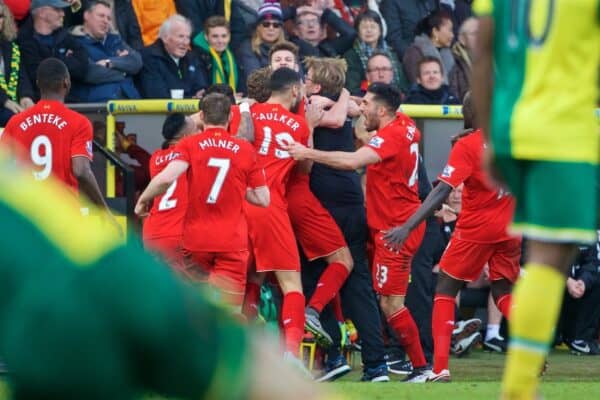 My favourite memory is Adam Lallana's winner against Norwich and how Klopp's specs fell off when everyone went wild celebrating the goal. You could see how much it meant to the team and how much the players loved him.
A favourite quote from Klopp is the way he kept describing us as "Mentality Monsters."
My favourite Klopp game has to be Barcelona. The fact that we had some key injuries and still destroyed such an amazing team in such an important match.
And my favourite quality is that he never holds back. He's open to talking about anything without caring about the ramifications.
– Elli (@LFCZA)
He is "special"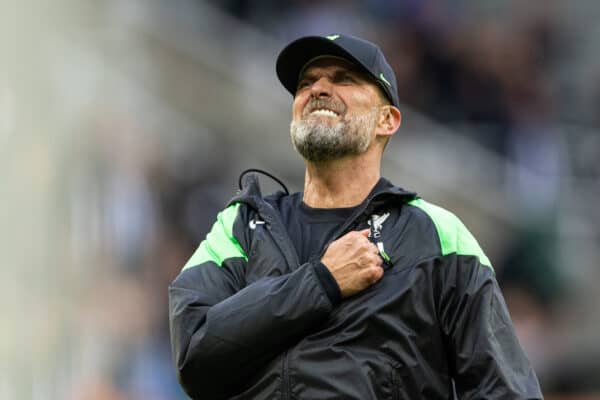 Jurgen Klopp is special.
He's special in how he understands our football club. He's special in how he makes you feel better after a bad result. He's special in how he can always focus on what matters.
He's special in how he lifts those around him. He's special in his unrelenting dedication to the cause. He's special in the way he takes the responsibility, and even blame, for things that aren't even his fault.
He's special in the values he holds. He's special in how he always seems to be on the right side of a debate. And, oh yeah, he's special in how he's a unique and amazing football manager!
He might've once claimed he's the 'normal one', but his gift is to be both very normal but also incredibly special at the same time.
Us Liverpool fans are breathtakingly fortunate to have Jurgen as our manager, our leader, our compass. I for one hope he stays for many years more.
– Taintless (@TaintlessRed)
Never. Give. Up.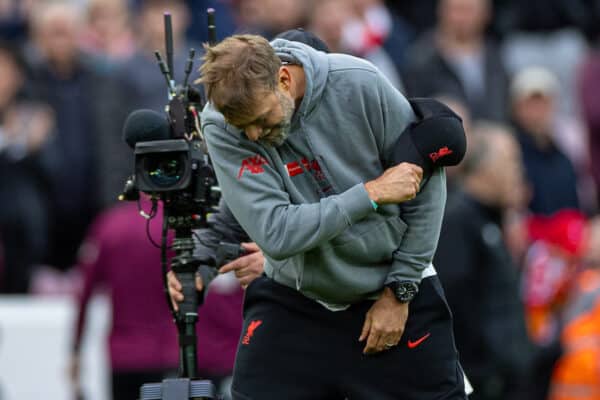 Congrats on your eight year anniversary, boss!
I'm a Japanese fan living in Liverpool, I can't believe it's been eight years since you came to Merseyside.
Many, many thanks for massive memories like winning the Champions League, Premier League, and cup titles with our boys, and also being the bright light of the city.
I can't choose just one exact moment to appreciate, but I would say…last season was quite emotional for me.
Though we had a bad start and finished in fifth place, you did not stop trusting and cheering on the boys and the supporters.
Your spirit of never giving up until the end is what Liverpool were looking for for many years. The games against Arsenal and Spurs at Anfield was the perfect embodiment of that last season.
I'm really proud that you are the manager of Liverpool Football Club, and our boys who are excelling under you.
We hope you will stay here for as long as possible, and we would be happy to have you for the rest of our lives!
PS. Wataru is fantastic, isn't he?
Congrats again, my boss, Jurgen Klopp.
– Ryo (@ryosk0014)
A reason to believe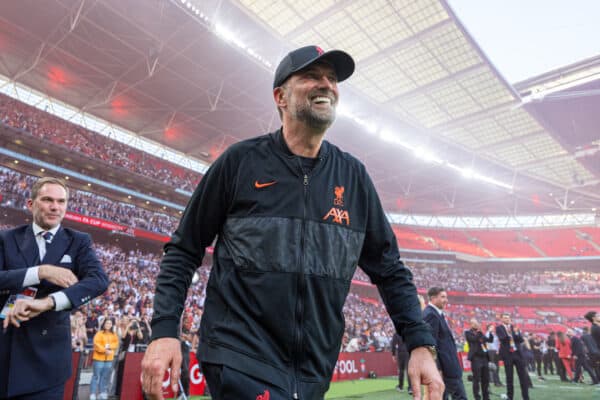 The biggest compliment you can pay Jurgen is he united a fractured fanbase and gave us reason to believe.
From that very first press conference he harnessed the support, well aware that when the Holy Trinity is all pulling in the same direction Liverpool are hard to stop.
My favourite memory would probably be the sight of him and Jordan Henderson embracing in Madrid.
Both had ridden their fair share of lows, the captain fighting to justify his position and status, the manager to get over the final hurdle and become a winner in England. That night vindicated his and our belief that we were watching a truly great side. One created in his image.
Klopp has spearheaded some incredible victories, many of which will go down in folklore. Looking beyond the finals and annihilations of United however I always hark back to Leicester away on Boxing Day 2019.
That came mere hours after the squad had landed back from Qatar having been crowned Club World Champions. The Foxes were second in the table at the time, and many expected them to take advantage of weary legs. Instead, Liverpool dismantled them in what remains the finest Premier League performance I can remember in my time watching the Reds.
It was the surest sign yet they were going to end the 30-year draught, no matter what opponents or obstacles were put in their way.
As for the man, there are too many endearing traits to list. Everything from his fashion to his politics is simply Liverpool.
If you had to create a Reds manager in a lab, you'd come up with Jurgen Klopp. He's one of us and as far as I'm concerned can stay forever.
– Aaron Cutler (@aaron_cutler)