Caoimhin Kelleher started his first game since May in the Europa League opener, and he is hopeful that he can make the competition his own moving forward.
There was plenty of speculation over the summer as to whether Kelleher would remain at Anfield and continue on as Alisson's deputy.
Plenty of interest in his services emerged but the 24-year-old showed no signs of seeking a move, and he remains Klopp's second choice, though he is hopeful he will be his first in Europe.
"It's not easy [to come back in]," Kelleher told LFCTV after Thursday's 3-1 win.
"It's my first competitive game since Southampton. Same as outfielders, there's always that bit of rustiness.
"It was nice to get out there and, hopefully, I can play a few more games in this competition."
Kelleher has now been named in Liverpool's starting XI three times this calendar year and has only five starts since March 2022.
With five more Europa League group games to come before the year is out, there is ample opportunity for game time, though Alisson may have something to say about that.
It is more likely that the Irishman takes on the leading role in the League Cup, which starts with a third round tie against Leicester at Anfield next week.
The 24-year-old has amassed 22 appearances over five seasons for the club, but if he were to be successful in the League Cup and remain involved in the Europa League, he could well eclipse his season-high eight outings from 2021/22.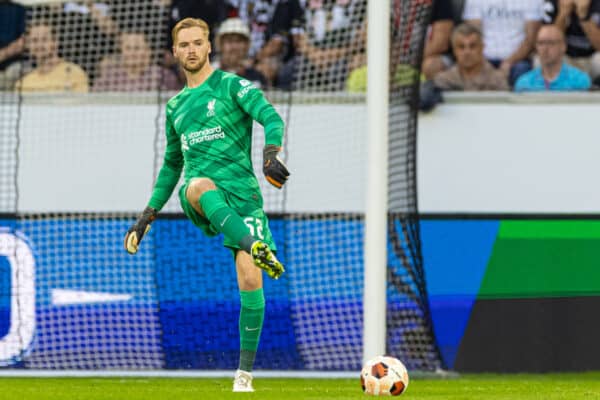 And between matches, he has plenty of talent in the Liverpool squad to keep him sharp in training.
"I think in the last few games we've scored a lot of goals," Kelleher added. "That forward line is scary at times and there's a lot of depth to it as well.
"Whoever is starting, we also have players to come off the bench that can cause problems. I'm happy that I only face them in training!"