Almost a month on from the controversial 2-1 defeat to Tottenham, Jamie Carragher and James Maddison exchanged wisecracks about the game being replayed.
Liverpool were denied a legitimate Luis Diaz goal due to a VAR communication error at the Tottenham Hotspur Stadium and a series of other contentious decisions left fans feeling more than a little aggrieved by the result.
Joel Matip steered the ball into his own goal in the dying seconds as the Reds were cruelly denied a point after a brave show of defending with nine men, but the officiating led to suggestions from Jurgen Klopp that the match should be replayed.
Fans of rival clubs have since used it as a source of fun in recent weeks and that extended to the Sky Sports studio on Monday night.
Speaking after Tottenham's 2-0 victory over Fulham, former Reds defender Carragher facetiously asked Maddison for his thoughts on a hypothetical replay.
Carragher said in jest: "Well you've got a big game on Friday, obviously a long way to go you've done really well. How do you think you'll get on in that replay against Liverpool?"
The cheeky dig was followed by laughter between the pair, with the Spurs midfielder replying: "I just knew by the tone of Carra's voice that was going to be the question!"
It comes after Maddison and Trent Alexander-Arnold poked fun at each other on the topic while away on international duty with England.
Maddison posted an Instagram story featuring himself and the right-back, along with the accompanying caption: "Still asking for a replay."
Liverpool's No. 66 managed to sneak the last laugh in that particular exchange during an interview with Channel 4.
"Nah," came the reply when quizzed on whether Maddison's version of events was accurate.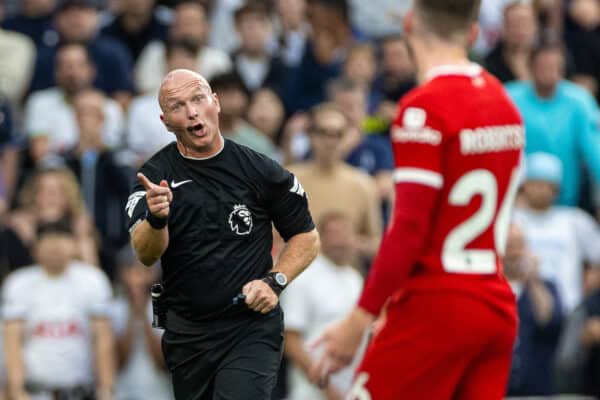 "No, he was asking me to teach him how to put a free-kick in the top corner.
"But, I'd just shown him the video when I scored at Leicester last year and they got relegated!"
It was a hugely frustrating way in which to drop points given the nature of the performance, but Liverpool players past and present have been able to take things in good spirits in the weeks that have followed.
There will, of course, be no replay of the fixture, but the Reds will host Tottenham in May in a game that could have repercussions for the title race if both sides keep up their impressive starts to the campaign.