Morale remains high across the Liverpool camp as a rotated lineup got the job done to progress to the next round of the League Cup.
Liverpool 3-1 Leicester
League Cup 3rd Round, Anfield
September 27, 2023
Goals: Gakpo 48′, Szoboszlai 70′, Jota 89′; McAteer 3′
---
Curtis Jones: right-back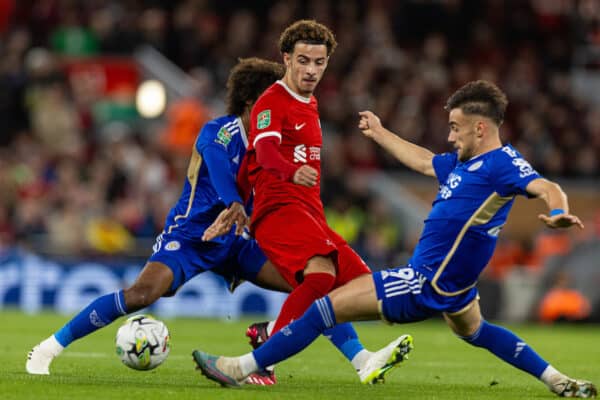 The backup and rotation for Trent Alexander-Arnold will often be one of the talking points for Liverpool this season, as a player like Trent has no real like-for-like alternative.
Despite a poor opening 45 minutes against Wolves (when the whole team were poor) Joe Gomez has filled in well, while Stefan Bajcetic played the role in the Europa League match.
Against Leicester, Curtis Jones got a go in the role. It's obviously something they try in training with different players, and might suit someone as versatile as Jones.
And it did. Even though it was obviously not his most natural role, and may be one that requires more than one game to master, he did good job. As captain for the night, too.
He dropped in to build play from centre-back positions at times, and went as far as No. 8 positions in midfield.
When Liverpool were pressing high, from opposition goal-kicks for example, Ibrahima Konate drifted wide into a right-back position forming a back three with Jarell Quansah and Kostas Tsimikas, while Jones remained further up in order to apply pressure.
Bajcetic replaced Jones with around 25 minutes to go to have another go in this position himself, but in the Scouser, Liverpool may have found another viable option in this role in Alexander-Arnold's-absence.
Darting Doak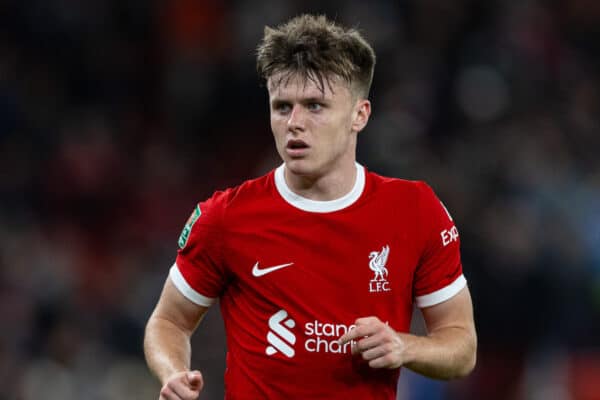 Ben Doak was present most of the times Liverpool threatened the Leicester goal in the first half, playing in Mohamed Salah's usual position from the right.
He should have been awarded a penalty when James Justin clattered into him from behind as he made a dangerous run into the penalty area.
Then there were two close-range chances that on another day would have been goals.
One was saved by Leicester 'keeper Jakub Stolarczyk at the near post on the left, and another crashed into the underside of the bar from a similar position on the right.
It might have been good to see him get a go from the opposite wing, where Diogo Jota was stationed.
It was from that part of the pitch he set up Jota for a good chance in the second half just before being subbed off.
More promising signs from the 17(seventeen!)-year-old.
Walk on through the wind…to the next round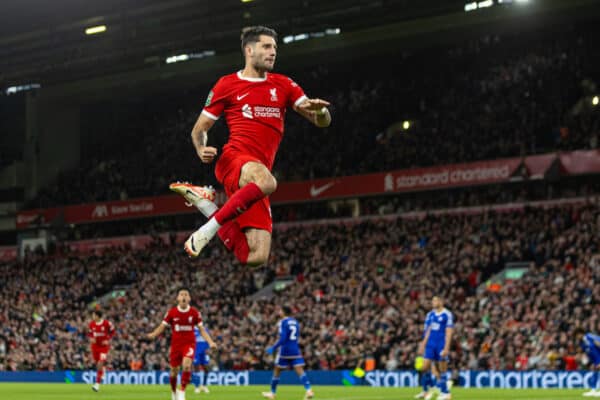 Jurgen Klopp is often criticised for talking about the wind in Anfield, with many reports picking up on any mention of the weather as an excuse for a poor performance or result.
Anfield has its own weather system. A swirling atmosphere that requires a separate section in the local forecast.
There was no chance for such 'Klopp weather excuse' headlines in this game, though, as Liverpool got the job done through the wind and rain.
And when you hit a ball as hard as Dominik Szoboszlai did for Liverpool's second goal, even the Anfield wind struggles to play its part, though it might have added some extra turbulence as the ball rocketed through the air.
A touch of class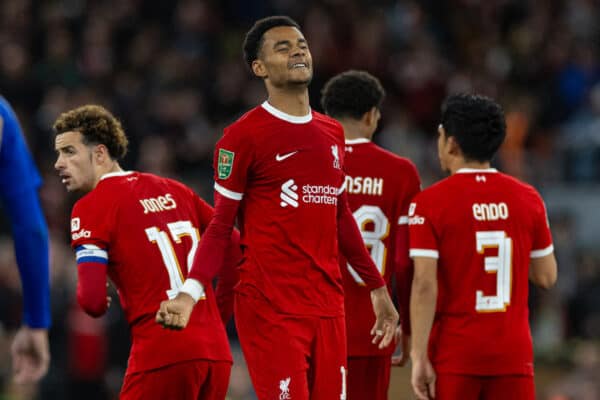 Liverpool not only advanced to the next round of this competition, but did show showing they were the superior outfit against the Championship side.
It's not always the case in the domestic cups that the team higher up in the English football pyramid shows why they occupy such a position, but some (near the) top-of-the-Premier-League class was on show at Anfield.
First it was Ryan Gravenberch, dancing towards the opposition penalty area with some great footwork to set up compatriot Cody Gakpo.
Then it was the supreme technician, Szoboszlai, hitting the ball as hard as anyone can, but with rare accuracy.
Jota joined in late on with a nice flick on the ball in from the classy Quansah, who turned into winger for a few seconds and did a pretty good impression of one.
The Europa Carabao Cup Reds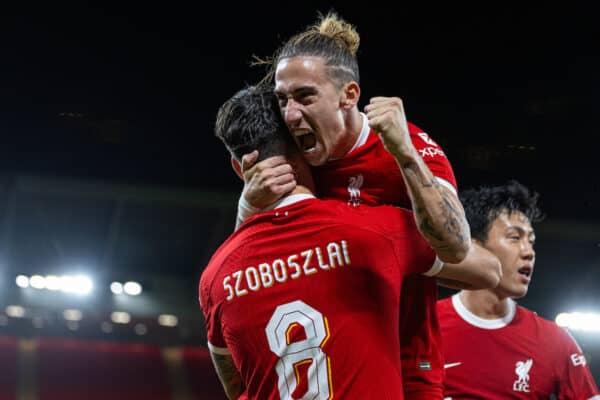 This rotated version of Liverpool should get plenty of action this season, and it looks like it can still be competitive.
Being in the secondary European competition, which is not quite as demanding as the Champions League, helps.
Add in cups like this one, and the FA Cup early next year, means these players should rack up a decent amount of games if they continue to impress and win.
It's the ideal scenario that allows rest for much of the first-choice, Premier League XI, while also keeping squad players happy and involved.
These are also vital minutes for young players like Doak and Quansah, and means they will be match ready if required in the league.
Liverpool's 2023/24 journey continues with hope in every competition.